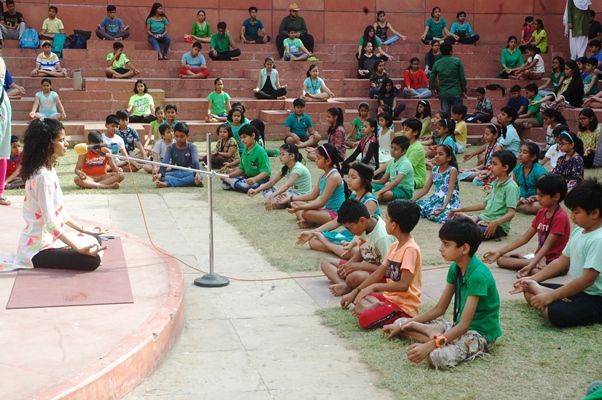 Press Release
To mark the occasion of World Environment Day, a two day yoga workshop as a part of Junior Summer Programme was organized at Jawahar Kala Kendra. Around 350 students aged between 8 to 16 years participated with great zeal and interest with the motive to maintain good health. The aim of the workshop was to promote an active and wealthy lifestyle. It also aimed to increase flexibility, concentration and strength of the youth of our country.
The yoga instructor Divya Sharma informed that on day one surya namaskar, pranayama and balancing practice in order to enhance flexibility, strength, concentration and better blood circulation for active heart was taught to the students. The second day focused more on various asanas such as 'tad asana' to maintain concentration, 'trikon asana' and warrior pose for strength of arms and legs and to face challenges in daily life. She further said that though it is difficult for the children but certain practices should be taught for overall development to face challenges and enhance their quality of life."
In order to promote World Environment Day the children were told to wear green or brown color apparel. The yoga session was followed by staging of the play on topics such as "Uss pedh par ek chidiya rehthi thi" and "Yeh hariyali ram ka ghar hai" in order to encourage awareness on environment.