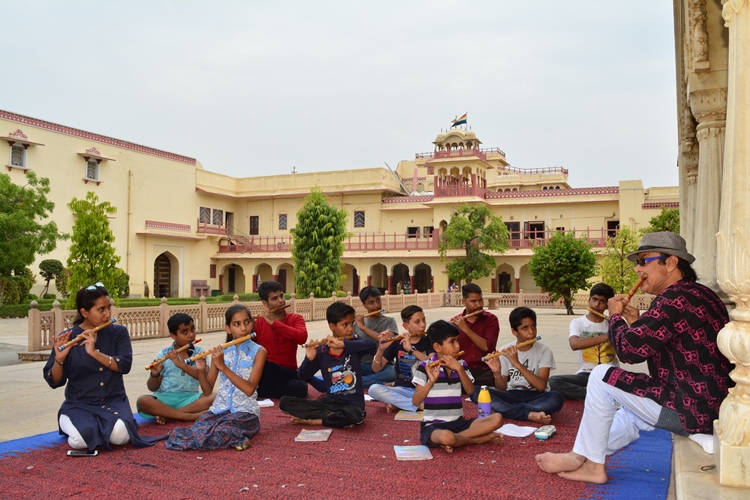 Press Release
Encouraging the traditional arts and crafts of Rajasthan, Flute, Algoza and puppetry making are being taught at the Summer Training Programme at City Palace Museum. Participants from the age 8 to above 30 are participating in these workshops being organised at the camp.

FLUTE AND ALGOZA WORKSHOP
As many as 30 participants are learning to play Flute and Algoza at the Summer Training Programme. Initially after learning fundamentals of the instruments, their positioning angles and sound techniques, participants are now practicing Raag Bhopali. Through the course of the workshop, they will be taught Sargam, Alankar and various Raags along with popular folk songs like 'Baisa Ra Beera' and Rajasthan's Shekhawati region's 'Dhamaal Ki Dhun'. They will be performed in the closing ceremony accompanied by other instruments like tabla, sitar and chang. Workshop facilitator Mr. R.D. Gaur who has been practicing flute for 40 years and a nearly extinct traditional instrument, algoza, for over 28 years, informed that learning these instruments enhances coordination, memory and concentration power apart from being a stress booster.
PUPPETRY WORKSHOP
As a part of this workshop,  participants  are learning to make puppets along with the entertaining art of puppetry. The facilitator, Mr. Ravi Bhat is teaching the whole process of making a wooden puppet from cutting a piece of wood, carving it, stitching clothes for the puppet and attaching strings. Traditional tools like 'Rukhani' and 'Wasuli' along with other materials like white paint and cotton are being used to make these puppets. Mr. Ravi informed that while some participants are more inclined towards stitching and making of puppets, the others are enjoying making them dance on music. The tales of 'Amar Singh Rathore', 'Naini Bai ka Maira' and 'Narsingh Bhagat ke Kisse' will be taught to the participants. The facilitator expressed that it is important to revive and encourage the fading traditional arts and that if he gets a chance, will also like to teach thermocol and paper mache  puppetry to participants.