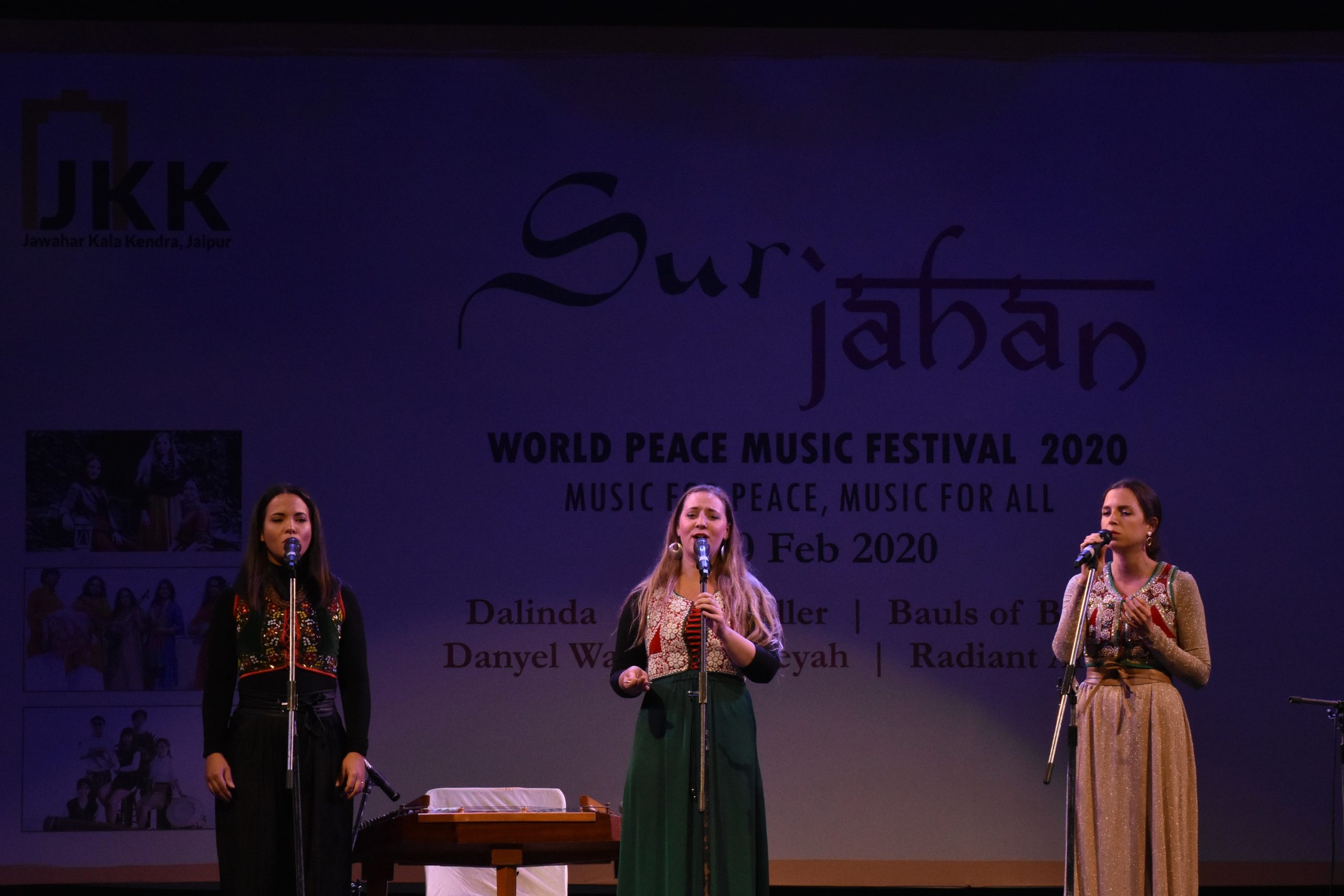 Press Release
'Surjahan', a three-day World Peace Music Festival, kicked off in Jaipur for the first time at city's art and culture hub, Jawahar Kala Kendra (JKK). This year 6 international bands are performing at the festival. 'Surjahan' is a collaboration among music bands from around the globe and folk artists of India to convey the message of togetherness and harmony through music. The visitors were also attracted by a wide variety of rural handicrafts like – rugs, bags, jootis, scraves, table mats and kitchenware being displayed at the festival. 'Surjahan' is being organised in association with Banglanatak dot com.
The evening began with a mellifluous performance by the Acapella girl band from Hungary, Dalinda. The band without the use of any musical accompaniments entranced the audience with a melodious performance of Hungarian Folk and Hungarian Folk Gypsy Music. Through their powerful and playful rhythms, they charmed the audience with folk traditional and modern sounds charged with feminine energy. Their repertoire comes from every corner of the Hungarian language area, also including material from other ethnic groups living there. The members of the band included – Sara Timar, Fanni Eszter and Julianna Erzsebet. Later, they were accompanied by a wonderful trio of instrument performers – Balint Konczei, Daniel Szabo and Attila Gyorgy Kaszap.
Following this, the 'Godfather of Nordic World Music', Ale Moller and ensemble presented the rich 'Folk of Sweden' music. Ale Moller is a living legend who has been pushing the borders of Scandinavian music for the past 4 decades. The ensemble presented the world music, combing Swedish folk traditional with those of Shetland, Greece, India and West Africa. Ale Moller known for being able to play a whopping 40 instruments was seen on various instruments like – mandola, flutes, cow horns, clarino and Harmonica. He was accompanied by vocalists – Mamadou Sene from West Africa and Greek singer and dancer, Maria Stellas. Other artistes included Ale Moller's daughter, Anna Moller on the Fiddle, Johan Graden on the piano and Olle Linder on Percussion.