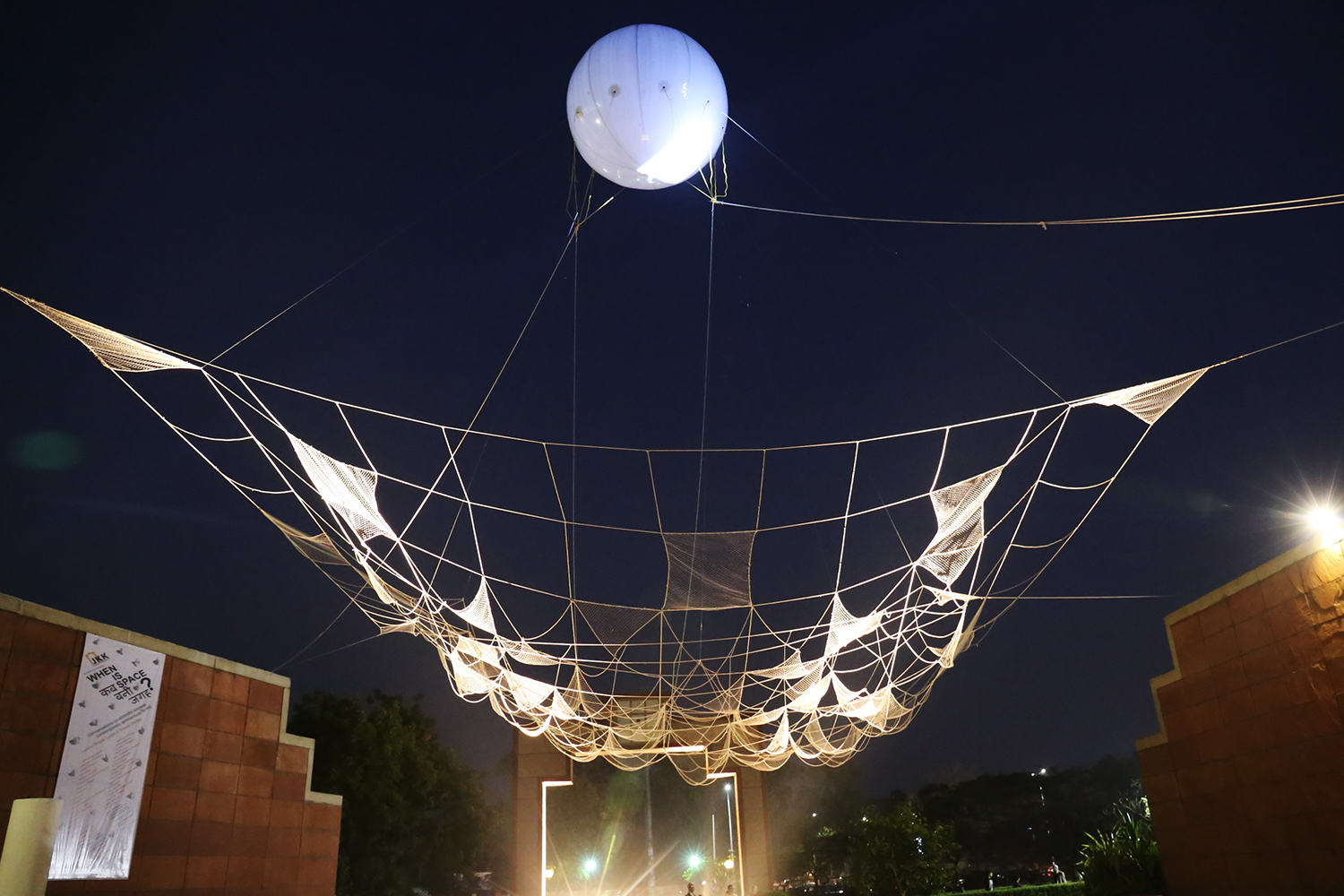 Press Release
The multi-arts center of Pink City, Jawahar Kala Kendra, commissions and presents an exhibition on contemporary architecture entitled 'When is Space?'. The exhibition was inaugurated  by Principal Secretary of Tourism, Art and Culture, Government of Rajasthan, Mr. Subodh Agarwal and Indian contemporary artist, Mr. Subodh Gupta. The inauguration was done by pressing a button to sway a hydrogen balloon and a floating roof installation. The installation was created by architectural practice, Urban Projects. The exhibition has been curated and designed by Rupali Gupte and Prasad Shetty and will be on till 31 March.
The inauguration was followed by a curated walkthrough of the exhibition. After which, Ish Shrewat with Samir Raut and Rupali presented, 'Points in Space II', a 6-channel spatial sound installation. These installations are based on spatial listening processes. Where, the sound develops spatially and its discovery unfolds itself in the present, bringing with it the experiences of sound and listening as an immersive spatial sculpture.
Afterwards, 'Meandering', a solo contemporary dance was presented by Dancer Avantika Bahl. The performance was a physical response to the stages of transformation of the 'Garden of Desire'. Using the idea of circularity as a point of entry, this piece puts a lens on how movement gradually unfolds in the body as it negotiates and develops a relationship with space as an independent entity.
It is to be recalled 'When is Space?' intends to discuss the contemporary architecture and space making practices in India. Space here refers to the multi-scalar dimensions at which one thinks of architecture. The exhibition intends to ask the first question – 'When is space?' What does it take for space to happen?
'When is Space?' will include the works of Abin Design Studio, Anagram Architects, Anthill Design, Anuj Daga, Architecture Brio, Aayojan School of Architecture, Bhagwati Prasad, Dhruv Jani, Dronah, Gigi Scaria, Sir JJ College of Architecture & Mustansir Dalvi, Mad(e) in Mumbai, M. Pravat, Mancini, Mark Prime, Milind Mahale, Mathew & Ghosh, Maharaja Sawai Man Singh II Museum, Parul Gupta, M/s Prabhakar Bhagwat, Prasad Khanolkar, Randhir Singh, Raqs Media Collective, Sameep Padora+Associates, Samir Raut, Samira Rathod Design Atelier, Seher Shah, Teja Gavankar, The Busride Design Studio, The Urban Project, Vikas Dilawari and Vishal K Dar.