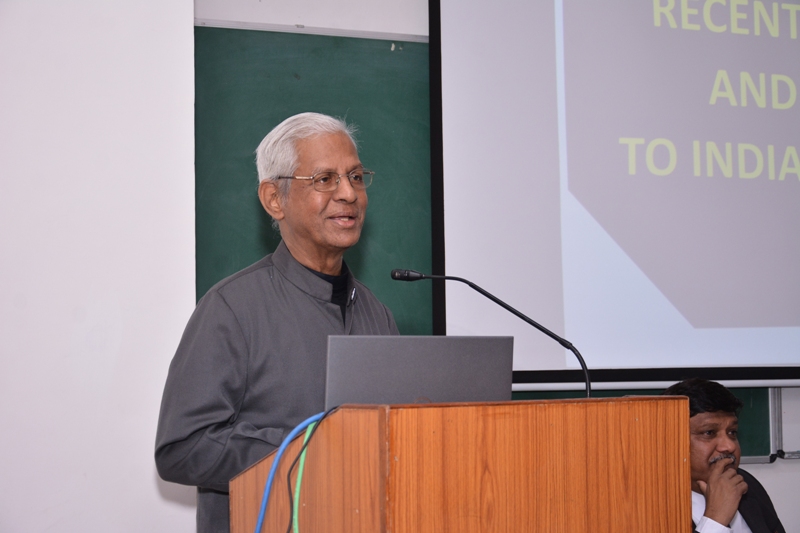 Press Release 
"FOCUS SHOULD ALSO BE ON SECTORAL MANAGEMENT BESIDES GENERAL MANAGEMENT"
-Padma Bhushan, Dr. M.B. Athreya
Specialized or Sectoral management programmes are more the need of the hour in context of management in India. While most management institutes are offering General Management Programmes focused sectoral management programmes are becoming a necessity. This was informed by Padma Bhushan, Dr. M.B. Athreya. He was speaking on the topic 'Recent Opportunities and Challenges to Indian Management' at IIHMR University . He also said that a specialized MBA course prepares students for the specific nuances of business in a particular sector within the context of the broad field of business and management. With reference to IIHMR University, Mr. Athreya said that this institution has already recognized the need and demand for these types of courses which are more job-oriented in nature.
He further informed that a series of reform measures need to be taken in order to stimulate innovative education in the field of management. Other than this management students also need to structure their own management learning. There is also a need to develop attitude and skills for lifelong management learning as it is a continuous process. One should be prepared to face not only risks and major challenges but also remarkable opportunities for growth in this sector.
Highlighting the challenges to management institutes, Dr. Athreya said that the focus needs to shift from General Management to Sectoral Management. The institutes need to support lucrative research projects and employ time and effort on developing relevant and contextual teaching material. Management scholars from different countries like China, US, Europe, Japan, etc. need to be invited to the institutes to facilitate sharing of knowledge and insights as well as and gathering feedback. While answering a question on why failed public enterprises work well in private hands, Dr. Athreya quoted from Kautilya's wisdom.  He said "Raja Wyapari, Praja Bhikhari". Private enterprises are known for having a better sense of ownership and accountability in the management.