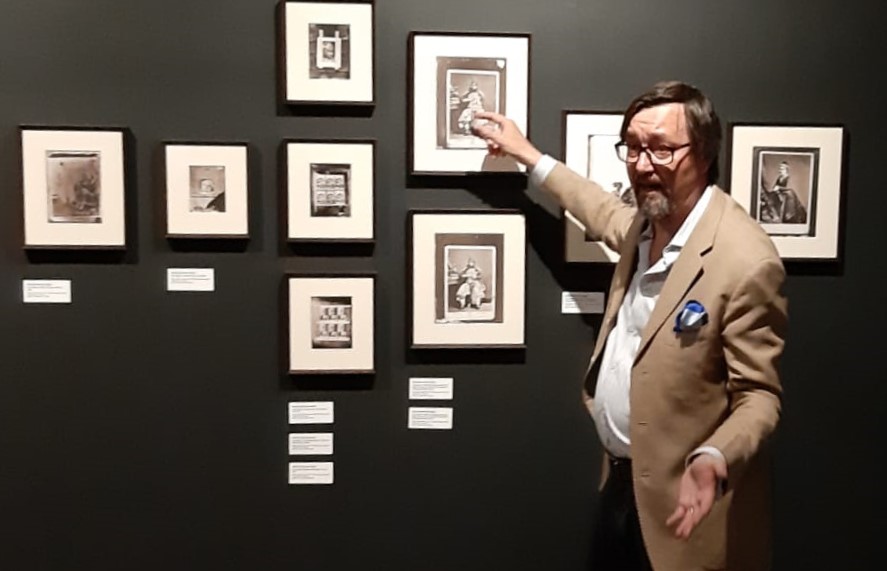 Press Release
The legacies of India's first established photographer-king, Sawai Ram Singh II of Jaipur were traced  at the curatorial walkthrough of The Sawai Ram Singh Archive exhibited at Jawahar Kala Kendra (JKK). The curatorial walkthrough was led by art historian, Giles Tillotson. Mr. Tillotson shed light on how an Indian ruler also carved his way to be known as a remarkable photographer in ancient times.
Displayed in the gallery 1 at JKK, the archives present a meticulously preserved and digitised photographic collection of the king. It includes fascinating copy images of Nobles, women in the Zenana, foreign and royal visitors, cityscapes of Amber, landscapes of Nainital and Himalayas along with self-portraits of the king. Copy images of the palace gardens, markets and havelis of Jaipur including Hawa Mahal, Tripolia Baazar, Chaura Rasta and Badi Chaupar, among others, are also on display. 
Apart from the collection curated from the City Palace Museum, Jaipur; the exhibit also presents some original 19th-century photographs from the Alkazi Collection. Altogether, the works provide an insight into the life and perspectives of the photographer king and a glimpse of the princely state of Jaipur as it was then. 
It is to be noted that the exhibition also exhibits experimental works of Jaipur based artist, Nandan Ghiya as well as a curatorial mixture of poetry, prose, and other narratives invoked from or published in PIX with collections from around 32 artists from Iran, Pakistan, Afghanistan, Myanmar, Sri Lanka and India.
It is to be recalled that the two and a half month long exhibition is being presented by JKK in association with The Alkazi Foundation for the Arts (AFA), PIX, City Palace Museum (Maharaja Sawai Man Singh II Museum) and Exhibit 320. The exhibition is open for visitors till 30 April from 11 am to 7 pm, on all days except Mondays & public holidays.