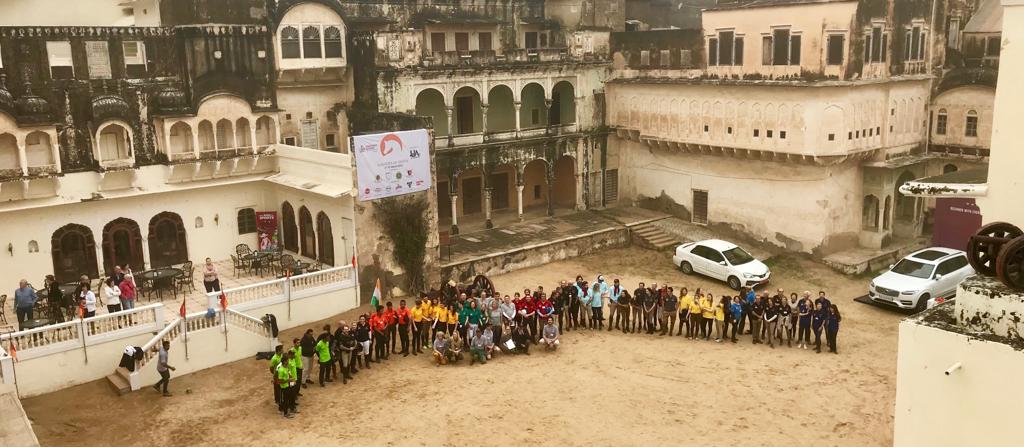 Press Release
'Gallops of India' flagged off on Monday from Castle Mandawa with as many as 70 riders who are divided into 14 teams. Riders have assembled from 16 countries like the USA, Ireland, Slovakia, Spain, among others. The flag off was conducted by Major General Narpat Singh Rajpurohit. A priest of Mandawa conducted 'Puja and Tika Ceremony' for all the participants. The first team to go out after the flag off was 61st Cavalry of Jaipur which is representing India in the race. Lunch was also organized at a midpoint where all riders dismount for 30 minutes before carrying on with the race. Earlier, evening dinner was hosted by Mandawa Castle at Alsisar Mahal where the participants enjoyed cultural performances by local Kalbelia dancer and Langha singer.
Several campsites have been set up by Mandawa Safaris for the overnight stay for all riders. The terrain of sand dunes and fields gave the participants opportunity to indulge in the landscape while being cautious of the speed in which they must travel to succeed in the race. The oldest rider of the race is the 93-year-old Philippe Perrier who is also enjoying the landscape and luxurious ride.
It is to be recalled that the participants will cover an equestrian trail of 200kms in 6 days which will cover destinations like— Alsisar, Mahensar, Bika Ki Dhani and Fatehpur. The ride will conclude at Hotel Castle Mandawa on 8 March with a prize distribution ceremony. On 9 March, there will be a polo match at Mundota.