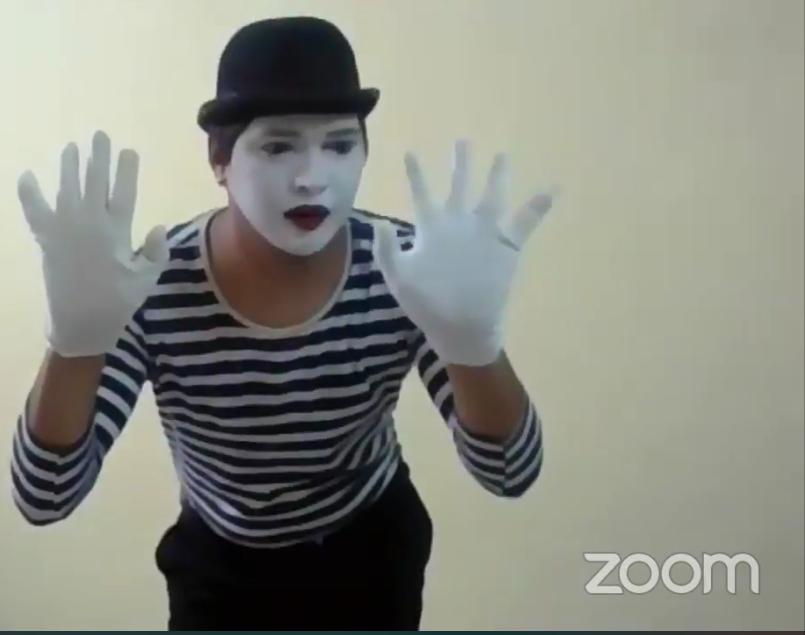 Press Release
As a part of Jawahar Kala Kendra's (JKK) ongoing 'Online Learning – Children's Summer Festival, a performing arts session on 'Theatre' was held. The session was conducted by mime artiste, Mr. Kunal Motling. The session focused on breathing exercises, mime activities, creating basic illusions as well as using mime in theatre.
Giving a brief introduction to 'Mime', the artiste explained that mime is a form of non-verbal communication. It is the planet's first language because it uses no words. In life we often communicate without the use of words, this is mime. When one wants to perform mime one adds a story to it. Mime has two forms – slapstick and abstract. Slapstick focuses on comedy and humour whereas, abstract makes use of one's imagination and various body movements.
This artiste showed how to recreate daily life situations in mime like climbing the stairs, imaginary walls, pulling the rope, among others. Basic mine exercises for creating illusions—'Fix Point Exercise' where performer locates a point with their body, and then keeps it motionless in space was also demonstrated by the artiste. Mime artistes need to have fit bodies as well. This will help the performance grow, even more, he said.
Talking about the significance of mime for actors, Mr. Motling said that mime is very important for all actors because when artistes are called in for an audition, they have to perform mime as well. At the audition, properties or objects are rarely given to the artiste. For example, if someone has been told to read a newspaper in the audition, they won't be given a newspaper, they will have to do the action in mime without any properties. Many well-known celebrities like Nawazuddin Siddiqui, Naseeruddin Shah, Sharukh Khan, Salman Khan all practise mime for acting.
Tomorrow's Programme on Saturday, 13 June
Tomorrow on Saturday, 13 June there will be a performing arts online learning session on 'Theatre' by Dr. Sayeed Alam from 5 pm to 6 pm. The session will focus on 'Characterisation in Theatre'. This will include how to develop different character roles for a drama with a special focus on costumes, voice modulation and much more.
It is to be noted that the online learning session will be Live on JKK's Facebook page on https://www.facebook.com/jawaharkalakendra.jaipur/