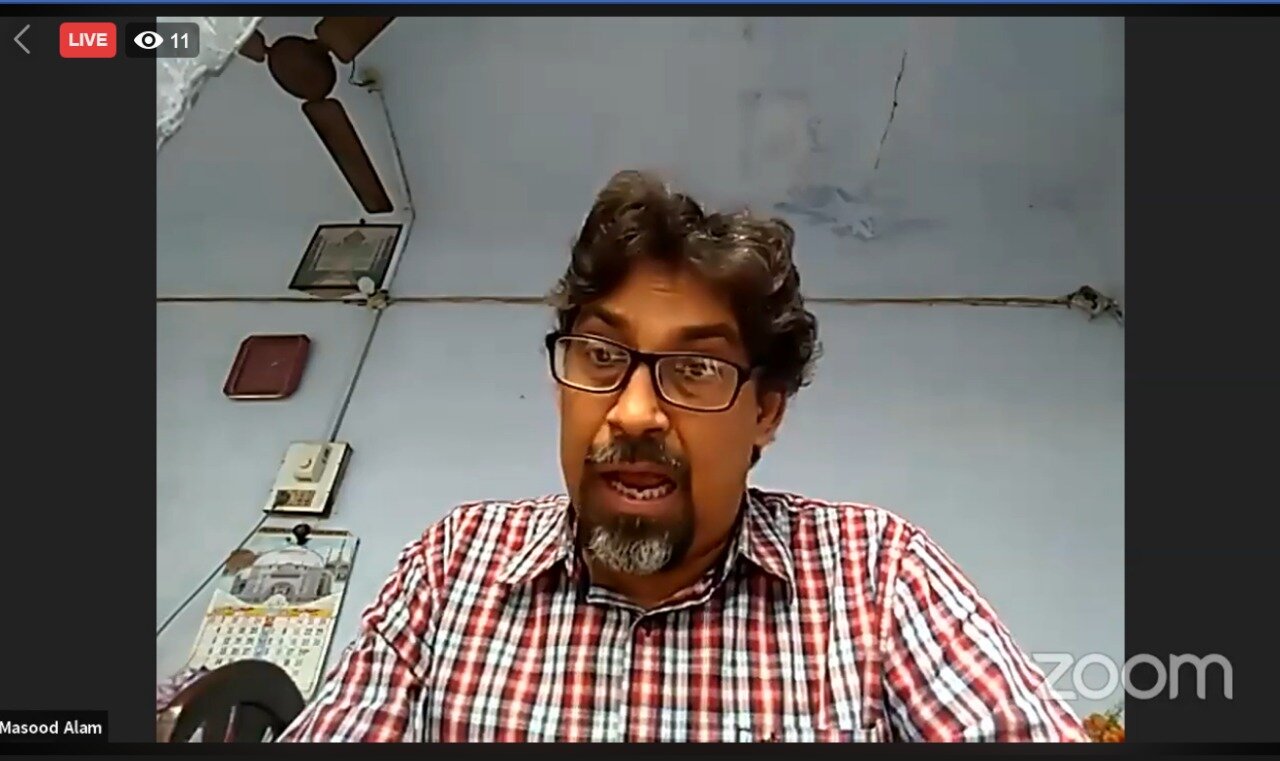 Press Release
As a part of the ongoing 'Online Learning – Children's Summer Festival, an online learning session on 'Theatre' was conducted by theatre artiste, Dr. Sayeed Alam. The session focused on 'Scriptwriting in Theatre'. The session focused on how to write a story, stagecraft, qualities of a playwright and much more.
In the beginning of the session, the artiste said that the most important element of theatre is 'scriptwriting' without writing a play one can't act in a play. Many tend to pick out a play which has already been written and give out roles to different characters and have them memorise the dialogues. However, if this continues, there will soon be a dearth of plays in the future. In our daily life, there are many incidents occurring around us which can be wonderful subjects for plays. It is always best to write a new play and stage it instead for choosing an already written play. Citing an example, he said that today 'Corona' is a very good topic for a play. Despite hundreds of plays having been written before there is no play on 'Corona'. Therefore, there should be a balance between writing new plays and adapting previously written plays.
He further said that scriptwriting is an art which every theatre enthusiast needs to learn. A major need of writing a script is connection to the story. One can't write a play sitting at home till they know the stage. Like the length, width of the stage, location of the green rooms, stage cyclorama, types of lights, etc. This is known as 'Stagecraft'. Until the writer knows how they can show many locations, cities, countries etc. without losing time on one stage, one can't write a play. This can be done by way of – dividing the stage, using lights, someone carrying a placard, lifting of curtains and many other ways. Many times there is also shortage of actors and one actor has to play different roles. He may be young in one scene and old in the next scene. This will involve, make up change and costume change. During this time, the writer has to be mindful of how much time the artiste needs to change and do his makeup and what he plans to show on stage during this change.
Shedding light on the qualities of a 'playwright', he said that a playwright should also be a director, set designer, makeup man, costume designer, light designer and much more. He should know what are the elements of a particular scene, where is it happening and at what time is it happening. One should only keep that many elements on the set needed to make a location believable to the audience. Sometimes dialogues can also be used to establish a location like a park, mountain or beach. Once the play is written must be rehearsed and tested. The playwright must be a part of the rehearsal every day so that he can judge which scene fits the stage and which does not.
Programme on Monday, 15 June
On Monday, 15 June, there will be a visual arts online learning session on 'Mono Print' by artist, Mr. Harshit Vaishnav from 10 am to 11 am. The session will approach 'Mono Print' in a unique manner with focus on using a variety of materials and paints to create textures.
It is to be noted that the online learning session will be Live on JKK's Facebook page on https://www.facebook.com/jawaharkalakendra.jaipur/