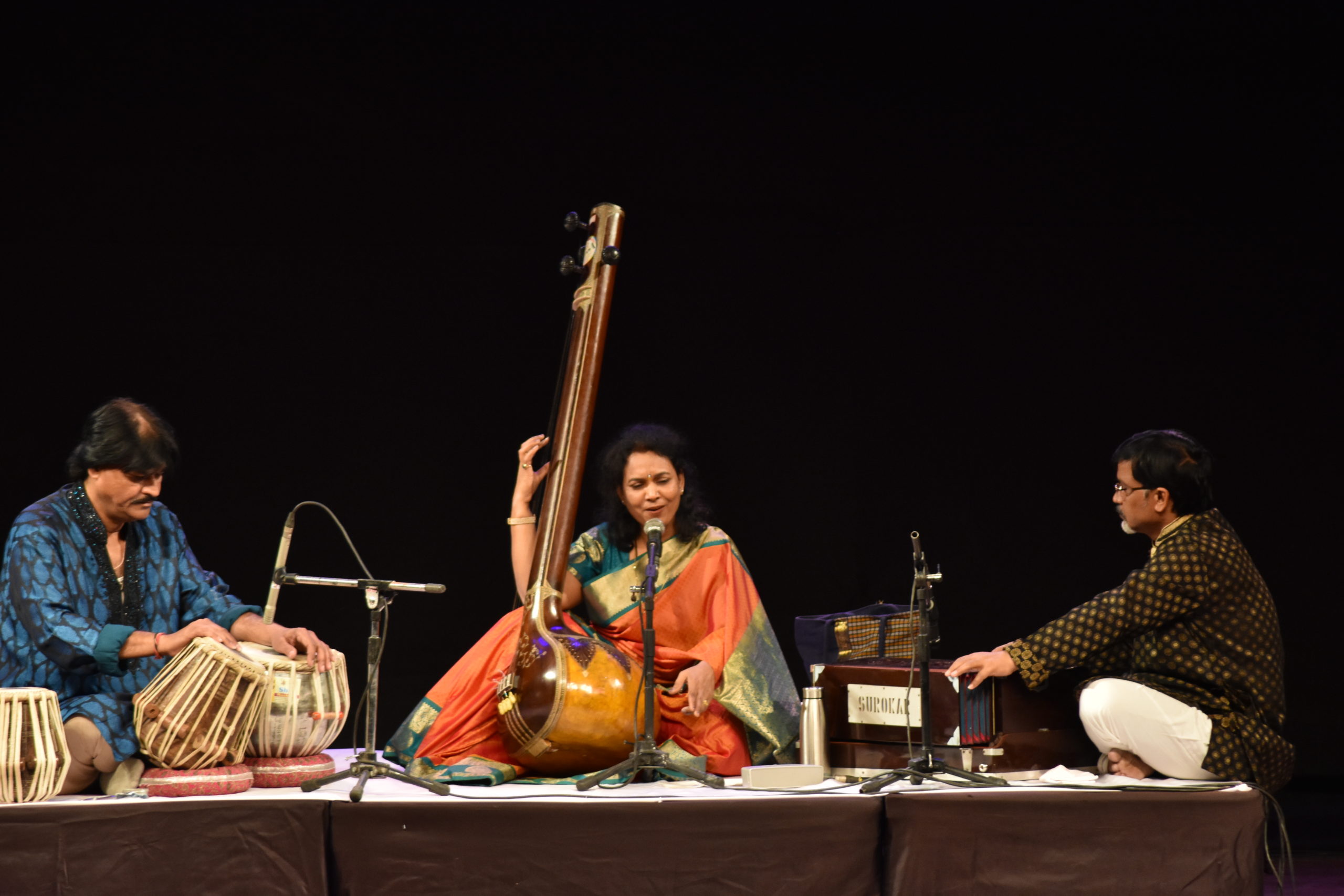 Press Release
On the seventh day of the performing arts festival, 'Rasrangam' organized by Jawahar Kala Kendra (JKK), the audience enjoyed a culturally enriched evening with classical music and dance performances in the open-air theatre of JKK.
Shashtriya Gayan by Dr Chetna Pathak
The evening had a mellifluous start with 'Shashtriyan Gayan' by the Hindustani classical vocalist of Kirana Gharana, Dr Chetna Pathak in Madhyavarti. With the intricacies of Kirana Style, including melodic sound and expressions, Dr Pathak performed North Indian Classical Music (Khayal Gayan) along with Vilambit Laya, Madhya Laya, Drut Khyal and Taranas in a few selected Ragas. This was followed by a presentation of the light classical music genre, Thumri and Dadra (Hori), etc. She was accompanied by Shri Rajendra Benarjee on Harmonium and Shri Mahendra Dangi on Tabla.
Dr Chetna Pathak is the disciple of the internationally renowned Hindustani classical vocalist of Kirana Gharana Padma Vibhushan awardee, Dr Prabha Atre. She is one of the torch bearers of Kirana Gharana, who was initiated to music at the tender age of 8 by her mother and father. She has also received lessons on Tappa Gaayaki from Pt. Bala Saheb Poonchwale, the maestro from Gwalior Gharana.
Aaya Basant by Dr Reema Goyal

Under the direction of Guru Dr Reema Goyal, the performance 'Aaya Basant' showcased a traditional Kathak repertoire starting with an invocatory piece dedicated to Lord Shiva. This was followed by 'Paramparagat Nritta Paksh' of Kathak. The recital concluded with a beautiful composition showcasing the spring season, 'Basant' and celebrations of the famous Phagun festival, Holi.
Dr Reema Goyal is a versatile choreographer and a well-known Kathak artiste of Rajasthan. She is the daughter and senior disciple of the renowned Kathak Guru of Jaipur Gharana, Dr Shashi Sankhla. She has performed extensively in India and abroad in prestigious 'Samaroh' and festivals.
The performing artistes were — Rajeev Singh, Niharika Joshi, Jhankri Jain, Harshita Sharma, Isha Khandelwal, Ayushi Sharma and Laxita Jain. The accompanying artistes were – Dr Reema Goyal (Padhant); Shri Muzaffar Rehman and Shri Mohd. Shoaib Master Mohd. Zamaan (Tabla); Shri Munna Lal Bhaat (Harmonium & Vocals); Shri Hari Har Sharan Bhatt (Sitar) and Shri Ameeruddin (Sarangi).