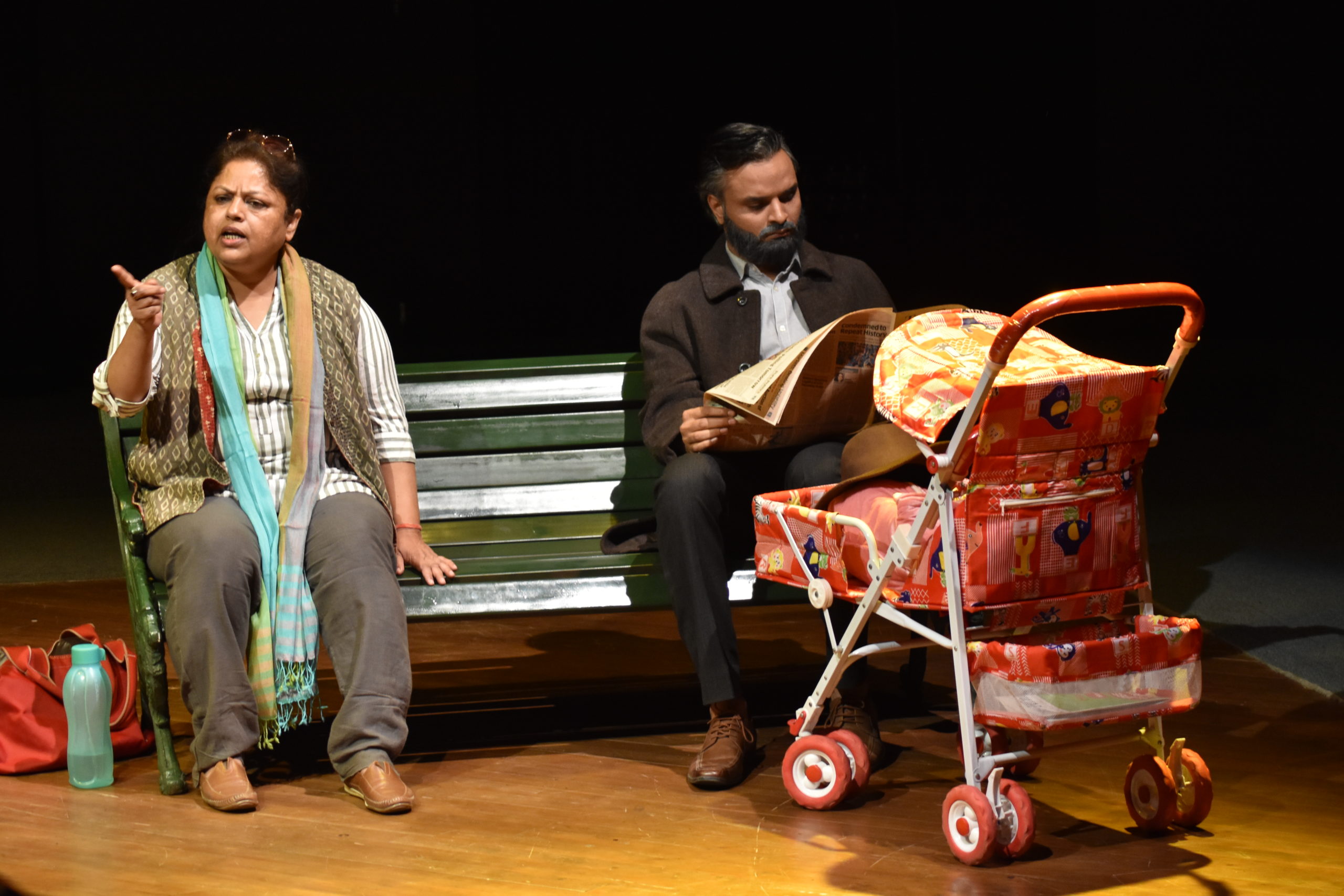 Press Release
On the sixth day of the performing arts festival, 'Rasrangam' organized by Jawahar Kala Kendra (JKK), the open-air theatre resounded with a mellifluous Jugalbandi performance and nuanced Kathak repertoires by well-known Kathak exponents. The audience was also enthralled by a play based on a woman's loneliness. The festival will be on till 13 March and will present classical music, instrumental, classical dance and theatre performances.
Play, Dhoop Ka Ek Tukda
The day began with the Hindi play, 'Dhoop Ka Ek Tukda' directed by Ruchi Bhargava Narula and written by Nirmal Verma. The play was presented by Kalandar, Jaipur. 'Dhoop Ka Ek Tukda' is one of three solitudes of 'Teen Ekant'. The play offered a glimpse into a woman's loneliness. Through her monologue, she is looking for a piece of sunshine. This woman fell in love, married, then lived separately from her husband. She tried to lead an independent life, but the past did not leave her. Living a lonely life, she visited the park and cathedral every day. She tried to save the memories. The emotional ending brought the audience to the hardships of a woman's lonely life.
The cast of the play included — Ruchi Bhargava Narula and Anil Marwadi. The music was provided by Abhishek Mudgal. The lights were done by Rahul Jangid. The set was designed by Asif Sher Ali. The costumes and properties were done by Pooja Bhargava.
Musical Performance, 'Vadhayavrandh
Renowned violinist, Gulzar Hussain collaborated with artistes under his direction to present 'Vadhayavrandh' in Madhyavarti. The performance witnessed a flawless medley of traditional musical instruments such as Violin, Sitar, Clarinet, Dilruba, Guitar and Tabla. In South India's famous melodious Raga, 'Hansdhwani', the Bandish of 'Jhaptal Madhyalaya' was performed beautifully by all the artistes together on their instruments. This was followed by three 'Bandish' composed by Gulzar Hussain, in which the 'Jugalbandi' of all the artistes thrilled the audience. 'Vadhavrinda' was composed by the famous musician, Ustad Alauddin Khan Sahib of Mehr Gharana.
Artistes who performed in 'Vadhayavrandh' were — Pandit Chandramohan Bhatt (Sitar), Ustad Abdul Rashid (Clarinet), Mohammad Omar (Dilruba), Bilal Hussain (Guitar), and Meraj Hussain and Zayan Hussain (Tabla).
Kathak Performance 'Raqs E Darbar'

India's first transgender Kathak artiste, Devika Devendra S Manglamukhi presented 'Raqs E Darbar'- A Mughlai Kathak presentation in Madhyavarti. This style indicates Kathak in the Mughal era. Devika Devendra S Manglamukhi presented the solo Kathak recital with 'Yare Man Biya Biya'. This was followed by 'Sargam e Salam', a traditional item based on 'Sargam' which showcased the grace of 'Salam' in the Mughal era. Thereafter, a beautiful Teen Taal in 'Raag Darbari' followed by 'Nazm' and 'Thumri' was rendered.
'Kathak'
The evening concluded with an energetic Kathak display by well-known Kathak exponent, Manisha Gulyani. She presented a Kathak recital weaved in traditional Jaipur Gharana. Her performance embraced Spring. She rendered an abstract to 'Abhinaya' in Hori. She was accompanied by Mohit Gangani from Delhi on Tabla, Piu Nandi from Kolkata on vocals and Mudassar Khan from Delhi on Sarangi.