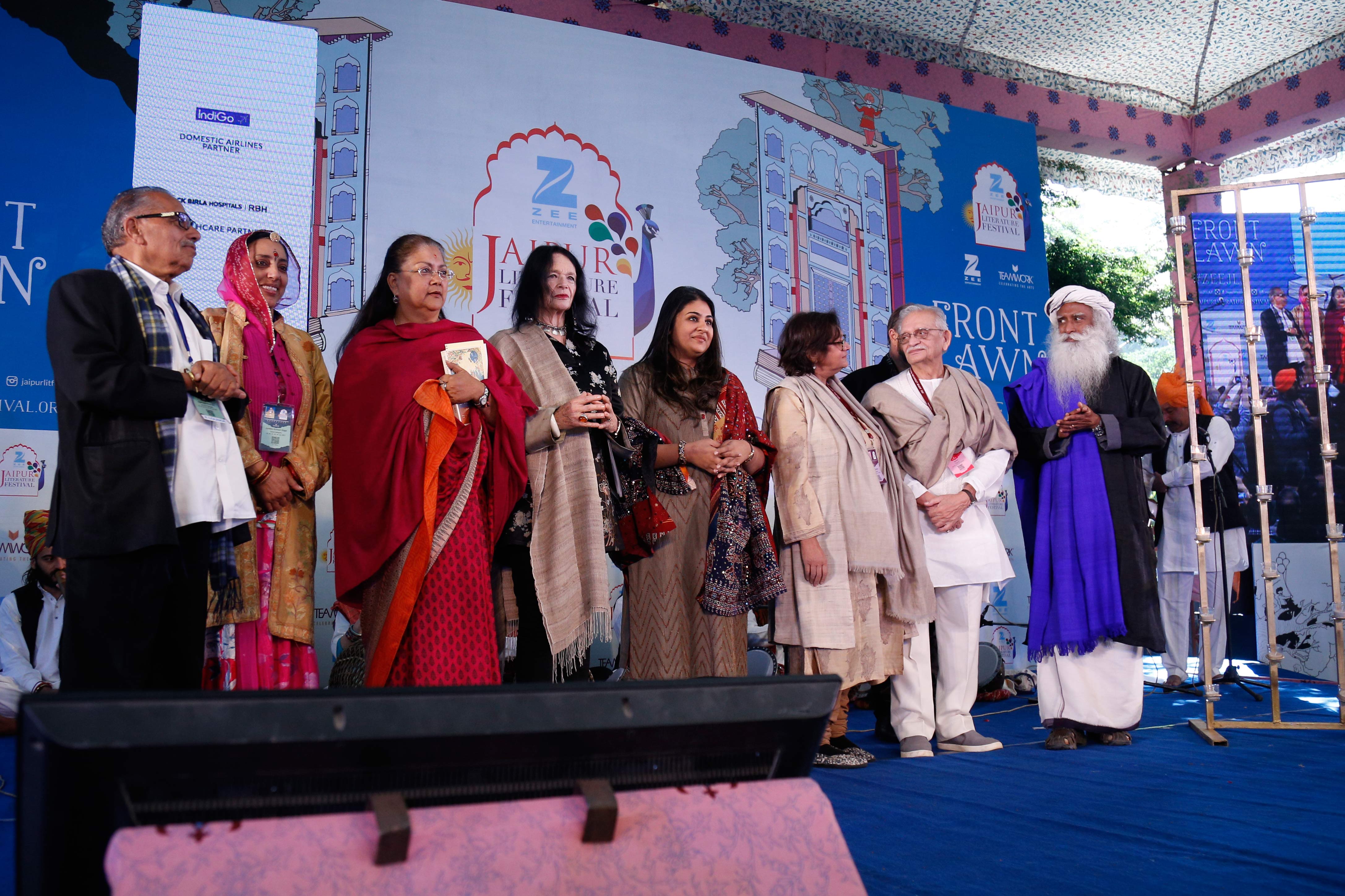 Press Release
Shri Vasundhara Raje, Chief Minister of Rajasthan inaugurated the festival
Gulzar and Anne Waldman gave a poetic Keynote Address which transfixed audiences
Literary heavyweights and captivating artists kicked off the literary celebration
Jaipur, 20 January: The Jaipur Literature Festival celebrated its tenth birthday in grand style today, with a glittering inauguration featuring Chief Minister Vasundhara Raje, celebrated yogi Sadhguru, iconic experimental poet and activist Anne Waldman, and legendary award-winning poet Gulzar Sahib. The beautiful Front Lawns of Diggi Palace Hotel in Jaipur were packed with dignitaries, readers and writers from India and all over the world, brought together by a love of literature and its capacity to inspire and entertain.
The festival opened to a fanfare of ceremonial drumming and horns by Rajasthani musicians led by Nathoo Lal Solanki, followed by a beautiful and rousing concert of popular, folk and classical music by the Shillong Chamber Choir.
The Jaipur Literature Festival is the largest free literary festival in the world, and Roy emphasized the importance of it remaining free: 'The only thing that brings about transformative change is knowledge and education.' Everyone should have equal access to that knowledge and education, because 'the only thing that can help us make sense is literature, writing, wisdom.'
Festival Director Namita Gokhale addressed the audience in Hindi and English, observing that 'we live in the best of times, we live in the worst of times but literature remains undisputed.' Gokhale expressed her excitement at this year's programme, and rememberedJohn Singh, who passed away last year, observing that 'the legacy of this festival rests on John Singh, the inspirational figure who, along with his wife Faith Singh, laid the foundations of this festival.'
Festival Director William Dalrymple spoke of the astonishing phenomenon of the Jaipur Literature Festival's success, which has created open access to Nobel Prize winners, Harvard and Oxford scholars, and literary prizewinners across the world. 'For five days, the greatest minds in the world are free.'
The lamp was then lit to a fanfare of rousing drums, didgeridoo and fireworks.
Chief Minister of Rajasthan Vasundhara Raje Scindia welcomed the audience, authors and dignitaries to the festival, revealing that theJaipur Literature Festival is 'one of the high points of my year, the coming together across the world of wonderful writers, wonderful minds, and young people.' She talked of how thrilled she was that the festival had spawned over 120 copycat festivals, observing that 'literature has gone like a forest fire' across India and across the world.
Vasundhara Raje Scindia expressed her delight that the festival was hosting a facsimile copy of the 13th century Magna Carta this year, considered to be the founding document of human rights and democracy. As the largest democracy in the world, 'it is a huge tribute to us' in India that it has come here, she said. She commended the city of Jaipur as an exceptional cultural experience, observing that 'Jaipur is looking its finest in many, many years.'
The Keynote Address was given by two extraordinary poets of repute: Gulzar, whose poetry reaches across generations, and Beat poet and activist Anne Waldman, who infused the festival atmosphere with her passion. Gulzar congratulated the festival for completing ten glorious years as a unifying platform for writers and readers, young and old. While an exuberant Anne Waldman offered a cautionary note on the times we live in. The performance poet and activist recited the poem-song Anthropocene Blues, which paints a portrait of a broken age, in which 'nothing is not affected by the hand of man.'
We have 20 years to save the world from an epidemic of mood-altering chemicals. This was the stirring message of Sadhguru, the yoga guru and author of Inner Engineering: A Yogi's Guide to Joy, speaking at the Front Lawn.
Sadhguru, who runs the Isha Foundation and travels the world teaching yoga, suggests humanity is facing an existential crisis. 'Human intellect is firing like never before. This is why people are suffering. They have to think for themselves, not rely on scripture or a guru.' The question, Sadhguru suggested, is whether the means people find to transcend their selves are helpful or toxic. 'We need methods which are scientific and logical to take people to peaks in themselves', he said. For him, yoga is the best method. 'Yoga means union – you have successfully obliterated the boundaries of your individuality.'
There is a worldwide rebellion against the incompetence of experts, according to Nassim Nicholas Taleb, polymath author of Black Swan and Anti-Fragile. 'People are fed up with serial incompetence', said Taleb at the ZEE Jaipur Literary Festival. 'There is a rebellion against the expert problem.'
He suggested that Brexit – the recent vote by the UK to leave the European Union – was a wise reaction to the over-centralized bureaucracy of the EU. 'The bureaucrats there try to manage how many times your windscreen wiper moves up and down in a minute, yet they can't even control borders.'
Taleb was particularly scathing about Davos, the annual meeting of experts at the World Economic Forum. 'I was invited once and I made sure they never invited me again. I called them the International Association of Namedroppers. They think it's their mission to solve a problem they don't understand.'
'It seemed that everybody understood the world and I didn't,' said Sir David Hare, the BAFTA winning playwright, when asked what had prompted him to pick his pen up and write. 'What drove me was bewilderment. As a young man, I thought it was anger, but it really wasn't.' In a moving and revealing session, Hare spoke candidly of his long, illustrious career, his relationship with critics, the women that inhabit his plays and films, and the relationship between theatre and politics.
Hare's award-winning screen adaptation of The Hours, starring Meryl Streep, Nicole Kidman and Julianne Moore was critically acclaimed for its complex and moving portrayal of women. The playwright spoke of his 'disappointment' at the way the theatre world marginalises women writers and characters. He remarked ruefully that he loved writing about strong women, but 'It is always difficult to get men to play the subservient parts.'
Few may have risen from conditions as dire as Bhyrappa and created a life many would try to emulate, 'My younger brother, sister, and mother died at quick successions,' he revealed. His poverty led him to work as a gatekeeper at a village cinema hall, sell incense sticks, work as a supplier in a small hotel in Hubli, and sleep at railway stations and bus stops. 'I always felt that I was very unlucky but those experiences help me now, help my writing,' Bhyrappa admits humbly.
Bhyrappa entertained his audience at the Mughal tent with a potpourri of Indian culture: full of trivia, anecdotes and lesser-known facts from Vedas, Upanishads, Gita. Yet his love for the culture didn't muddle his academic side: 'Government must repeal laws and allow criticism of religions in academic language,' he said to a roaring audience. Bhyrappa's eclectic personality and strong opinions on Hinduism may have induced questions in listeners' minds but his popularity remains unfaded.
With right-wing political leaders ascendant across the world, many political commentators internationally have been writing obituaries for the left and all the ideologies they represent, namely socialism, equality in identity politics, and a decentralized, distributive system of economics. The panel discussing the Legacy of the Left concluded that though revolutionary leftist movements have faded the legacy of the left ensures that all political powers must concern themselves with combating inequality. Maidul Islam, Mridula Mukherjee, Pratap Bhanu Mehta, and Timothy Garton Ash were in conversation with Patrick French.
Other highlights included a session with Man Booker Prize winner Paul Beatty, the popular Foreign Correspondents Club, S.L. Bhyrappa in conversation with Vivek Shanbhag, and a session on The Enigma of Amma.
The day was still rounding up and many other exciting sessions were still to come including readings from Abhay K., Ambika Dutt, Angélica Freitas, Kumar Shiv, Madhup Mohta and Nandana Sen in the Poetry Hour 7×7. And sessions on war reporting, the legacy of the left, the Hindu and Buddhist Golden Age in Southeast Asia and a discussion about the Indian constitution, one of the most masterly political texts in the world.
At Jaipur BookMark the First-Book Club new writer's mentorship programme gave aspiring authors the fantastic opportunity of a special one-on-one session with industry experts sharing their rich experience and expertise. A session on copyright shared perspectives from around the world and literary exchange was discussed with Mahasweta Devi and Rabindranath Tagore as case studies.
Overall, the ZEE Jaipur Literature Festival saw a very lively and invigorating first day, packed with thought-provoking discussions and interesting debates, much laughter and bathed in sunshine.
The Music Stage at Hotel Clarks Amer is set to come alive tonight with a massive evening of music. Kick-starting the evening music programme Rajasthan Josh and Neeraj Arya's Kabir Café break boundaries and captivate the crowds with their mesmerising folk dances. Kabir Café bring their pioneering genre Kabir Rock, influenced by artists like Prahlad Tipanya and Mir Mukhtiyar Ali.
ENDS
NOTES TO MEDIA PERSONS
Information on Registration for the Jaipur Literature Festival can be found here:
https://jaipurliteraturefestival.org/registration-2017/
For media enquiries on the Jaipur Literature Festival, please contact Edelman India:
Nitisha.Prabhakar@edelman.com / Amrita.Sarna@edelman.com
For Jaipur media coordination on the Jaipur Literature Festival, please contact Spark PR:
Jagdeep Singh (M: 09829065787) (Email id: info@sparkpr.in)
Kamal Kant (M: 09571836810) (Email id: info@sparkpr.in)
About the Jaipur Literature Festival 2017
The past decade has seen the Jaipur Literature Festival grow into the world's largest free event of its kind. Having hosted 1300 speakers and welcoming nearly 1.2 million book lovers, the success of JLF has been astonishing and heartwarming.
Celebrating writers from across the globe, the Festival has hosted some of the best regarded and loved names, ranging from Nobel Laureates and Man Booker Prize winners to debut writers such as Amish Tripathi, Chimamanda Ngozi Adichie, Eleanor Catton, Hanif Kureishi, His Holiness the 14th Dalai Lama, Ian McEwan, JM Coetzee, Margaret Atwood, Mohammed Hanif, Oprah Winfrey, Orhan Pamuk, Pico Iyer, Salman Rushdie, Stephen Fry, Thomas Piketty, Vikram Seth and Wole Soyinka, as well as renowned Indian language writers such as Girish Karnad, Gulzar, Javed Akhtar, MT Vasudevan Nair, Uday Prakash as well as the late Mahasweta Devi and UR Ananthamurthy.
Writers and Festival Directors Namita Gokhale and William Dalrymple invite authors from across the globe to take part in the five-day programme set against the backdrop of Rajasthan's stunning cultural heritage and the Diggi Palace in the state capital Jaipur.
Equity and democracy run through the Festival's veins, placing some of the world's greatest writers and thinkers from all walks of life together on stage. All events are completely free and there are no reserved spaces; this egalitarian access is a powerful statement in a country where access to such individuals remains the privilege of a few. On top of all this, people are guaranteed to have fun!
As Time Out said: "It's settled. The Jaipur Literature Festival is officially the Woodstock, Live 8 and Ibiza of world literature, with an ambience that can best be described as James Joyce meets Monsoon Wedding."
The Festival is a flagship event of Teamwork Arts, which produces over 25 highly acclaimed performing arts, visual arts and literary festivals across more than 40 cities globally, and is produced by Sanjoy K. Roy.
In 2014, JLF spread its wings beyond the borders of India with an annual event in May at London's Southbank Centre. In 2015, JLF headed across the pond to Boulder, Colorado where it hosts a similar event every September.
Website: www.jaipurliteraturefestival.org
About Teamwork Arts
For over 25 years, Teamwork Arts has taken India to the world and brought the world to India.
In countries such as Australia, Canada, Egypt, France, Germany, Hong Kong, Italy, Israel, Korea, Singapore, South Africa, Spain, UK and USA, Teamwork produces over 25 highly acclaimed performing arts, visual arts and literary festivals across more than 40 cities.
Teamwork Arts produces one of the world's largest free literary gatherings, the annual Jaipur Literature Festival, the Ishara International Puppet Festival in New Delhi, the annual Mahindra Excellence in Theatre Awards (META) and Festival, international festivals Shared History in South Africa, Eye on India in the United States of America, India by the Bay in Hong Kong, Confluence- Festival of India in Australia, and many more.
Website: www.teamworkarts.com