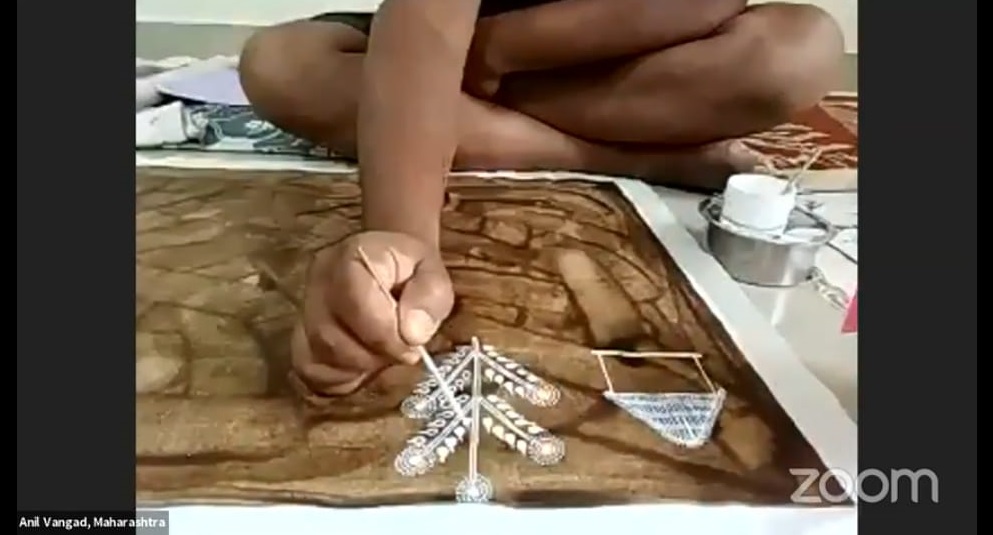 Press Release
As a part of the ongoing 'Online Learning – Children's Summer Festival, an online learning session on 'Warli Painting' was conducted by artist, Mr. Anil Vangad from Maharashtra. The session introduced the basics of Warli painting. The artist also explained the small details of village life that added charm to the art session.
The session began with a brief introduction to 'Warli Painting'. The artist explained that Warli painting is a style of tribal art mostly created by the Warli tribe, which is one of the largest tribes in India. The Warli culture is centered around nature and its elements. These are often main elements depicted in these paintings. The tribe engages in farming as their main source of livelihood. They respect nature and wildlife for the resources that they provide. Using basic geometric shapes like circles, triangle, square as well as dots and lines, these painting depict everyday activities like hunting, fishing, and farming as well as trees and animals. These people celebrate a variety of festivals and dances which are commonly painted scenes, he explained.
The artist painted a farming scene using white poster pigment and a sharpened bamboo stick on a canvas layered with cow dung and Fevicol. He further explained that these are usually large paintings which take a long time to make. A Warli artist usually does not plan out a painting. They tend to go with the flow adding on elements as required. In Warli painting, walls are painted to mark special occasions such as weddings or harvests. These paintings have now, stepped off of the walls and are are being done on canvas cloth and paper using poster paints. This is enabling the art to reach people far and wide. 'Warli Painting' needs to be preserved for the future generations. People need to be encouraged to practice this form of art and learn more about the tribal community, he said.
Programme on Wednesday, 17 June

On Wednesday, 17 June, the viewers will witness an art talk on 'Building Inclusive Society Through Art (Part 1)' from 6.30 pm. The talk will be attended by Mr. Manoj Joshi, Ms. Varsha Kharatmal and Mr. Lokesh Punia. They will be in conversation with Mr. Bharat Ratna Bhargava.
It is to be noted that the online learning session will be Live on JKK's Facebook page on https://www.facebook.com/jawaharkalakendra.jaipur/