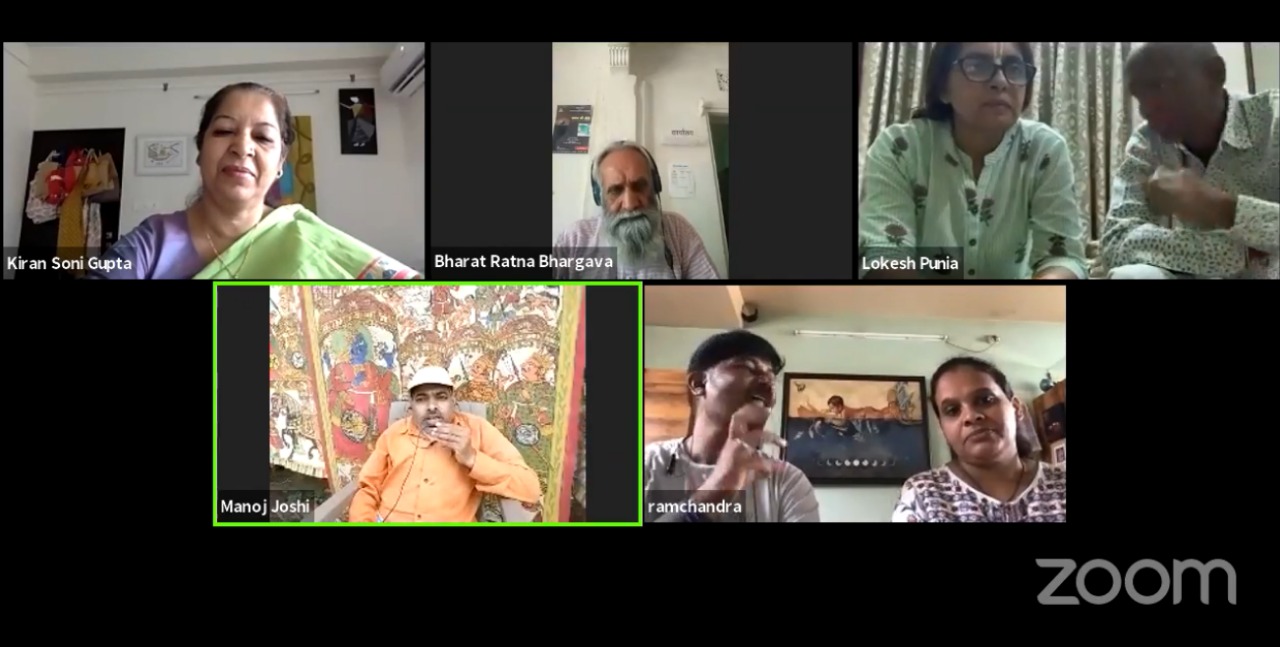 Press Release
Art brings people together both physically and culturally. This can be through galleries, exhibitions, art shows, and performance pieces or by telling a story belonging to a particular community, inspiring reflection and forming a bond that exceeds beyond the differences. Such was the opinion of eminent specially-abled artists who came together to participate in an art talk on 'Building Inclusive Society Through Art (Part 1)'. The talk was attended by Mr. Manoj Joshi, Ms. Varsha Kharatmal and Mr. Lokesh Punia. They were in conversation with Mr. Bharat Ratna Bhargava and Director General, JKK, Ms. Kiran Soni Gupta. The talk was held as a part of a series of art talks being organised weekly by Jawahar Kala Kendra (JKK).
On behalf of eminent artist, Lokesh Punia, his mother, Anushka Arya shared that Lokesh Punia has a skin disorder and is also deaf and dumb. Ever since he was a child, he was blessed with a brilliant mind with an eidetic memory. He was always fascinated with taking things apart and working with his hands. His work is an expression of what he feels and wants to communicate. He started working with traditional clay after coming into contact with brilliant artist, Himmat Shah. He always believed in creating original artworks and never want to copy another artist. During the talk, he also showcased many of his well-known pieces, inspired by the safety pin, foot, AC fixtures and much more.
Artist, Manoj Joshi had an accident in which injured his backbone. He is a well-known practitioner of traditional Phad painting which picked up from his father. He began his career by preparing colours for other artists at weddings. Later, he learned how to make designs like booti, bel, etc. He explained that Phad is based on stories of the legendary Pabuji and Devnarayan. These paintings are usually 17 ft long 4 ft wide. Nowadays, since houses do not have a lot of space, smaller compositions are being done. Talking about the demand for these paintings in other countries, he said that foreigners love folk art and there is a very good market for folk art in other countries. They take care of the art and ensure that it passes down through the generations. Demand for Phad exists in countries like Singapore, America, Italy and France.
On behalf of eminent artist, Ms. Varsha Kharatmal, her husband, Mr. Ramchandra Kharatmal said that Varsha showed a talent for visual art at a young age. She comes from a family of artists and was nurtured by her father to pursue art. Deaf since birth, Varsha attended a special school for hearing impaired children and transitioned to a regular art college before becoming a freelance artist. She makes realistic art, landscape art with a special focus on composition. Her work is influenced by the artist A.A. Almelkar. She has also studied the wall paintings of Ajanta that feature no space division and married this with her art style to create 'Ajantaesque' paintings. Many of her paintings feature the Maharashtrian women with saris and jewellery as subjects.
Talking about how space can be given to artists to express themselves in the society, Ms. Kiran Soni Gupta said that there is a need to understand everyone in the society, understand their artwork and make efforts to take the artwork ahead. Art is essential for an individual's peace, growth, joy and expression. Conflict between societies and countries is very common in today's time. For this, a symbiotic relationship must be created through art. The aim should be to create a mutual feeling of unity through art.