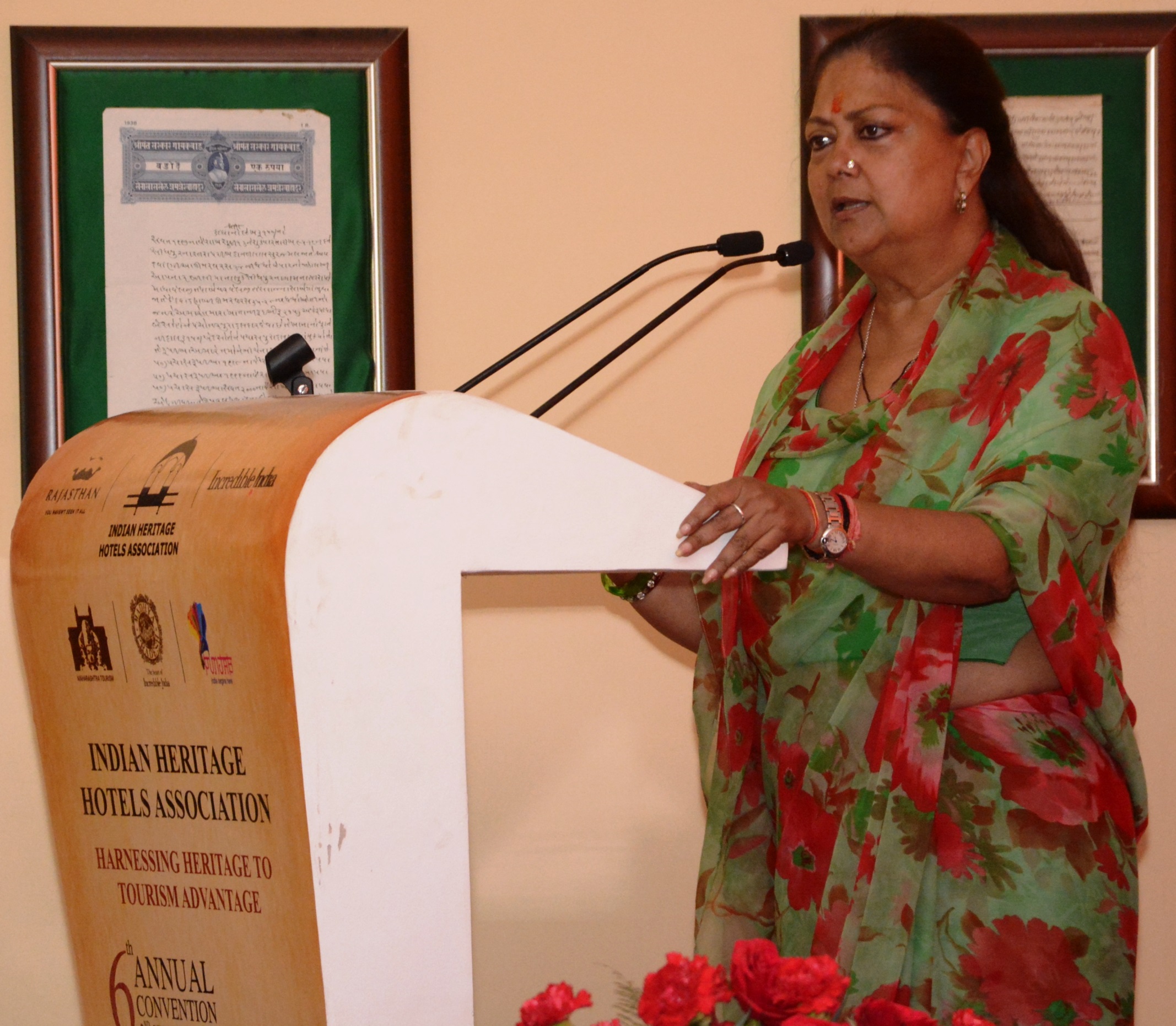 Press Release
Rs. 15000 Crores Network of Roads in next 18 months in Rajasthan
It is increasingly being realized both by the Centre and the States that tourism will be the key economy driver in the near future. Earlier, the focus of the States was in developing infrastructure, then social infrastructure and only then they thought of tourism. However, now scenario is fast changing and for creating employment as well as giving an impetus to economic growth the tourism sector will play a pivotal role. This was stated by the Rajasthan Chief Minister, Smt. Vasundhara Raje who was speaking at the Annual Convention of the Indian Heritage Hotels Association (IHHA) in Jaisalmer.
Referring to the GST demands of the travel trade, the Chief Minister said that she would take up the issues relating to GST with the concerned authorities at the Centre.
She further said that the Prime Minister, Shri Narendra Modi in his recent visit to Rajasthan had also emphasized upon the fact that tourism will play a significant role in changing the economic scene of the country. In this context it was satisfying, she said, that Rajasthan was developing Rs. 15,000 crores worth of road network in the State in next 18 months. The State, she said, stands for providing access, accommodation, amenities and articulation to the travellers.  The tourism sector in Rajasthan was only contributing 2.5% GDP of the State. This has to be increased. These factors will give a boost to the tourism sector. Furthermore, she clarified that everyone knows that Rajasthan is the land of forts, palaces and havelies. The State Government is now making concerted efforts to showcase the modern and youthful Rajasthan, which is also a destination for young travellers.
Earlier, the President of IHHA, Maharaja Gaj Singh of Jodhpur while thanking the Chief Minister for her proactive role in raising the issues of tourism sector with the GST Council said that some problems still remained. Owing to high rate of taxation the country was losing travel business to the neighbouring countries where the taxation ranged from 6% to 10% whereas in India it has gone up as high as 28%. The President once again urged for the National Heritage Policy to be announced by the Government of India which will prove to be a template for the States to emulate.
During the session a coffee table book prepared by the IHHA was also released by the Chief Minister and other dignitaries.
On the occasion Mr. Ashish Gupta of 'FAITH' gave a short presentation on GST to the Chief Minister.
Also present on the occasion were : Rao Rajendra Singh, Deputy Speaker, Rajasthan Legislative Assembly; Shri Jaykumar Jitendrasinh Rawal, Minister for Tourism, Government of Maharashtra; Smt. Krishnendra Kaur, Minister of State for Tourism, Government of Rajasthan; Shri Jose Dominic, Vice President, IHHA; Shri Vijai Lal, Vice President, IHHA; Shri Randhir Vikram Singh, Honorary General Secretary, IHHA.
The session was moderated by Shri Rakesh Mathur, Member Executive Committee, IHHA. The vote of thanks was proposed by the Convention Chairman, IHHA; Shri Rajendra Singh Pachar.