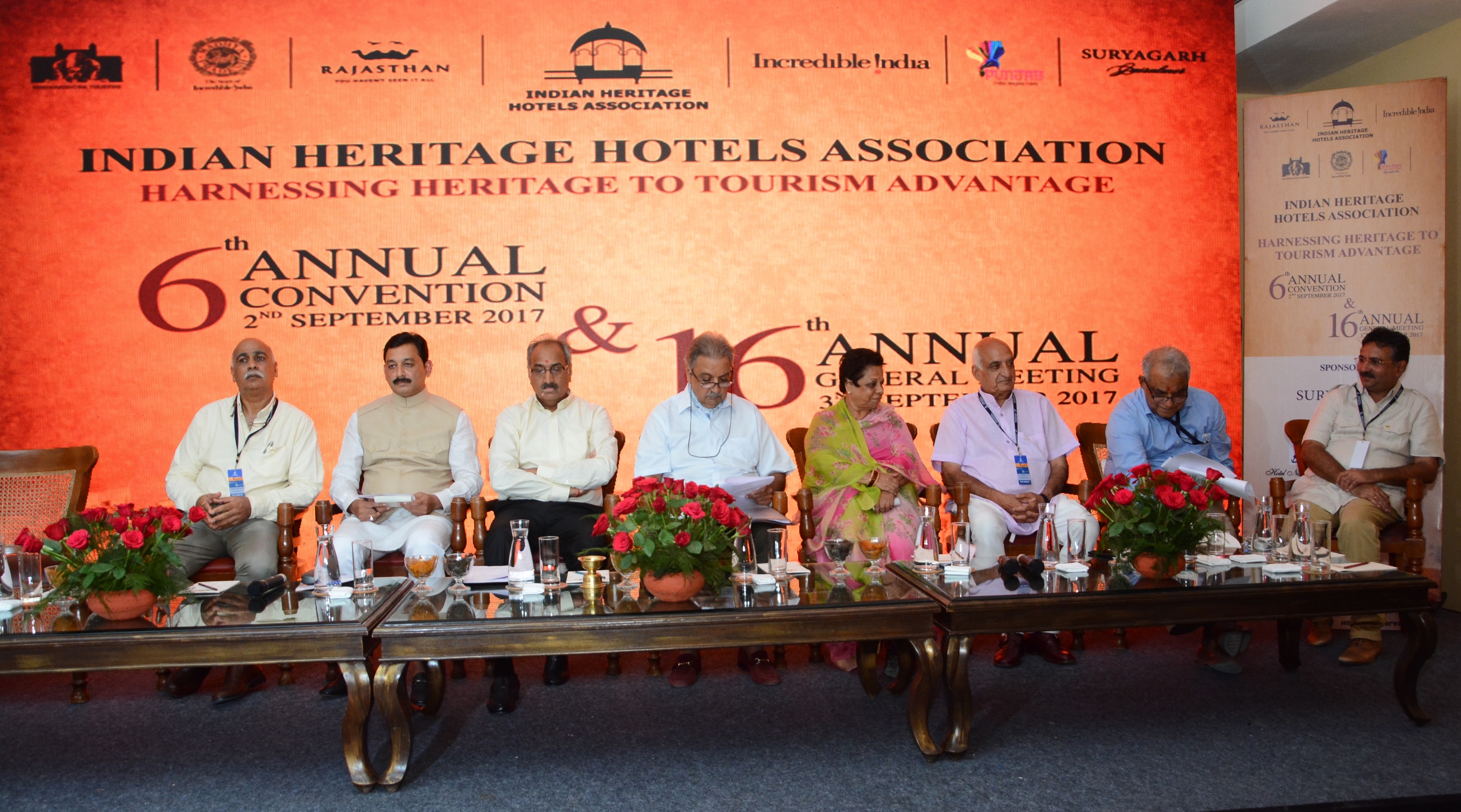 Press Release
India's young workforce will be its strength in times to come and foster economic growth in the country.  The average median age for an Indian will be 29 years while of those in Rajasthan, Bihar, Madhya Pradesh and Orrisa it will be 27 years. This young workforce will bring about the huge change in the upswing of the economy in times to come. This was stated by the Deputy Speaker of Rajasthan Legislative Assembly, Rao Rajendra Singh at the 6th Annual Convention of the Indian Heritage Hotels Association (IHHA). The 2-day convention was held at Hotel Suryagarh in Jaisalmer. The theme of the Convention this year was 'Harnessing Heritage to Tourism Advantage'.
Singh further said that heritage tourism is not only about selling rooms in heritage properties. It is also about recognizing and promoting the art and culture of the region and creating employment avenues. It is in these avenues that the young workforce of India will excel itself and take the country to the next level. He said that by 2030 India will be contributing 30 trillion US dollars to the world economy. He also complimented the IHHA for the fast rise in their membership and their concerted efforts in conserving and promoting heritage.
The Additional Chief Secretary, Tourism, Government of Rajasthan, Mr. NC Goel said that the focus of the Department has been to generate demand before supply; involvement of tourism trade and industry in decision making and hiring specialists for advertising creatives, media buying as well as public relations. The tourist arrivals  in the past year has increased by 17%.
In his welcome address IHHA President, Maharaja Gaj Singh of Jodhpur said that for the past many years the IHHA has been repeatedly urging the Union Tourism Ministry for framing a National Policy on Heritage Tourism. He once again reiterated that a National Heritage Policy is a must and once it is in place the States too would follow suit and the heritage hotel movement would become that much more effective as well as proactive.
Earlier, the Minister of State for Tourism, Government of Rajasthan, Smt. Krishnendra Kaur along with other dignitaries inaugurated the convention by lighting the traditional lamp. During the day an exhibition of different products which can be used in heritage hotels was inaugurated by the Minister. The Union Tourism Ministry, Rajasthan Tourism and Maharashtra tourism are also participating in the exhibition by setting up their booths.
The Vice President of IHHA, Mr. Jose Dominic; Principal Secretary Tourism and Cultural Affairs, Mr. Jaspal Singh; Member of Parliament, Yuvraj Sambhiraje Chattrapti and Joint Managing Director of Maharashtra tourism Mr. Aushtosh Rathor also gave presentations. The inaugural session was moderated by Mr. Rakesh Mathur. The Vote of thanks was given by the Honorary General Secretary of IHHA, Mr. Randhir Vikram Singh.