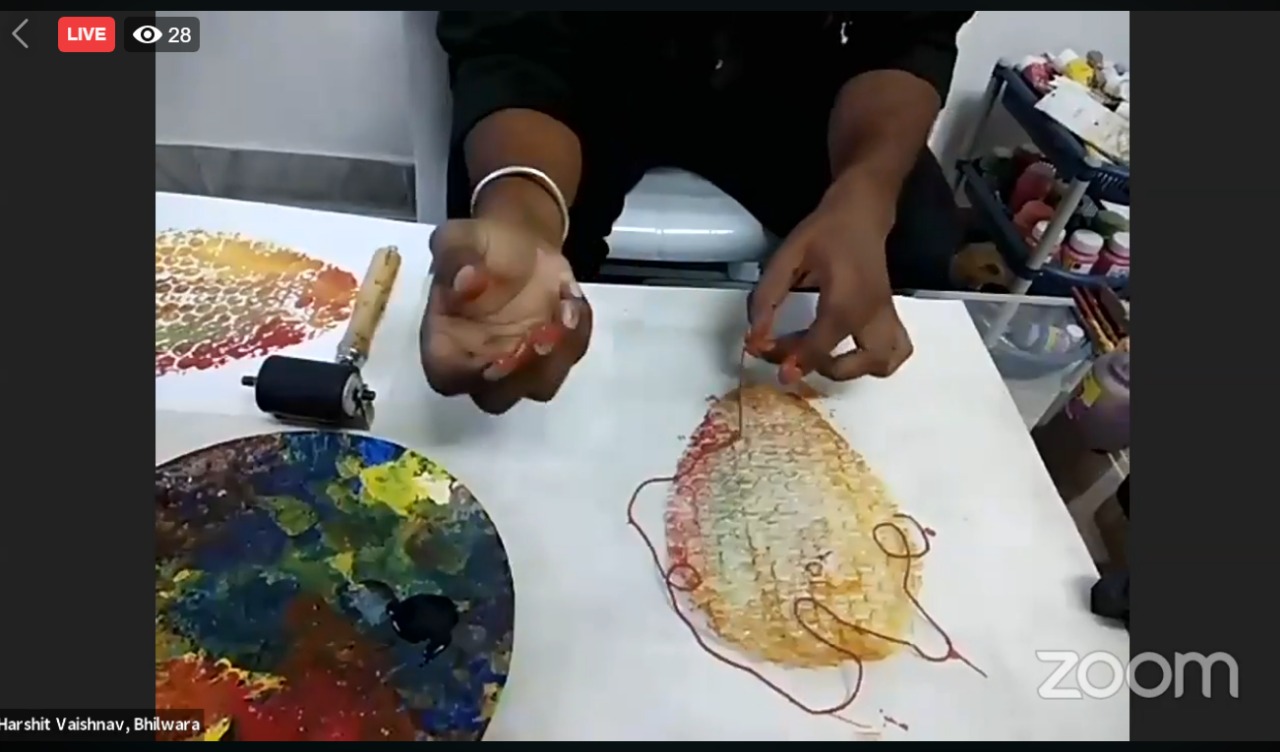 Press Release
As a part of the ongoing 'Online Learning – Children's Summer Festival, an online learning session on 'Mono Print' by artist, Mr. Harshit Vaishnav from Bhilwara was held. The session approached 'Mono Print' in a unique manner with focus on using a variety of materials and paints to create textures.
The session began with a brief introduction to 'Mono Print' as a method of printmaking. The artist said that 'Monoprint' is basically to transfer ink and take an impression on a surface. Mono Printing allows the freedom to create each image anew using a variety objects or material with a unique textures to take impressions. The artist then demonstrated how to take a mono print using acrylic paint. Firstly, a surface was created using hard plastic sheet to stick on base. After this, handmade paper or any other type of paper was wet using a wet sponge to take a better impression. Using a big flat brush, colour was applied over a bubble sheet which had been cut into a desired shape. The artist recommended placing a plain white paper before taking print so the colour doesn't spread. After this, the wet paper was pressed on slowly on the printed texture and rubbed with cloth to take impression. Then, the paper was lifted carefully to reveal the impression.
The artist went on to display using a variety of other materials like thread, texture paper, the back of a paint brush and earbuds to create different kinds of textured impressions. Explaining the difference between mono print and mono type, he said both the processes are similar. In 'Monotype' a one time impression is created with no patterns. Whereas, Mono Print can combine linocut, woodcut and or any other type of printmaking to create an impression. Working with oil paint is easier as it takes longer to dry and one can spend their time creating different textures and work with the print for a longer time. If the oil paint starts to harden, linseed oil can be added to adjust its viscosity, he advised.
Tomorrow's Programme on Tuesday, 16 June

On Tuesday, 16 June, there will be a visual arts online learning session on 'Mural Painting' by expert muralist, Mr. Anil M.V. from Kerala from 10 am to 11 am. The session will give an introduction to mural painting and will be teaching the viewers a systematic and simple manner to create beautiful murals.
It is to be noted that the online learning session will be Live on JKK's Facebook page on https://www.facebook.com/jawaharkalakendra.jaipur/