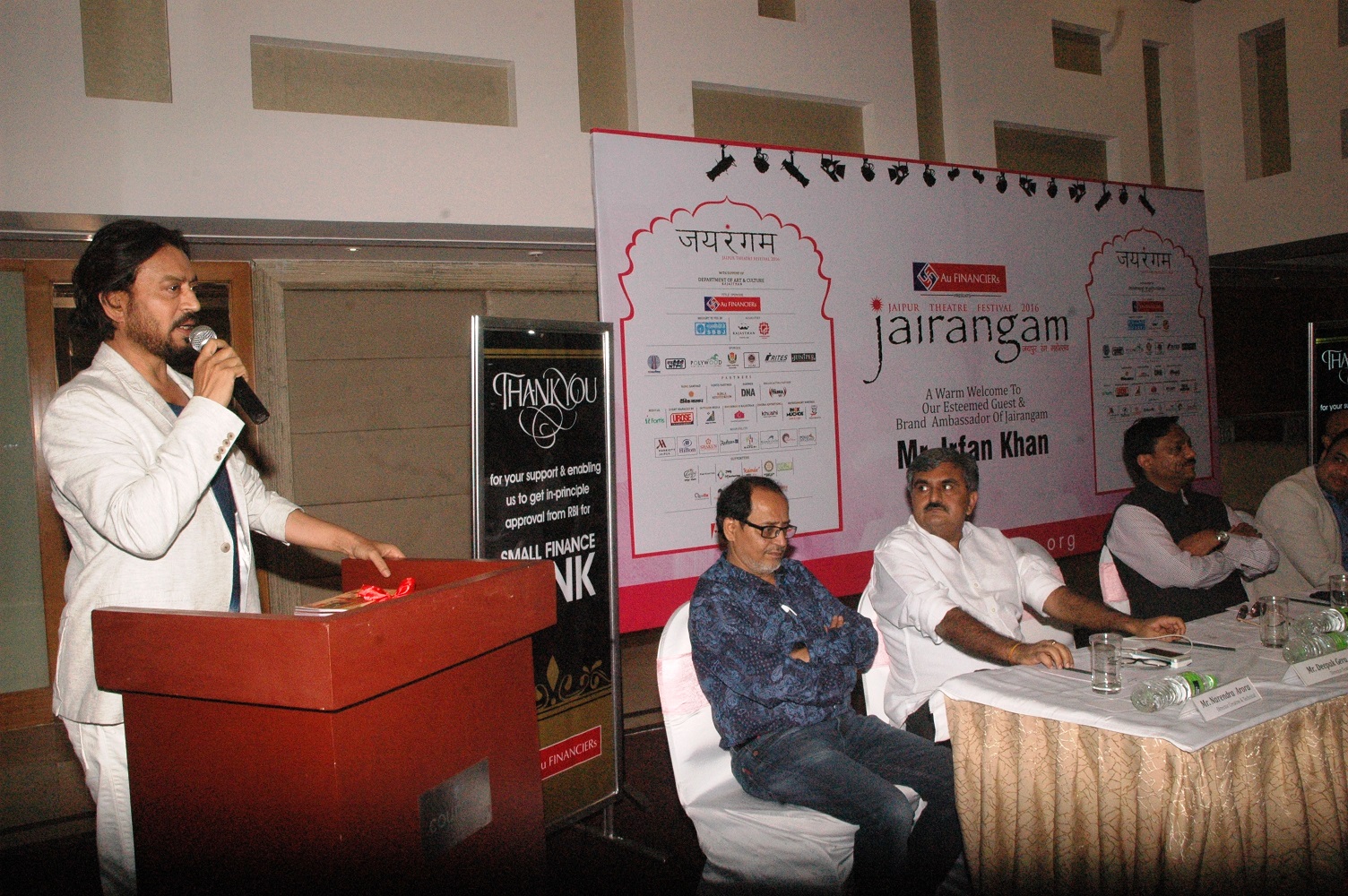 Press Release
Chief Minister to inaugurate Au-Jairangam tomorrow

Jaipur, 20 November: Theater is the purest form of expression and is here to stay for times to come, said renowned actor and Brand ambassador, Au-Jairangam, Irrfan Khan today. He was speaking at a press conference for the Annual Theater Festival of Pink City — Au-Jairangam scheduled to begin from tomorrow. Recounting his childhood days, he said that there was no culture of theatre in Rajasthan during earlier days. In fact, theater was looked down upon. Au-Jairangam is making an earnest effort to promote quality theatre in the Pink City and ensure that it reaches out to the masses, he added.
President, 3 M Dot Bands, Mr. Narendra Gour informed that the 5th edition of Au-Jairangam will be officially inaugurated tomorrow at 6.30 pm at Birla Auditorium by the Chief Minister of Rajasthan, Ms. Vasundhara Raje.
Festival Director, Au Jairangam, Mr. Deepak Gera said that Jaipur will witness quality theater in the next one week in which renowned actors like Paresh Rawal, Virendra Saxena, Makarand Deshpande, Puneet Issar, among others will partake.
Mr. Uttam Tibrewal of Au-financiers said on the occasion that it is indeed a privilege to be associated with Au-Jairangam which is taking significant steps to promote theatre which the truest form of acting.
A brochure of Au-Jairangam was also unveiled on the occasion. Later, actor Irrfan Khan also interacted with the public through LIVE chat on Facebook.
It is to be recalled that the 5th edition of Au-Jairangam will be held from 21 to 27 November at Jawahar Kala Kendra, Birla Auditorium and Maharana Pratap Auditorium.