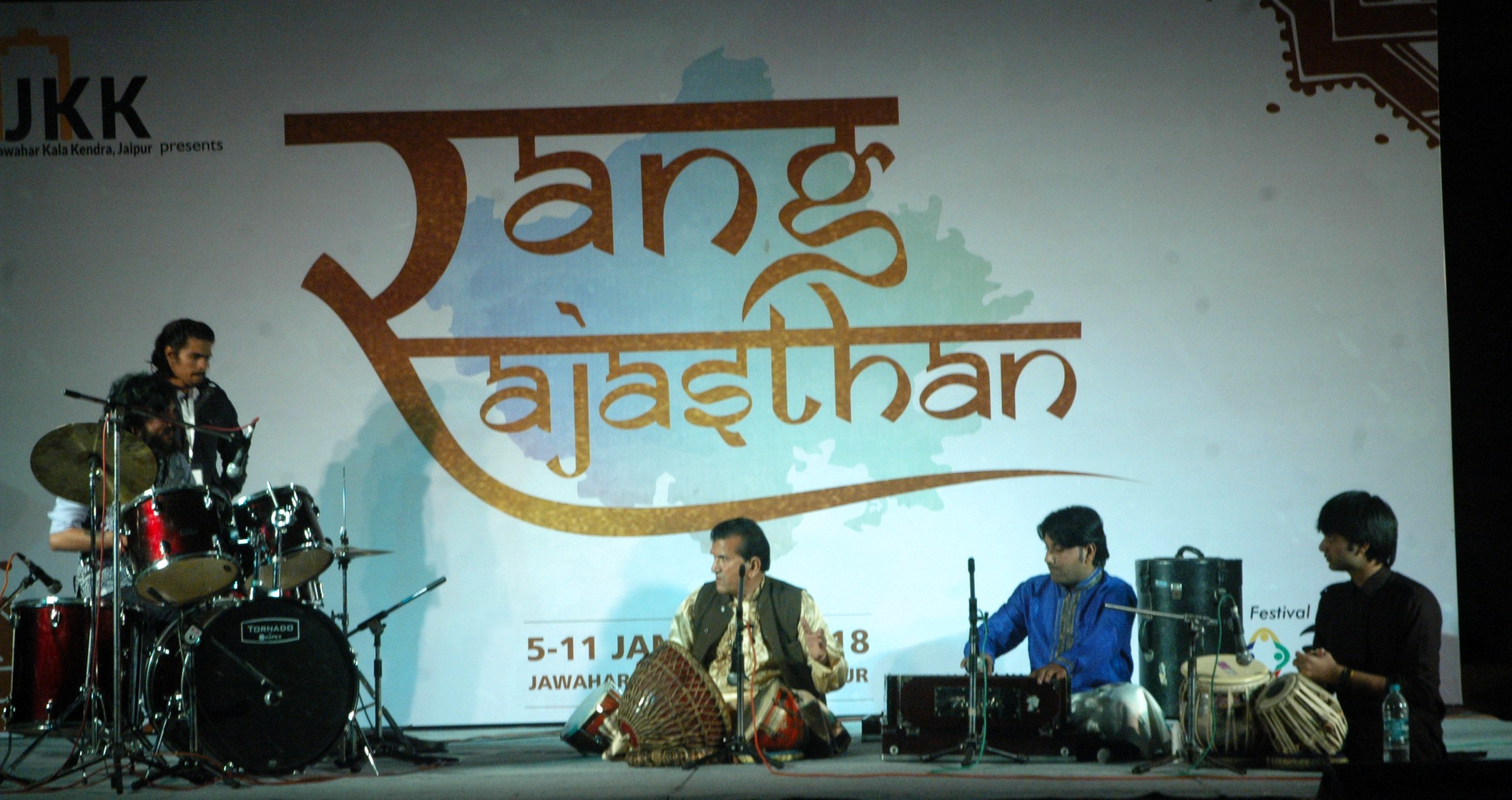 Press Release
The fourth day of the week-long Rang Rajasthan at Jawahar Kala Kendra (JKK) witnessed the staging of two plays, talk show with renowned Kathak dancer Ms. Shashi Sankhla, Open Mic Jaipur session as well as fusion band and folk dance performances in the evening.
Musical Magic at Open Mic Jaipur –
The day began with a musical performance by Sanchit at the Open Mic Jaipur session in the Kendra's Indian Coffee House. He was accompanied by Chinmay on Keyboard. They rendered popular Bollywood numbers like Kabira, Lag Ja Gale, Bulleya, Pehli Nazar, among others.
'Hain' by Kewal Kartik –
The play 'Hain' by Kewal which was staged at Krishnayan was a comical drama enriched with live music and power packed entertainment. The play gives the message of the importance of one's self desires and interests. The story is based in a farming village Hadamtiya, where lives a farmer Dhun Singh. He is not at all interested in farming and wants to move the city. His wife, on the other hand, wants to open a bangle shop. One day the sun disappears from the sky but one of the villagers can see it clearly.
'Teje Ro Tej' by Vipin Purohit –
Another play 'Teje Ro Tej' directed by Vipin Purohit from Bikaner was also staged at Rangayan. This is a modern drama of Rajasthani language. It is based on the folk deity 'Tejaji' who is considered miraculous even in the present times.
Talk Show with Shashi Sankhla –
There was also a talk show by renowned Kathak dancer Shashi Sankhla.  She said that along with Kathak one also learns 'Sanskar' – the way to behave with the Guru, the way of talking to elders and the correct body language, among others. Ms. Sankhla also opined that Kathak should be taught in schools right from the beginning. It is disappointing that Jaipur Gharana is known globally but there is no awareness about it among the people and youth of Jaipur, she added.
Folk Performance –
In the evening there was folk fusion music performance by Pt. Ramswaroop Rao & Group from Tonk. They combined Rajasthani folk instrumental music on Tabla and Harmonium along with drums. This was followed by a dance 'Baalam Choto So' folk dance by Bheemram, Moongaram and Group from Jaipur.  An 'Ardhghoomar' performance was also presented on the occasion by Taarachand & Group from Jhalawar. Ardhghoomar is a folk dance performed in rural Rajasthan on occasions like marriage and birth of a child.
Schedule for 9 January-
On 9 January, the day will begin with folk Music and dance performances at 10 am. This will be followed by Acoustic Guitar and Vocals recital at Open Mic Jaipur at 1.30 pm. This will be followed by play 'Gibraniyat' by Nishant Kumar at 3.30 pm and talk show with renowned screenwriter, Mr. Purnendu Shekhar at 4.30 pm. At 5.30 pm a theatrical play called 'Mela Gangour' by Tapan Bhat of Jaipur will be staged. In the evening there will be Folk Fusion music and dance performance.