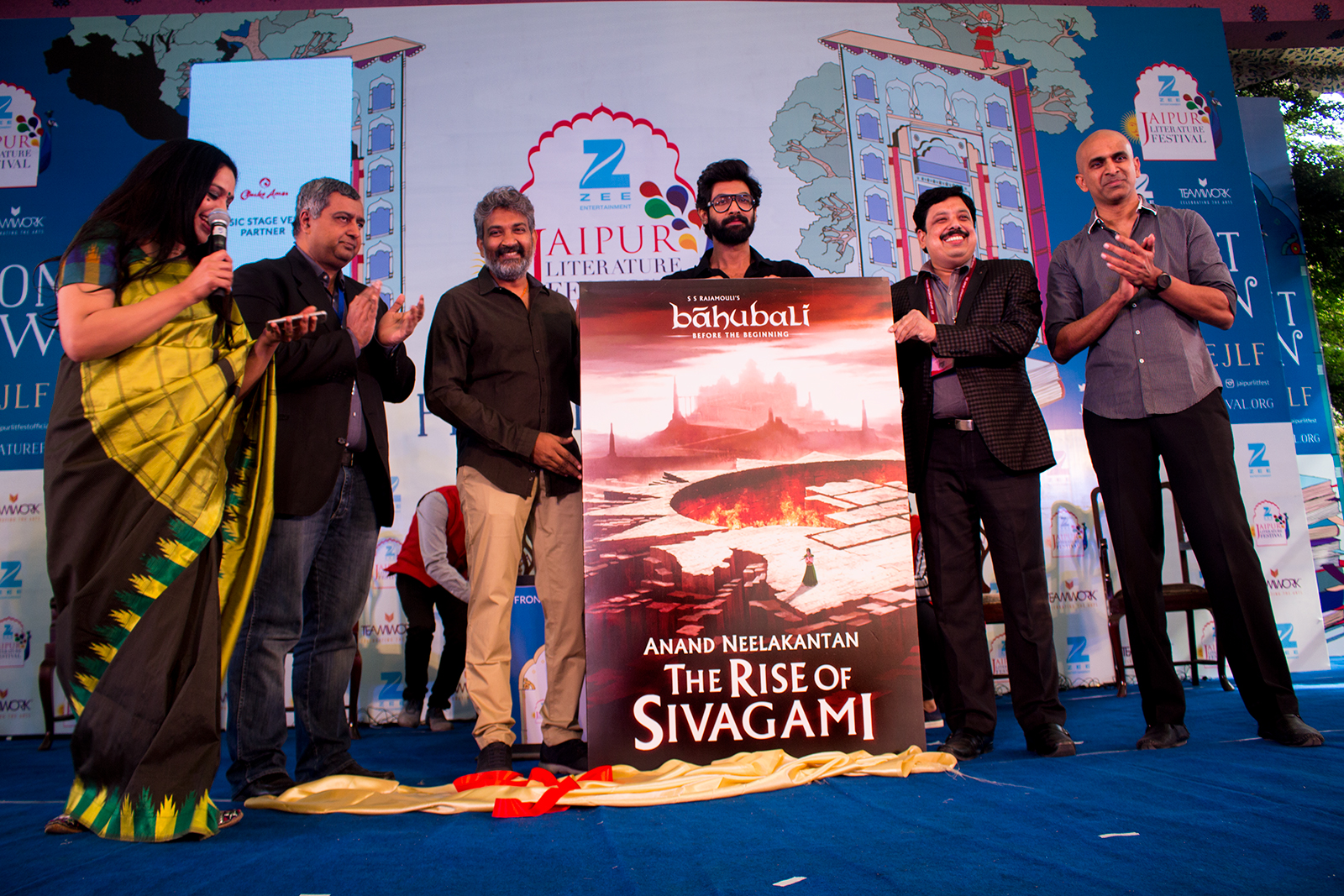 PRESS RELEASE
Best-selling author Anand Neelakantan launched the cover of his new book
20 January 2017 Jaipur
The author of thought-provoking best-sellers, AnandNeelakantan, launched the cover of his new book THE RISE OF SIVAGAMI, a prequel to the blockbuster movie BAAHUBALI, at the Zee Jaipur Literature Festival 2017, on 20 January, Front Lawn, at 1.40 pm.
Joining him on the panel were actor RanaDaggubati(who plays Bhallala Deva in the film), director S. S. Rajamouli, and Prasad Devineni, President, Arka Media Works.
The first book in a trilogy, The Rise of Sivagami(prequel to the film Baahubali) tells the tale of the kingdom of Mahishmathi. The book reveals the childhood and history of the queen of Mahishmathi, Sivagami, and introduced us to the royal slave Kattappa.
Commenting on this movie-to-book adaptation, author AnandNeelakantan said, 'I have always written books on villains and for the first time I'm writing about a strong positive character. So it is a challenge for me. I watched the films many times to understand Sivagami's character. Even though the film is on Baahubali, but the backstory could not be any other hero other than Sivagami…the story is her journey that these three books will be dealing with. Another strong character is Kattapa, he gives colour to the book and is a very modern character. A novel cannot work with one or two characters…it is an epic, and a lot of strong characters are there in the book.'
'What we managed to showcase in the film was just the tip of the iceberg,' said Director S. S. Rajamouli. 'From the minute I started working on this story, I knew the world of Baahubali can't be encompassed into a film or two, simply because there's so much more to tell. Books give the epic tale a new life and we're thrilled to be collaborating with Westland to bring this book to audiences.'
The film Baahubali is also being adapted into original comic books, animation and video games in partnership with Graphic India, a leading character entertainment company focused on creating comics and stories for the Indian youth market through mobile and digital platforms.
The Rise of Sivagami is scheduled to release on 7 March 2017, and the Hindi, Malayalam, Tamil and Telugu translations of the book will be released in April in time with the release of the sequel film, Baahubali – The Conclusion.