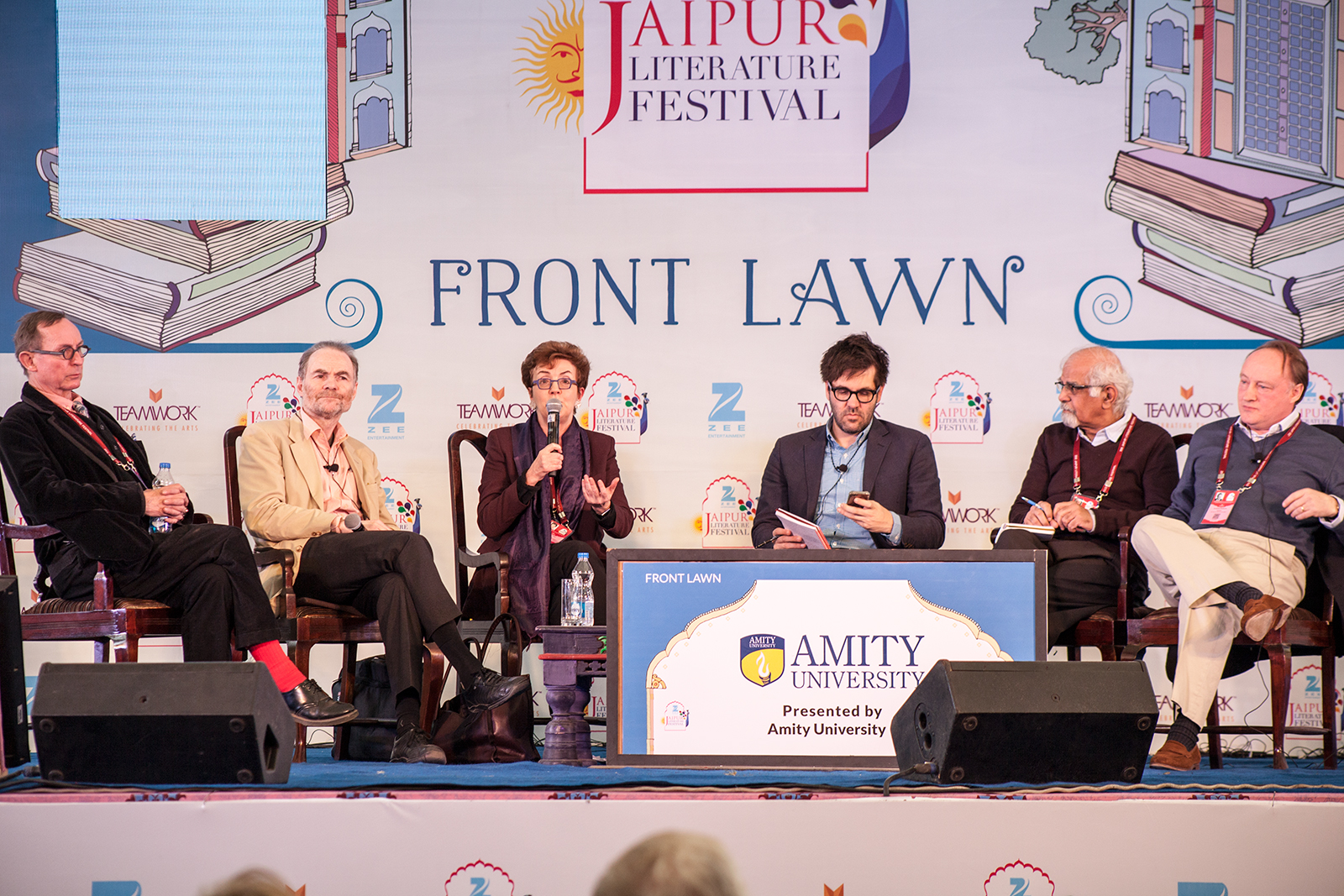 Speakers included Amitabh Kant, Devdutt Pattanaik, Mei Fong, Mrinal Pande, Namita Gokhale, A.N. Wilson, Allan Hollinghurst, Richard Flanagan and Aishwaryaa Rajinikanth
Jaipur, 21 January 2017 – Day three of ZEE Jaipur Literature Festival welcomed throngs of visitors through Diggi Palace's gates eager to hear from authors and speakers on a huge range of subjects and from both here in Rajasthan and India, and around the world.
After the minds and spirits were woken by Padmini Rao's beautiful performance, the Front Lawn got immediately underway with The Page is Mightier than the Screen. With technology redefining entertainment experiences at break-neck speeds, and a glut of content competing for attention, the novel finds itself in a precarious position. The ZEE Jaipur Literature Festival hosted a stellar panel of novelists and screenwriters as they compared film and television to the novel, and discussed the impact of an accelerating digital shift on its future.
Man Booker Prize winning Australian novelist and screenwriter Richard Flanagan felt that the debate about novels versus movies stems out of an 'American' attitude and called television the 'crystal meth of art' for giving a 'sudden whack' but not enduring. Alan Hollinghurst thinks differently. The 2004 Man Booker Prize winner loves the 'immersiveness' of cinema and the stage: 'I adore the sense of complete surrender for the duration for the performance.' However, he also appreciated the novel for the way it is recreated every time it is read. Extending this idea, novelist Chandrahas Choudhury observed that people cherish novels for the 'intimate contact and the time spent with the mind of the writer.' David Hare disagreed with this commonly held belief in the superiority of novels, arguing that films are equally engaging, and viewers still exercise their imagination when they judge the authenticity – or the lack thereof – of the screenwriting.
The Magna Carta is a Latin document, first written in 1215 AD, Britain a facsimile of which has been brought to ZEE JLF by the British Library and is on display in the Magna Carta Gallery outside the Baithak. It was drafted to limit the powers of King John in medieval England, yet even today, it continues to be evoked in a plethora of contexts all over the world.
Moderator and historian, Patrick French, questioned Chintan Chandrachud about how the Magna Carta had influenced the writing of the Indian Constitution. It 'drew from a variety of sources,' Chandrachud noted, such that some of its critics accused it of being 'a mere patchwork,' to whichAmbedkar famously quipped, 'even if it is a patchwork, at least it is a beautiful patchwork.' In his view, the influence of the Magna Carta must be understood in broader terms, such as in the realm of constitutionalism. 'It is unique in the sense that it is an entrenched document- insulant from political vicissitude, an enforceable one in that a citizen could go to the courts claiming his or her rights,' he said.
The Magna Carta is frequently referenced in the realm of universal human rights. Is imposing its version of human rights an act imbued with western paternalism? asked French. Kennedy thinks that the fact that Eleanor Roosevelt put together the Universal Declaration of Human Rights in close collaboration with a host of jurists, legal thinkers and philosophers, including those from India, is indicative of the fact that there definitely are common values that humanity as a whole aspires to embody. 'Rights need to be fought for. They do not exist in perpetuity,' she concluded.
'Appa was a superstar'. This was the central reality of Aishwaryaa's childhood, growing up under the shadow of her father actor Rajnikanth. She is more than aware of the privilege granted to her as a result. She concedes that the influence of her father's fame was unavoidable, but that she had not got her publishing deal because of it. In fact, she wanted to use her book as an opportunity to break misconceptions about 'celebrity kids': 'We are not abnormal.'
Thus, in Standing on an Apple Box: The Story of a Girl among the Stars, the central images are not of a glamorous adolescence and youth spent on film sets. In fact, Aishwaryaa spent most of her childhood in Bangalore. The strict separation of her father's life from hers, she believes 'helped' her to build her individuality rather than to 'taint' it. Her responsibility as a mother is in accord with her role as a UN Goodwill Ambassador for gender equality. Aishwaryaa has borne witness to the positive changes that have come about in the film industry in the last decade, and is indeed a part of it: 'Five years ago, it would have been close to impossible for a woman director to do more than one film, but now I'm about to direct my third.'
Within three years, cash machines in India will be completely irrelevant. This bold prediction of Amitabh Kant, CEO of the government body NITI Aayog, was greeted with a mixture of enthusiasm and scepticism by the audience at the ZEE Jaipur Literature Festival in Brave New World: The Virtual Economy and Beyond.
The panel went on to discuss, was the shock of demonetization really necessary? 'It enabled the push towards a digital economy in a much quicker way', argued Kant. 'Disruptive policies have been responsible for rapid change before in India', agreed Ashok Wadhwa. 'But we need to get the right internet infrastructure in place. And we need to remove the bureaucratic paperwork for people to set up new accounts.'
Is the cash economy really so dirty, asked an audience member. 'India has a $2 trillion economy, and a $1 trillion black economy', said Kant. 'If you want it to become a $10 trillion economy, you need to smash the black economy. Around 98% of Indians don't pay tax. That restricts India's ability to grow.'
The session ended with a poll of the audience – did they think the digital economy had harmed bricks-and-mortar businesses in India? The final result: 57% thought it had.
Brexit is 'the most divisive issue in Britain', according to Guardian journalist Jonathan Shainin, and that was all too evident in this panel at the ZEE Jaipur Literature Festival.
Last June, 17 million British people voted to leave the European Union, and 16 million voted to stay. Shainin first turned to historian Andrew Roberts, who has described Brexit as 'more impressive than the French Revolution'. Why so? 'Because no one died', Roberts said. 'I believe democracy in the UK was being undermined by the EU, especially by the European Commission, which is unelected. Now we have taken back control of our laws and borders. We may make mistakes, but at least they are our mistakes.'
Political thinker Timothy Garton Ash, meanwhile, described Brexit as 'the biggest defeat of my European life'. He said that the EU created a better life for Europeans than ever in their history, particularly by ensuring peace. 'The Brexiters are naïve utopians. They think that if Europe is once again a collection of independent nations, they will just trade peacefully. It's never happened in the past. And if there is a war on the continent, the UK will be dragged back in.'
Roberts said: 'It could have gone either way. The Remain campaign created a lot of hyperbole about all the bad things that would happen if the UK voted leave. President Obama also said the UK would be 'at the back of the queue' for trade deals with the US, which led to an upswing of support for Leave. The Leave campaign was much better run than the Remain campaign, which committed mistake after mistake.'
The Origins of Indian Democracy: Making Universal Franchise and Citizenship in the World's Largest Democracy, a forthcoming book by Ornit Shani, Senior Lecturer at the Department of Asian Studies at the University of Haifa in Israel, looks at the people who undertook the unimaginably massive task of creating the electoral rolls for India's first general election in 1951. In a fascinating conversation Awakenings: Freedom to Dream, with youth activist, playwright, and director, Puneeta Roy, Shani said the decision by India's founding fathers to institute universal franchise was 'a dream being put into writing. There is a huge difference between deciding on universal franchise and implementing it.'
The session ended with questions from the audience, many of whom were surprised to realise that there was such an incredible story behind the first Indian general election. The session concluded, rather appropriately, with Ornit Shani answering a question regarding what the world can learn from India's first elections. 'No bureaucracy or administration in the world ever had to perform a task like that, and probably no one ever will,' she said, 'But looking at the current state of democracy in the world, where Europe and the USA are trying to deal with the question of how to have a multicultural democracy, India dealt with that problem in the 1940s.'
Like a master storyteller, Devdutt Pattanaik illustrates his arguments with ornamental stories but explains them with pin-point precision. His mischievous references to contemporary issues make the crowd laugh, and his laughter makes them laugh harder. At a jam-packed session, he answered questions about his upcoming book, Olympus: An Indian Retelling of the Greek Myths, such as, are there similarities between the stories of Krishna and Hercules? How does the story of the Trojan horse make an appearance in Jain tradition? Most importantly, how do the Greek myths and the Hindu myths differ from each other? Many of the Greek myths share 'superficial similarities' with Hindu myths, observed Pattanaik.
Festival Director of the Jaipur Literature festival and writer Namita Gokhale's latest book Things to Leave Behind hit the shelves late last year. The session involving Gokhale's cousin Mrinal Pande and writer Sunil Sethi, offered a glimpse into the fascinating book which chronicles the colonial experience of the land-locked region of Kumaon and the turbulence experienced by the social structure of the region, as a result.
The free-flowing discussion progressed alongside Pande and Gokhale sharing stories from their childhood which was full of eccentric characters with a large appetite for drama. From the Kumaoni women who drank with greater courage and more stomach than the men, to the rampant alcoholism and smoking of cannabis, the conversation painted a portrait of Kumaon as a region brimming with colourful lives.
Diggi Palace was still thronging with crowds for ZEE Jaipur Literature Festival with session such as  – At Home in the World with a fantastic line up of international authors  Angélica Freitas, Eka Kurniawan, Kyoko Yoshida, Vivek Shanbhag and Yassmin Abdel-Magied in conversation with Helena Kennedy sharing their stories across the borders of language and culture.
The crucial task of the translator in bringing a book alive in another language and adding to the corpus of world literature is only recently being recognised and celebrated by stellar translators Deborah Smith and Arunava Sinha in Translators: Centre Stage, a part of Jaipur BookMark's strand of ZEE JLF sessions.
Tonight on the stunning music stage, another night of fantastic music is set to delight the crowds as Soulmate's funky sounds blues inspired sounds and BRIT Awards winner Beth Orton & Sam Amidon take to the stage at Clarks Amer.
Music also features in tonight's Heritage Evening presented in partnership with Rajasthan Tourism. Mujre Se Multiplex Tak, will take the audience on a journey through the magical realm of entertainment at the spectacular Hawa Mahal on Saturday, 21st January at 7:30 PM.Coursing through the ever changing world of cultural entertainment, the session will explore how the audiences at entertainment venues have evolved over the years. Writer and musician Vidya Shah will reflect on these changes through song while actor Luke Kenny punctuates them with poignant poetry and quirky banter.
For those who wish to pick up a souvenir or a present while visiting the Festival, Direct Create has brought together a community of over 50 individual makers, designers and buyers to curate a rich and wonderful marketplace which will showcase more than 20,000 exquisite and curated, handcrafted products. Every product is has great detailing, and a sense of love and affection from stoles, uber stylish bags and accessories, copper and kansa wares, innovative toys in wood and lacquer, Khurja vases and Naga textiles.
It will also host the official festival store featuring products that celebrate its decade long journey. Lots of souvenirs to remind you of your time at ZEE Jaipur Literature Festival.
ENDS
NOTES TO MEDIA PERSONS
For media enquiries on the Jaipur Literature Festival, please contact Edelman India:
Nitisha.Prabhakar@edelman.com / Amrita.Sarna@edelman.com
About the Jaipur Literature Festival 2017
The past decade has seen the Jaipur Literature Festival grow into the world's largest free event of its kind. Having hosted 1300 speakers and welcoming nearly 1.2 million book lovers, the success of JLF has been astonishing and heartwarming.
Celebrating writers from across the globe, the Festival has hosted some of the best regarded and loved names, ranging from Nobel Laureates and Man Booker Prize winners to debut writers such as Amish Tripathi, Chimamanda Ngozi Adichie, Eleanor Catton, Hanif Kureishi, His Holiness the 14th Dalai Lama, Ian McEwan, JM Coetzee, Margaret Atwood, Mohammed Hanif, Oprah Winfrey, Orhan Pamuk, Pico Iyer, Salman Rushdie, Stephen Fry, Thomas Piketty, Vikram Seth and Wole Soyinka, as well as renowned Indian language writers such as Girish Karnad, Gulzar, Javed Akhtar, MT Vasudevan Nair, Uday Prakash as well as the late Mahasweta Devi and UR Ananthamurthy.
Writers and Festival Directors Namita Gokhale and William Dalrymple invite authors from across the globe to take part in the five-day programme set against the backdrop of Rajasthan's stunning cultural heritage and the Diggi Palace in the state capital Jaipur.
Equity and democracy run through the Festival's veins, placing some of the world's greatest writers and thinkers from all walks of life together on stage. All events are completely free and there are no reserved spaces; this egalitarian access is a powerful statement in a country where access to such individuals remains the privilege of a few. On top of all this, people are guaranteed to have fun!
As Time Out said: "It's settled. The Jaipur Literature Festival is officially the Woodstock, Live 8 and Ibiza of world literature, with an ambience that can best be described as James Joyce meets Monsoon Wedding."
The Festival is a flagship event of Teamwork Arts, which produces over 25 highly acclaimed performing arts, visual arts and literary festivals across more than 40 cities globally, and is produced by Sanjoy K. Roy.
In 2014, JLF spread its wings beyond the borders of India with an annual event in May at London's Southbank Centre. In 2015, JLF headed across the pond to Boulder, Colorado where it hosts a similar event every September.
Website: www.jaipurliteraturefestival.org
About Teamwork Arts
For over 25 years, Teamwork Arts has taken India to the world and brought the world to India.
In countries such as Australia, Canada, Egypt, France, Germany, Hong Kong, Italy, Israel, Korea, Singapore, South Africa, Spain, UK and USA, Teamwork produces over 25 highly acclaimed performing arts, visual arts and literary festivals across more than 40 cities.
Teamwork Arts produces one of the world's largest free literary gatherings, the annual Jaipur Literature Festival, the Ishara International Puppet Festival in New Delhi, the annual Mahindra Excellence in Theatre Awards (META) and Festival, international festivals Shared History in South Africa, Eye on India in the United States of America, India by the Bay in Hong Kong, Confluence- Festival of India in Australia, and many more.
Website: www.teamworkarts.com