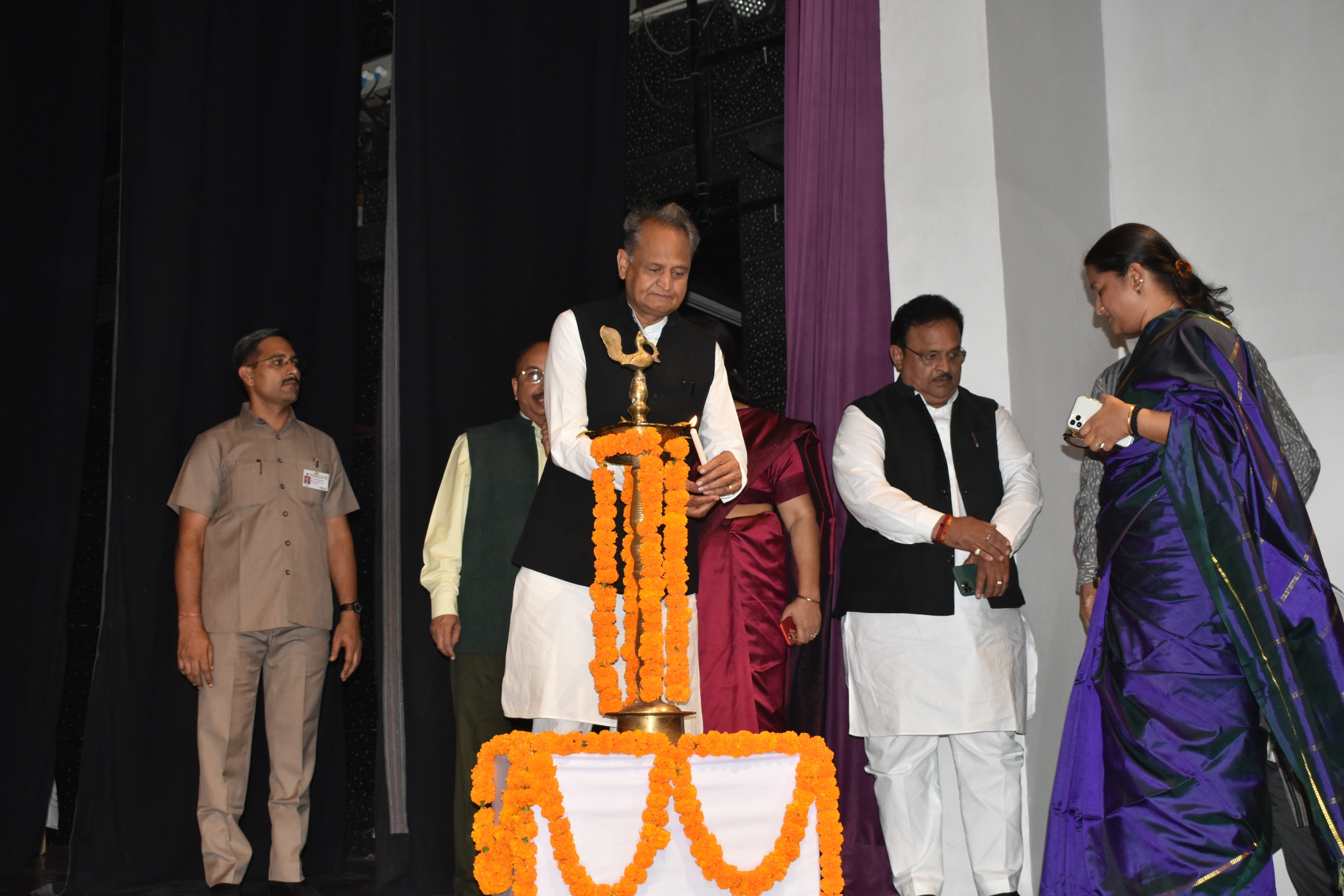 Press Release
TheGovernment should remind the new generations of the long struggle and sacrifices made by the great personality, Jawahar Lal Nehru. His farsightedness led to the establishment of institutions like AIIMS, IIT, Bhabha Atomic Research Center, among others. This was stated by the Rajasthan Chief Minister, Shri Ashok Gehlot. He was speaking at the seminar held on the occasion of the 130th birth anniversary of Jawahar Lal Nehru at Jawahar Kala Kendra (JKK) today.
He further said that Nehru's contribution to shaping the modern India and laying down the foundation of Indian democracy was a long struggle. He spent almost 9 years of his life in jail. When he took charge of the country as the first Prime Minister, India was in grim state with no electricity, water supply, education, infrastructure, etc. The new generation is being misled about Nehru through false propaganda and brutal criticism on social media.
Speaking on the topic 'Nehru and Building Nation', historian of science, Dr. Syed Irfan Habib said that in order to understand Nehru and his actions, we must first understand the economic, political and social circumstances of his time. The country had suffered 200 years of colonial exploitation. In 1947, the GDP of the country was 0.72%, illiteracy rate was 80% and 90% of the commodities were being imported.
Talking about developments made by Nehru during his time, Dr. Habib further said that Nehru is in the DNA of modern India. Only after 3 years of independence, Nehru established the first ever IIT in Kharagpur in 1950. In 1953, he laid the foundation of University Grants Commission (UGC). Furthermore, he constructed the Bhakra-Nangal Dam in Himachal Pradesh.
Sociologist, Dr. Alok Srivastava spoke on the topic 'Nehru- Known and Unknown'. He spoke about 'The Discovery of India' written by Nehru during his imprisonment. He further said that tradition is something that cannot be learnt at once, it must be reinvented by each individual through his/her own reflections. One should undertake the discovery of India not once but several times as India is an ever-changing nation. Nehru realised that technology can lead to spiritual void and thus there should be centres of art like JKK and Lalit Kala Akademi.
Director General, JKK, Ms. Kiran Soni Gupta said in 1952, Nehru organised the first-ever elections in India and laid the foundation of democracy. His contribution to science, technology, and industrialisation is also immense.
The seminar was coordinated by renowned Hindi writer of Rajasthan, Dr. Durga Prasad Agarwal. Also present on the occasion were Minister of Health and Family Welfare, Government of Rajasthan, Shri Raghu Sharma; Chief Secretary, Government of Rajasthan, Mr. DB Gupta and Principal Secretary, Tourism, Arts and Culture, Government of Rajasthan, Ms. Sreya Guha.
Earlier, there was traditional lamp lighting and inauguration of a photo exhibition based on Jawahar Lal Nehru's life by Rajasthan Chief Minister. It is being organised by the Department of Information and Public Relations, Government of Rajasthan in the Surekh Art Gallery of JKK. The exhibition will be on till 23 November from 11 am to 7 pm.