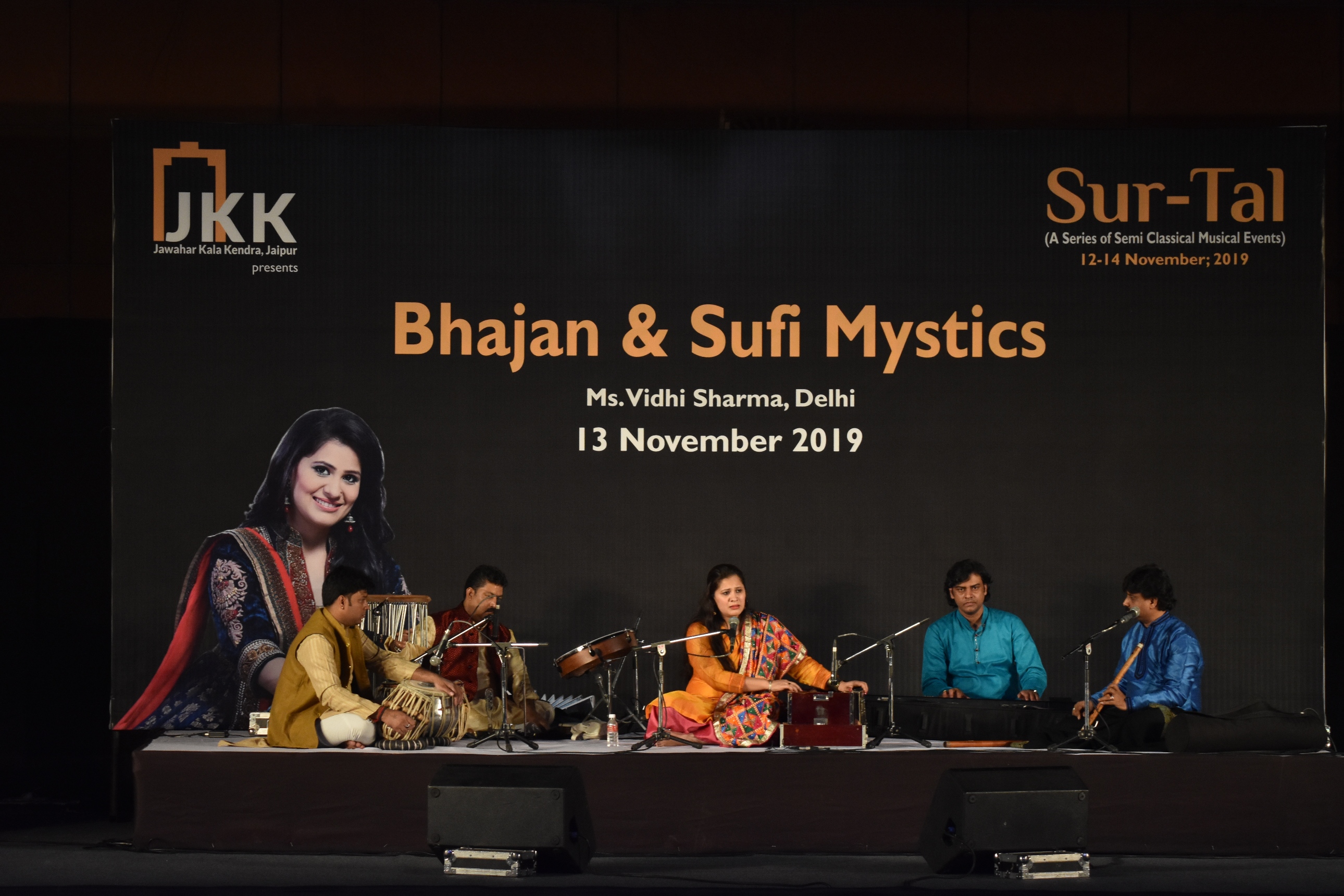 Press Release
Jawahar Kala Kendra (JKK) was filled with an aura of divinity and mysticism on Wednesday evening as 'bhajans' and 'Sufiyana Kalaams' of Sufi Mystics ranging from Meera, Kabir, Amir Khusrau and Bulleshah were soulfully rendered in the open air amphitheatre Madhywarti. The occasion was the second day of the 3 day Semi Classical Music Event 'Sur Tal' in which renowned Hindustani Classical and Light Classical singer Vidhi Sharma presented a mesmerizing 'Bhajan and Sufi Mystics' performance which won the hearts of the audience.
The performance began with Meerabai's moving composition 'Bansiwara Aajo Mhare Des'. Vidhi Sharma also performed renditions like Mirabai's 'Suni Main Hari Aawan Ki Awaz', Kabir's 'Jhini Jhini Bina Chadariya' and 'Ghoongat Ke Pat Khol Re Toko Piya Milege', Amir Khusrau's 'Chaap Tilak' and 'Ae Ri Sakhi More Piya Ghar Aaye' as well as Bulle Shah's 'Sajan Bin Raatan Hoyan Vadiyan'.
During the programme, Vidhi Sharma was accompanied by Pt. Ajay Prasanna on Flute, Javed Hussain on Keyboard, Gaurav Rajput on Tabla and Satish Solanki on Percussion.
It is worth noting that Vidhi Sharma is an extremely versatile A grade AIR artiste and has performed at several national and international festivals. She has been awarded the GIMA Award – Global Indian Music Award for the album 'Cinema'. She has also done playback singing for movies like Paan Singh Tomar and short films on YouTube like Bunkar.