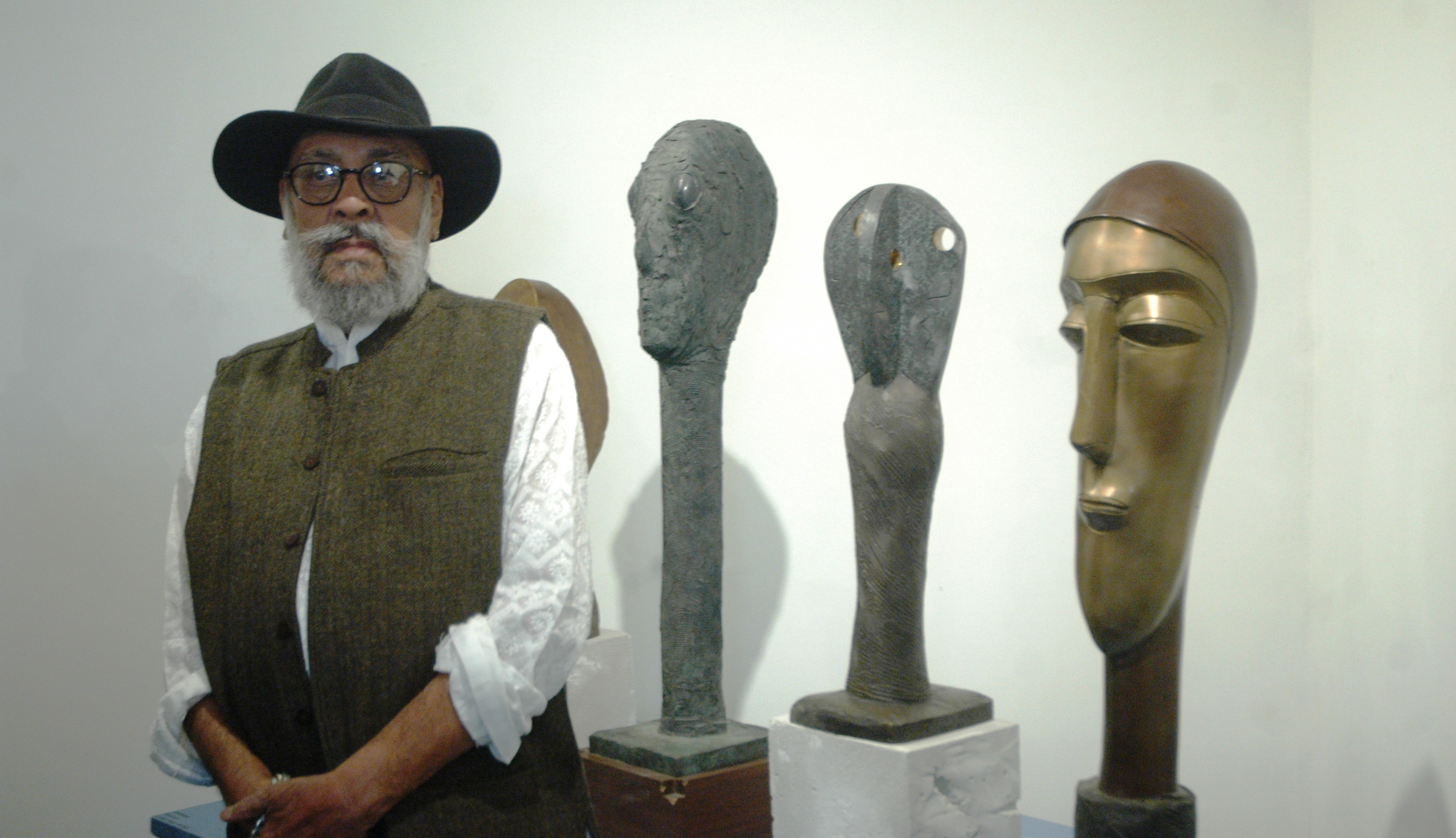 Press Release
The first ever comprehensive showing of eminent artist Himmat Shah opened at Pink City's multi arts centre — Jawahar Kala Kendra (JKK) on 29 October. The exhibition entitled 'The Euphoria of being Himmat Shah – A continuing journey across six decades' has been curated by Ms.  Roobina Karode and is being held in collaboration with Kiran Nadar Museum of Art (KNMA), New Delhi. The exhibition will be on till 15 December (Except Mondays and Public Holidays) at the Museum Galleries of JKK. Present on the occasion were Director General, Jawahar Kala Kendra, Ms. Pooja Sood, Curator, Ms. Roobina Karode Founder & Chairperson, KNMA, Ms. Kiran Nadar and Mr. Himmat Shah.
The exhibition is a celebration of the artist's solitary pursuit and inspiring nomadic life lived under an open sky that transformed into a recurrent poetic metaphor of the vastness and infinity of space in his work. It celebrates Mr. Shah's prolific and rich oeuvre that has never been seen together in its entirety. A key highlight of the exhibition includes his drawings and sculptures inspired by the landscapes of Rajasthan.
Around 200 works from the KNMA collection along with loans from few private collections are being displayed. Along with his famous terracotta sculptures, bronzes, and drawings, it will bring to light his lesser-known mediums and extraordinary body of works—high-relief murals, burnt paper collages and silver paintings. The selection of artwork on display spans over almost six decades; starting from his early burnt paper collages to the few surviving silver paintings. Also on display are a number of seminal terracotta sculptures, drawings, portraits, bronze heads, projected as maquettes of possible future buildings and his monumental bronze sculptures.
On this occasion Director General, Jawahar Kala Kendra, Ms.Pooja Sood said "We are delighted to collaborate with KNMA on this fabulous exhibition. A resident of Jaipur, Himmat Shah's work has never been shown in Jaipur in its entirety; it is therefore a privilege and honor to showcase his entire body of work to audiences in Jaipur.''
Talking about Himmat Shah's persona, the curator, Roobina Karode elaborated, "If there is an Indian artist who possesses the free-spiritedness of the bohemian and has embraced the emancipatory disposition of art, it has to be Himmat Shah."
Commenting on the making of this exhibition Mr. Himmat Shah said:  "It is an extremely satisfying experience to present this coming together of my entire life through my work in Jaipur, where I live. My ideas and concepts are based on looking within the form. I've worked all my life. While working I immerse myself in another world altogether. It's a mystery."
Founder & Chairperson, KNMA, Ms. Kiran Nadar added, "Himmat Shah's contribution to the Indian modern art in 1960s is individualistic and unique. It is important that such deserving artist with undeterred commitment and radical vision gets his due by the world. His works need to be brought into the public domain. KNMA is performing that role, in providing this important historical vantage point."
About Jawahar Kala Kendra

Jawahar Kala Kendra (JKK) was designed in 1993 by renowned architect Charles Correa. It is a multi-arts world class centre focusing on the preservation and promotion of the various genres of performing as well as visual arts and literary activities. It provides a platform to talented artists from the state, the country as well as overseas. The Kendra's initiation has induced a multidisciplinary movement towards the understanding, dissemination and propagation of art practices, extending from traditional to the contemporary. The programmes held here are designed not just for entertainment but also to increase awareness about different forms of art among the people.
About Kiran Nadar Museum of Art (KNMA)
Established at the initiative of the avid collector Kiran Nadar, KNMA (the Kiran Nadar Museum of Art) opened in January 2010, as the first private museum of Art exhibiting Modern and Contemporary works from India and the subcontinent. Located in the heart of Delhi, KNMA, as a not for profit organization intends to exemplify the dynamic relationship between art and culture through its exhibitions, publications, educational and public programs. An initiative of the Shiv Nadar Foundation, KNMA aims to instill a deep sense of appreciation for contemporary art by making it accessible to everyone.
About the Artist
Acknowledged as one of the most remarkable artists working today in India, Himmat Shah was born in 1933 in Lothal, Gujarat, one of the prominent cities of Indus valley civilization, and currently lives and works in Jaipur, Rajasthan. After initial training at Dakshinamurti in Bhavnagar, he studied painting at the Faculty of Fine Arts of M.S. University, Baroda, from 1955 to 1961. He received National Cultural Scholarship in 1956, and received a French Government scholarship to study in Paris from 1966-67. Shahwas a founder member of Group 1890, a short-lived artists' group, formed in 1962 along with J. Swaminathan, Gulammohammed Sheikh, Jeram Patel, Ambadas etc. The group dispersed soon after their seminal exhibition at the Lalit Kala Akademi in 1963, and each of its members, including Shah continued their artistic practices with their own agendas. While still a student Himmat Shah had received Lalit Kala National Award for Painting twice, in 1959 and 1962. He was also awarded the Gold Medal by the Jammu & Kashmir Academy of Art in 1960. He came to be known and appreciated within the artistic circles for his erotic drawings exhibition in 1964 in Delhi, and created quite a stir. His early exhibitions were well-received and earned him a unique position. In 2003, the artist was honored with the Kalidasa Samman by the Government of Madhya Pradesh. Shah has also received the All India Fine Arts and Crafts Society (AIFACS) Award, New Delhi, in 1996, and the Sahitya Kala Parishad Award, New Delhi, in 1988. He has held numerous group and solo exhibitions in India and abroad and has represented the country in 'Festival of Indian Art' in Moscow in 1996, the 'Biennale de Paris' in 1967 and 1970 and 'biennale 13' in Antwerp.