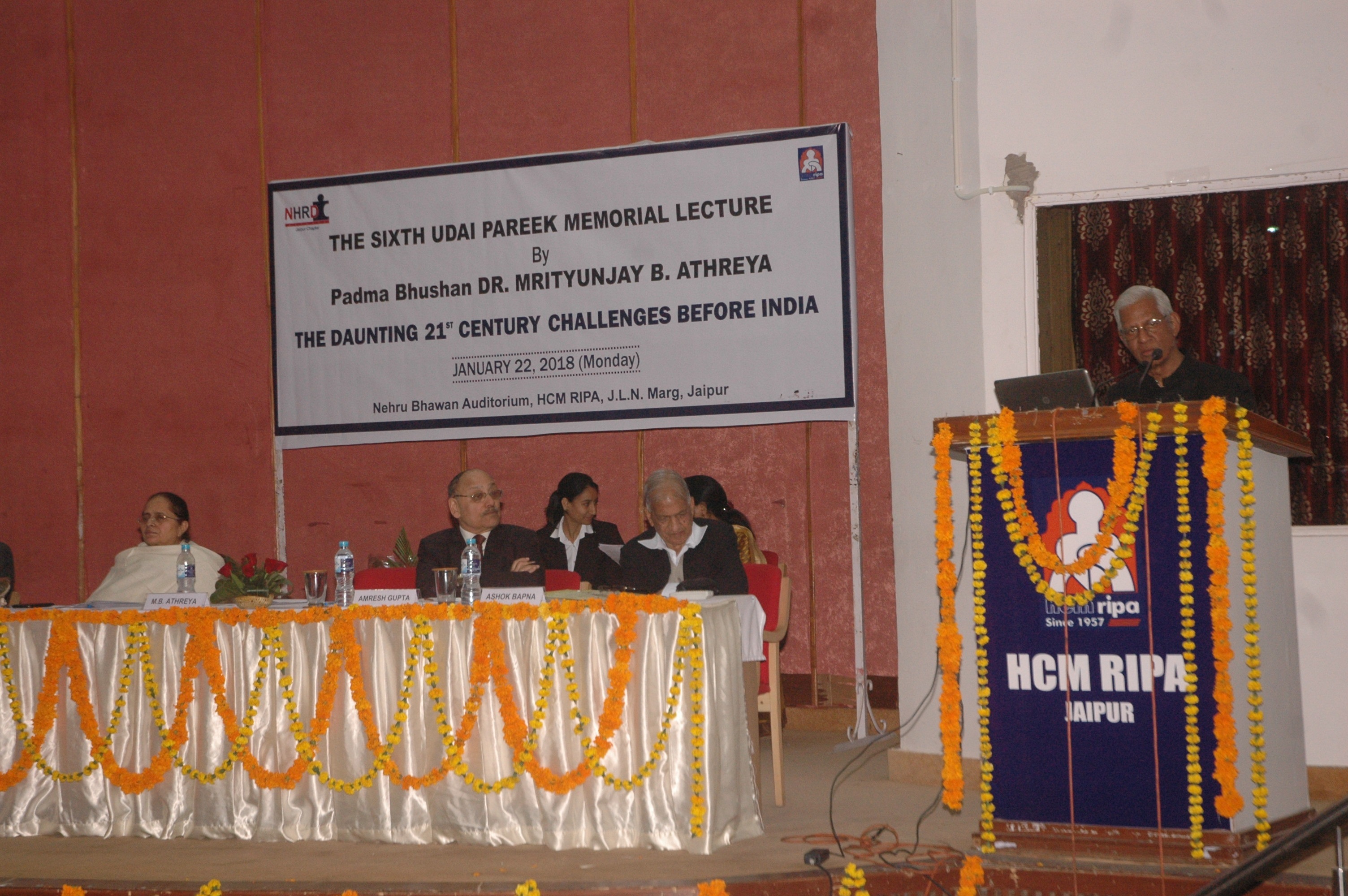 Press release
"THE EARLIER MAJOR CHALLENGE OF TERRORISM HAS NOW BEEN REPLACED BY RAPID CLIMATE CHANGE"
–Padma Bhushan, Dr. M.B. Athreya
Climate change in the world is growing to become a cause for major concern. The drastic parity of temperatures across the globe is already visible and accelerating. This was informed by Padma Bhushan, Dr. M.B. Athreya. He was delivering an address on the 6th Udai Pareek Memorial Lecture on the topic of 'The Daunting 21st Century Challenges before India' at HCM RIPA, Jaipur .
Highlighting the three major challenges before 21st Century India, Dr. Athreya said that the rapid progress of new information technology is a growing reason behind major job losses throughout the country. It has deemed by the world's greatest minds like Stephen Hawking, Elon Musk, among others that artificial intelligence (AI) powered machines and bots may grow hostile someday and try to terminate mankind.
He further said that if India had maintained a high growth rate from earlier times, we would now have a 5-6% unemployment rates like other nations. However, the rising inequality is the leading cause for caste and race wars, Maoist movement, Dalit movement, unrest in Gujarat and much more. The Chinese are also responsible for cornering resources around the world. They are taking over massive military, high R&D and latest technology weapons. China also sees India as its only rival due to the similar demographic structure of the two countries and is thriving to become the world's largest economy.
Chairman IIHMR-U, Dr. SD Gupta reminiscing late Prof. Udai Pareek said that Prof Pareek had been his mentor and guide throughout his life. He was the one who encouraged and motivated him to take brave steps to move ahead in his career.
The programme began with lighting of the lamp by the dignitaries. This was followed by bouquet presentation to Dr. Athreya and Director HCM RIPA, Ms, Gurjot Kaur. After which, the welcome address was given by Ms. Kaur. Advisor, NHRDN and Convenor, UPMI, Prof. Ashok Bapna spoke on the subject of NHRDN. Following this Former Chief Secretary, Inderjeet Khanna; Dr. SD Gupta and Padma Bhushan, Dr. VS Vyas spoke about Late. Professor Udai Pareek. Vote of thanks was given by Vice President, NHRDN –J, Dr. Prabhat Pankaj