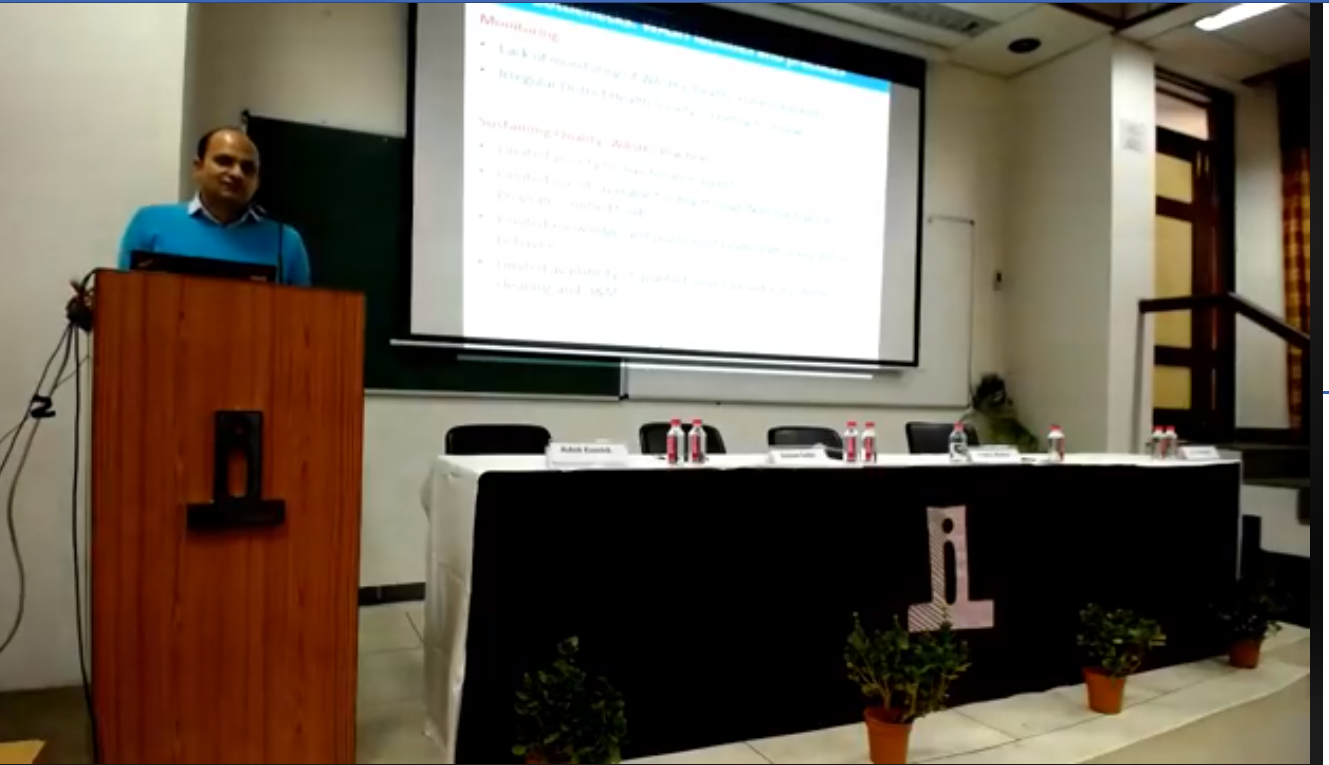 Press Release 
TALK ON 'WASH IN HEALTH' HELD AT IIHMR 
The Health Specialist UNICEF, Mr. Pankaj Mathur had an interaction with the students of IIHMR University on the topic of 'Water Sanitation and Hygiene (WASH) in Health'.  The symposium was attended by students of Health, Hospital, Pharmaceutical and School of Development Studies.
IIHMR-U has been working closely on the implementation of WASH Programme across states. The project is being implemented from District to Primary Health Sector levels. On the occasion, Mr. Mathur highlighted the major infrastructure fall backs of sanitation and hygiene in the country.  These included – lack of user friendly and appropriate design of toilets and washing facilities, in labour rooms, OPDs etc.; lack of compliance to standards and dysfunctional infrastructure.
He also spoke about the budgetary constraints like poor fund flow and untied funds used in other activities excluding WASH.  There is also a lack of monitoring of WASH in health centres and health societies are also not meeting regularly for reviews.
IIHMR University has implemented a WASH project in selected districts of MP with technical collaboration with UNICEF, MP. The project has achieved desired goals of improving WASH facilities in the public Health facilities and developed capacities of local staff.
About WASH Programme
WASH (or Watsan, WaSH) is stands for "Water, Sanitation and Hygiene". Universal, affordable and sustainable access to WASH is a key public health issue within international development and is the focus of Sustainable Development Goal 6.
Several international development agencies assert that attention to WASH can also improve health, life expectancy, student learning, gender equality, and other important issues of international development. Access to WASH includes safe water, adequate sanitation and hygiene education. This can reduce illness and death, and also reduce poverty and improve socio-economic development.
Lack of sanitation contributes to about 700,000 child deaths every year due to diarrhea. Chronic diarrhea can have long-term negative effects on children, in terms of both physical and cognitive development. In addition, lack of WASH facilities can prevent students from attending school, impose an unusual burden on women and reduce work productivity.