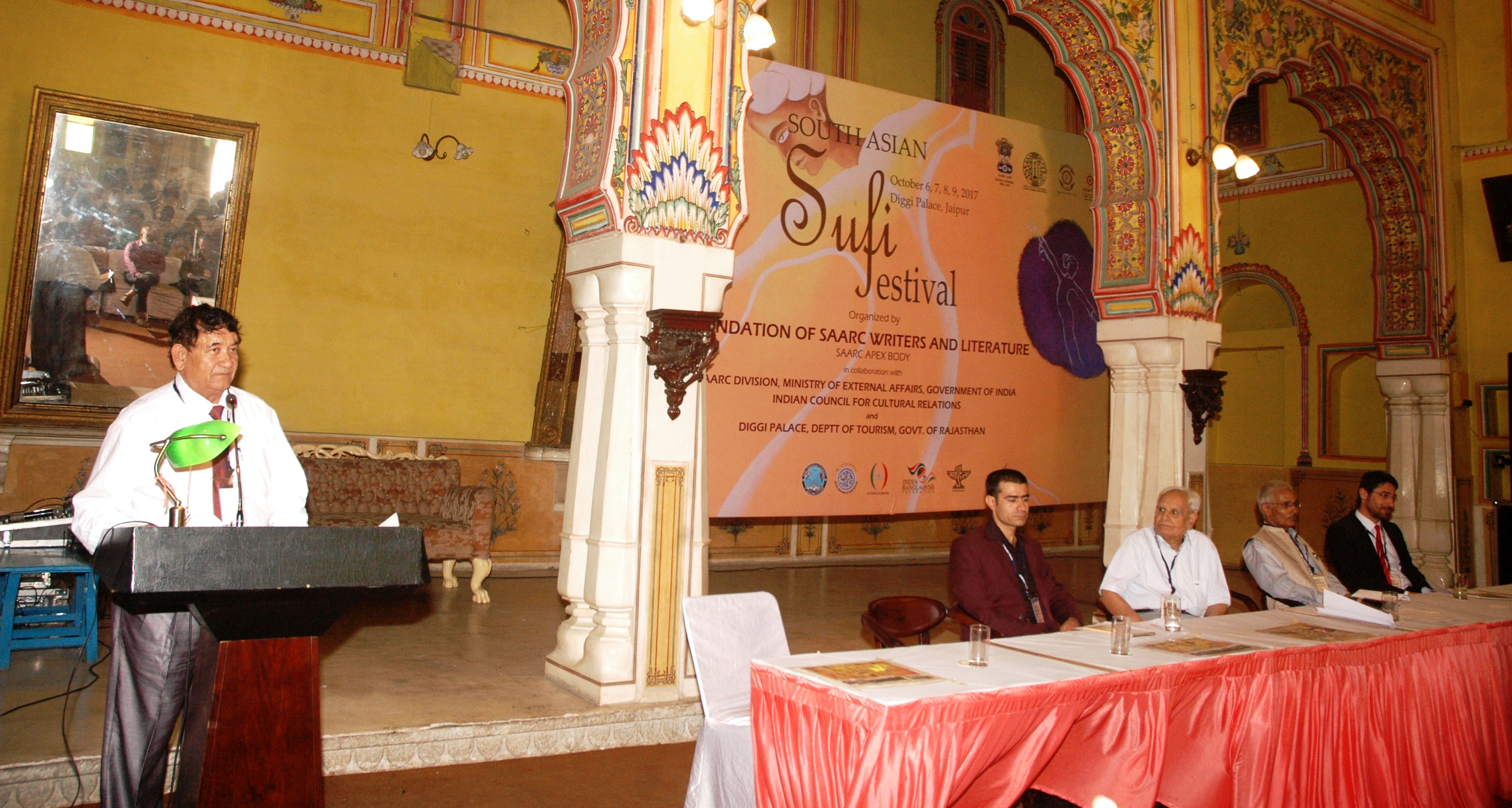 Press Release
The second day of the 3 day South Asian Sufi Festival witnessed several academic sessions as well as poetry recitals. In the academic sessions scholars and delegates from various countries presented their academic papers on diverse themes and topics related to Sufism.  Similarly, in the poetry sessions, poets from across the SAARC countries like Afghanistan, Nepal, Bangaldesh, India, Sri Lanka recited their poems.
Denouncement for War and Advocacy of Peace in Modern Nepali Poetry
Short story writer and poet from Nepal, LB Chettri presented an academic paper on 'Denouncement for War and Advocacy of Peace in Modern Nepali Poetry'. He said  that the world seems accustomed to live in a time when terrorism, violence and conflict is rampant. "All Sufis are poets and the religion of poets is to stop war between different countries and religions", Chettri remarked.
Highlighting the role of Nepal as a peace maker, he further said that "Nepal is the land of Lord Buddha who is the apostle of peace. In Modern Nepali poetry one can sense a great feeling of regret and pain and the denouncement of war."
Another scholar from Nepal, Ram Prasad Pantha also shed light on Sufism in Nepali literature.
Spirituality is the essence of Sufism
Relating Sufism to spirituality, Professor Riyaz Punjabi from India said, "Sufi is related to Sufism as yogi is related to yoga. So, those who practice Sufism achieve spirituality". He further said that Sufism is the collaborator of societies and cultures as well as an apt means to know and understand spiritual culture of SAARC countries.
Focusing on the thirst for knowledge, Prof. Najibullah Azad called Sufis the king of hearts, knowledge and logic. Just like knowledge is gained and not inherited, Sufism is also gained through spirituality. Azad further added that the spirituality is also a way to win hearts and spread humanity as well as unity.
Professor Dampahala Rahula Thero from Sri Lanka spoke about inner peace and mental consolation. Shedding light on the relationship between Sufism and Buddhism, he said that qualities like generosity, virtue, morality, wisdom, endurance, truthfulness, serenity and kindness are the fundamental characteristics of both Sufism and Buddhism.
Mr. Mohammad Anwar Wafa from Afganistan said "Sufis are a group and people of society who are in search of solution to the mystery of life and discovery of soul." He also emphasized the importance of scholars, academicians, schools and religions for the existence of Sufism.
Rumi's Poetry to Bring a Change
A prolific author from Bangladesh, Ms. Selina Hossain citing the example of violent incidents in Dhaka, said that to bring a change to world, it is imperative to first change ourselves. Reciting some of Rumi's poetry, she emphasized the need for oceanic love and compassion to achieve world peace in contemporary times as well as the forthcoming centuries.
The festival was organised by the Foundation of SAARC Writers and Literature (FOSWAL), an apex body of SAARC, in collaboration with Diggi Palace and Ministry of External Affairs. The fest was supported by the Department of Tourism, Rajasthan.