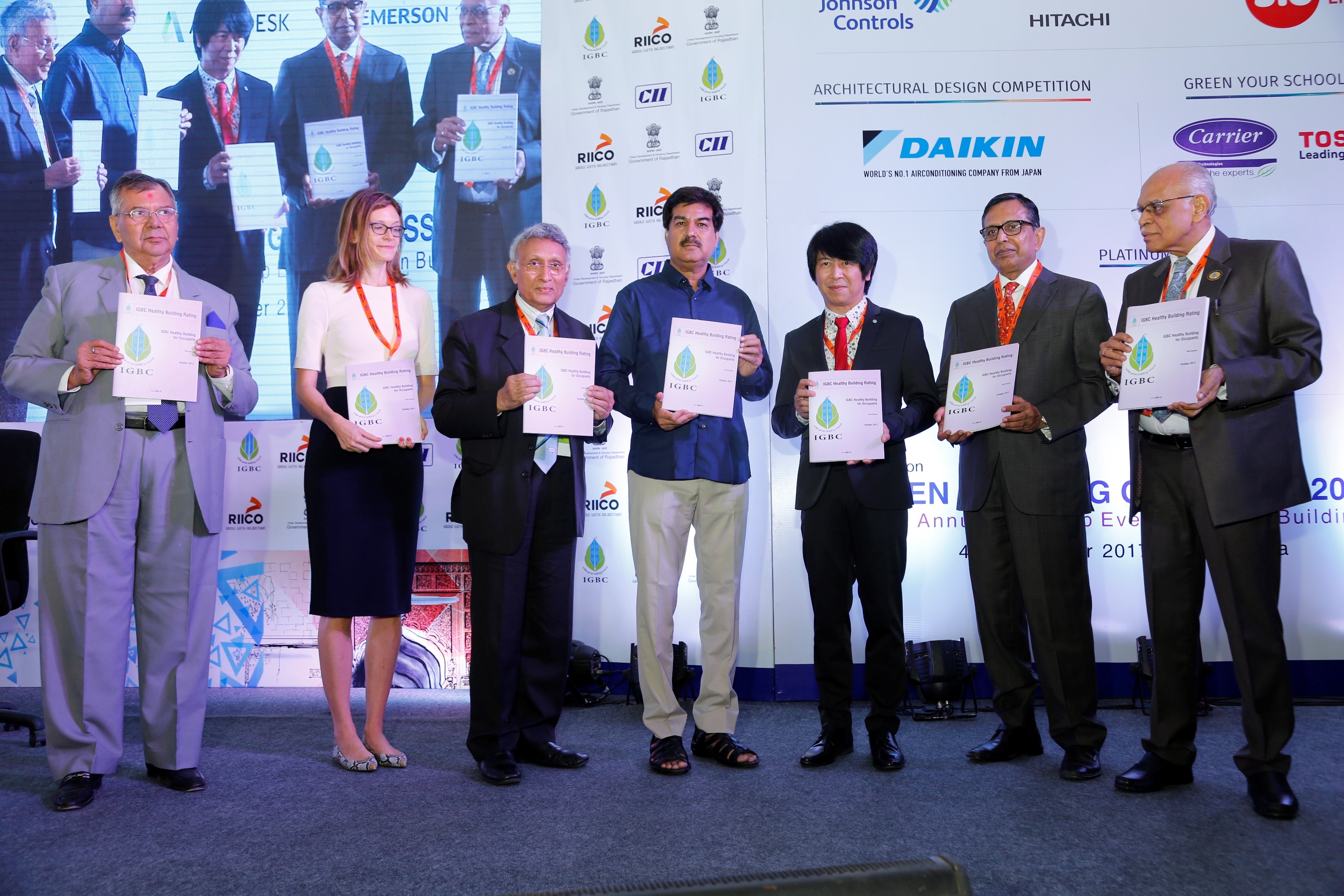 Press Release
India's flagship event on Green Buildings organized by CII-IGBC began in Jaipur
IGBC Healthy Building Rating launched at the inaugural event
IGBC Green Championship Awards to Indian Railways, Delhi Metro, SBI, Reliance Industries and other organizations
The three-day international conference and exhibition of the 15th edition of Green Building Congress 2017 was inaugurated today by Shri. Rajpal Singh Shekhawat, Hon'ble Minister for Industry, NRI & Govt. Enterprise, Government of Rajasthan.
Speaking at the occasion, Shri Shekhawat said, "Government of Rajasthan is committed is facilitate sustainable development of the State.  The Government has introduced a slew of measures, including offering 5% additional FAR (Floor Area Ratio) for projects under JDA (Jaipur Development Authority). It's encouraging to see that, the State of Rajasthan has already 83 IGBC registered projects with a footprint of 103 million sq. ft. of green buildings making Rajasthan the role model for other states.Awareness about the importance and benefits of adopting the green building concept is very important to further this growth, he underlined. Initiatives of IGBC is playing a pioneer role in spearheading the green movement in India, he added.
Appreciating CII's support to the Government of Rajasthan in its growth initiatives, Shri Gajendra Singh Khimsar, Hon'ble Minister for Environment & Forest, Government of Rajasthan said, "India, which is currently the 2nd largest country in the world withGreen Building footprint of 4.68 billion sq. ft, has the potential to be the world leader soon. Rajasthan has taken a leadership position in this area and can play a significant role in helping the country to achieve IGBC's vision of 10 billion sq. feet green built up environment by 2022. Government of Rajasthan is glad to offer all the possible support to IGBC in making India a global leader in green buildings, he added.
Mr. V. Suresh, Chairman, Policy & Advocacy Committee, IGBC said, "The green building movement should not just be urban centric, it should reach villages and rural part of India. With these objectives, IGBC on one hand has been driving initiatives to introduce various rating systems customized to meet the requirements of different types of built environment including IGBCgreen building village rating system. At the same time, our effort has been to create opportunities for market transformation and make green building affordable to ensure greater participation."
In a presentation made by Mr. Raghupathy, Dy. Director General, CII IGBC requested the Government of Rajasthan to extend the FAR incentive for green buildings to cover the rest of State.  He also emphasized that all the Government buildings in Rajasthan to go green.
Sharing his views Ar. Tai Lee Siang, Chair, World Green Building Council said, "India has made significant progress in promoting the adoption of green building practice and to take it to the next level, we need to make green building a part of our tradition by going beyond the business case".
Applauding the IGBC efforts and achievements, Ms. Terri Wills, CEO, World Green Building Council said "The Asia – pacific region which includes India, is one of the fastest growth regions in the green building space.  WorldGBC is driving the mission of ensuring green building for "everyone-everywhere". India, one of the first founding members of WGBC, has been playing a vital role in accelerating the global green building movement."
A rating program for healthy buildings for occupants, "IGBC Healthy Building Rating" was launched during the inaugural proceedings. The program evaluates buildings on the metric of people-centric design, and on the incorporation of elements that address energy consumption, water use and waste management in a sustainable manner.
Discussing the salient aspects of the rating program, Mr S Srinivas, Deputy Executive Director, CII Godrej IGBC Hyderabad stated, "The built environment plays a vital role in health & wellbeing of the occupants and should be closely knitted with people-centric design. The holistic rating system on 'Healthy Building for Occupants,' developed by CII-Indian Green Building Council addresses the physical, intellectual and social wellbeing of its occupants."
The day was also marked by felicitating organizations with Green Championship awards to recognize their efforts in greenbuilding movement in India. The awards were given to Indian railways, Delhi Metro Rail Corporation, SBI, Reliance Industries Limited, ICICI, Carrier- United Technologies, Agarwal & Agarwal Interior Designer, RP Sanjiv Goenka Group, Godrej GreenBuilding Consultancy Services, Thomas Associates Architects and Orbit Group.
Held between 5th – 7th October 2017, CII-IGBC Green Building Congress 2017  host over 2000 delegates, with representation from 31-member countries of the World Green Building Council. The event featured an exhibition on technologies and processes transforming the global construction industry.. The event featured exclusive sessions on incorporating sustainability and green elements into buildings serving the healthcare, schools, homes, affordable housing and data centers arenas, along with panel discussion with key industry leaders and financial institutions.