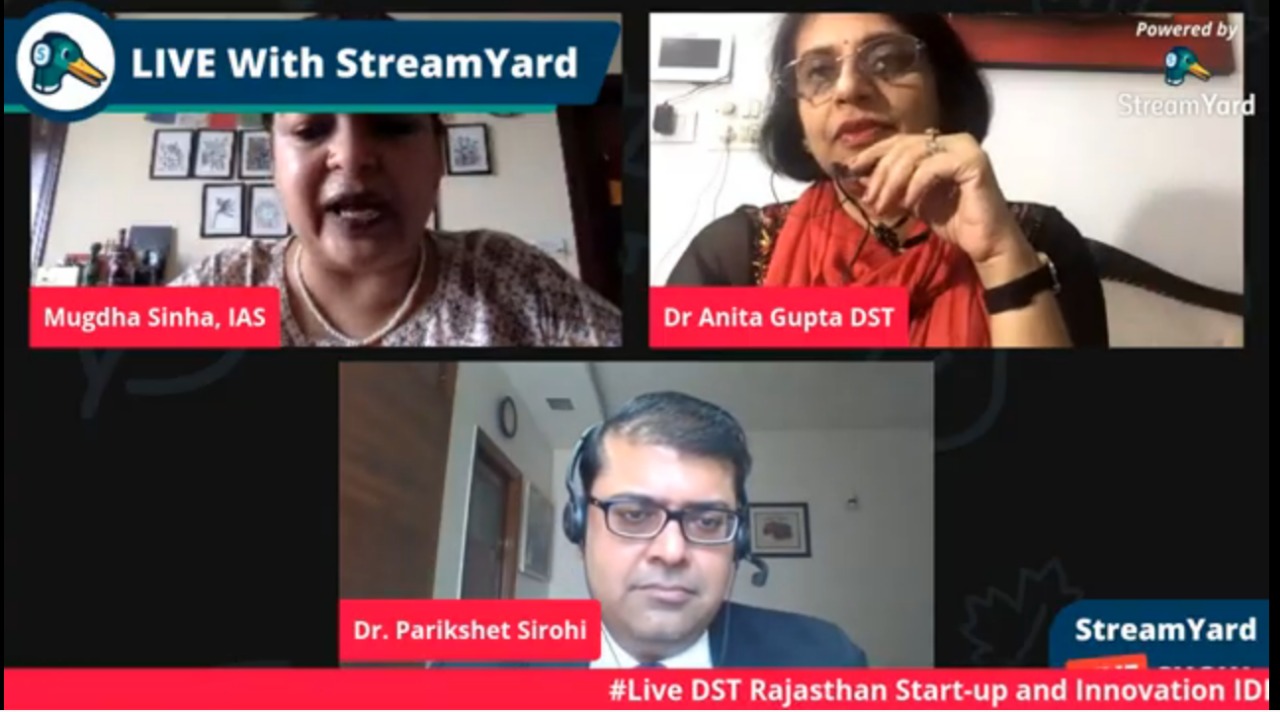 Press Release
Innovations should not just remain with the innovators. They should translate into a commercial product using incubation facilities under expert supervision and be made available to people. In these unprecedented times, many technological innovations are happening in cities and villages by technological innovators, women, students, rural innovators, among others. These innovations need to be guided to become a part of both funding and expertise. This expertise encompasses a vast range from scouting to seed funding to development of prototype to launching a pilot to commercialising the pilot and building centres of excellence. This was stated by Secretary, Science & Technology, Government of Rajasthan, Ms. Mugdha Sinha. She was delivering the opening remarks at the 'Start Up Innovation IDEATHON, 2020' on Youtube Live today. She was also the moderator of the programme. It was participated by Head, National Initiative of Developing and Harnessing Innovation (NIDHI), Dr. Anita Gupta and Assistant Professor, Faculty of Law, University of Delhi, Dr. Parikshet Sirohi. The programme was organised by the Department of Science & Technology (DST), Government of Rajasthan.
Talking about 'Start-ups, Innovation and Ideathon', Dr. Anita Gupta said that a technology incubator aids in creation, nurturing and helping scale-up of the idea stage and early-stage businesses. National Initiative of Developing and Harnessing Innovation (NIDHI) is an Umbrella Program with initiatives like – PRAYAS, EIR Fellowship, Seed Support Program, Technology Business Incubators, among others. During Covid, many start-ups have pivoted to come up with creative innovations that solve the problems of these unprecedented times. One of the major learnings during the lockdown period has been the realisation that one can manage with meagre resources. An entrepreneur needs to know how to navigate, keep the team motivated and swiftly evolve and adapt themselves to the new way of working.
Talking about 'Basic Provision of the IT Act, 2000 and Jurisdictional Issues in Cyberspace', Dr. Parikshet Sirohi said that Cyberspace, as we know it today, has completely changed the pre-existing notions of judicial norms and principle. The Internet does not respect any geographical boundaries. No one country can claim to own the Internet or any portion thereof. Crimes are much easier and quicker to trace in the virtual space vs. the physical space. He further explained various definitions like computer system, cyber security, data, digital/ electronic signature, intermediary, and much more. Giving examples of serious cyber offences, he highlighted tampering with computer source documents, offensive messages, identity theft, impersonation, privacy, cyber terrorism, obscene material, among others. He also demonstrated how to affix a 'Digital Signature' in a document.
'Start Up Innovation IDEATHON, 2020' also calls for proposals from Start-ups and Technology Business Incubations. The last date for submission of ideas is 14 August, 2020 till 5 pm. Proposals can be submitted at scheme.dst@rajasthan.gov.in. Forms are available at www.dst.rajasthan.gov.in.