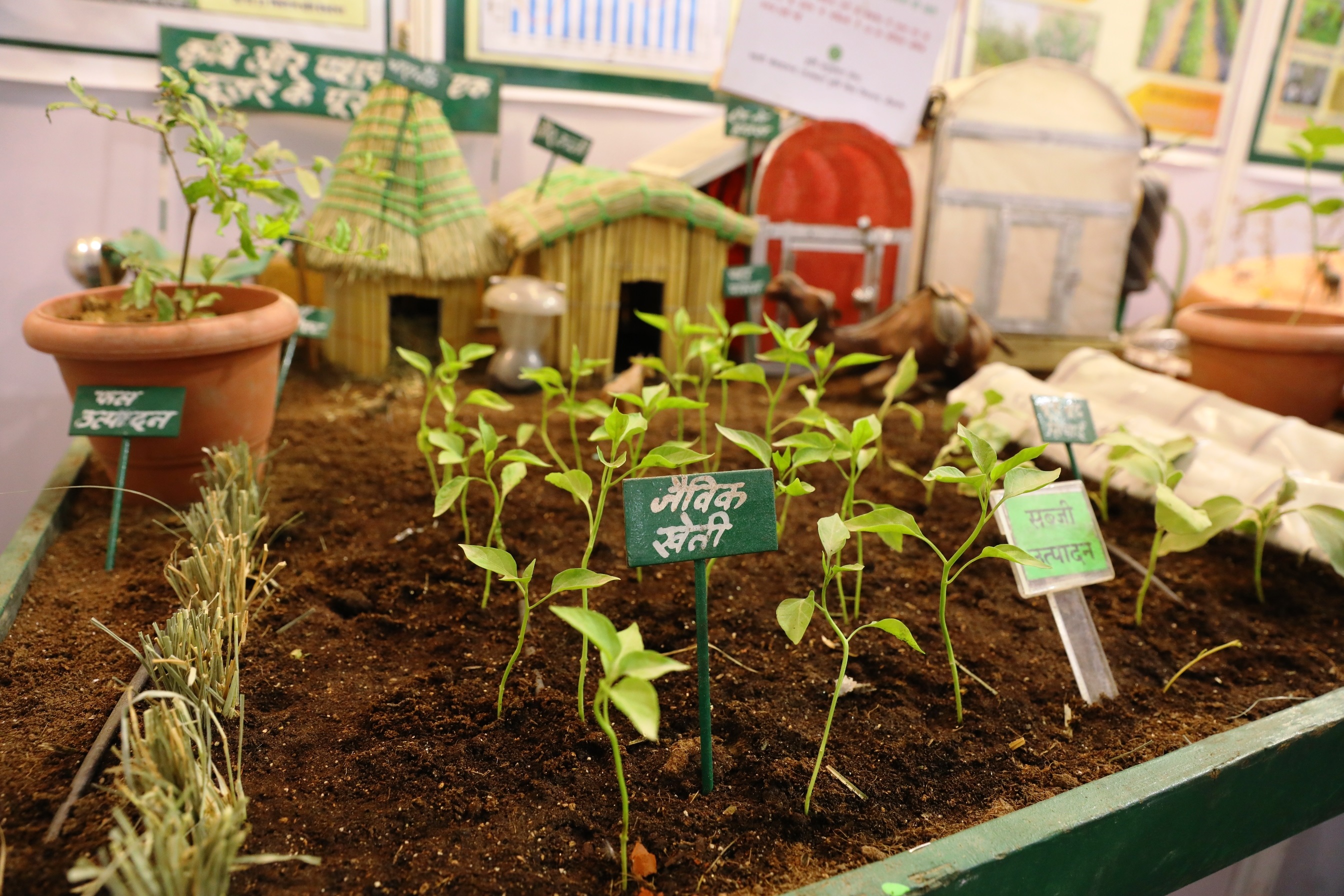 Press Release
Global Rajasthan Agritech Meet
Kota, 25 May: With advanced modern agriculture techniques on display, Smart Farm attracted large number of farmers on the second day of the Global Rajasthan Agritech Meet (GRAM) in Kota.
Spread over an area of 7800 sq meters, the Smart Farm is giving the farmers a platform to learn about various innovations in agriculture and irrigation technologies, protected cultivation and organic farming.
Large booths with LED display are showcasing various Agriculture Policies and incentives provided by the Government and also the emerging agricultural strengths of Rajasthan.
Few stalls at the pavilion are put up by banks and financial institutions to address the financial issues faced by the farmers like agricultural loans and crops insurance. Special booths have also been put to promote organic, medicinal and herbal plants. The farmers are showing keen interest in learning various techniques like high production through Green House and Shade Net House, unseasonable farming through Poly House, water conservation techniques under Mukhyamantri Jal Swavlamban Abhiyan.
Live demonstrations of irrigation techniques like mini sprinkler, sprinkler irrigation, drip irrigation and usage of solar pumps, among others are also displayed here to the visitors delight. In addition to this, live plantation of crops like olive, citrus fruits, coriander, mushroom, dragon fruit, oranges and mangoes are also being showcased.
The women farmers and entrepreneurs were also seen enthusiastically visiting the Smart Farm learning about the modern farming and water conservation techniques.
The other areas that are being highlighted at Smart Farm are – SRI: Systemic Rice Intensification, garlic processing machines, camel milk products, beekeeping, modern mandis, fish farming, crop insurance, bio gas plant, aromatic oil – spice oil, pearl culture, crop insurance and Soybean processed food products.
About 'Global Rajasthan Agritech Meet 2017, Kota' (GRAM)
GRAM Kota will be held from 24 to 26 May 2017 at RAC Parade Ground, Shivpura, Kota in Rajasthan. The event is being jointly organised by the Government of Rajasthan and Federation of Indian Chambers of Commerce & Industry (FICCI) .
Government of Rajasthan looks forward to replicate GRAM 2016's accomplishment at Kota in Rajasthan. One of the core objectives of GRAM Kota would be to expose the farmers of the Kota Division to best agriculture practices and define the next qualitative leap in Kota's agriculture growth story.
The event will bring all stakeholders – farmers from in and around Kota, academicians, technologists, agribusiness companies and policy makers.