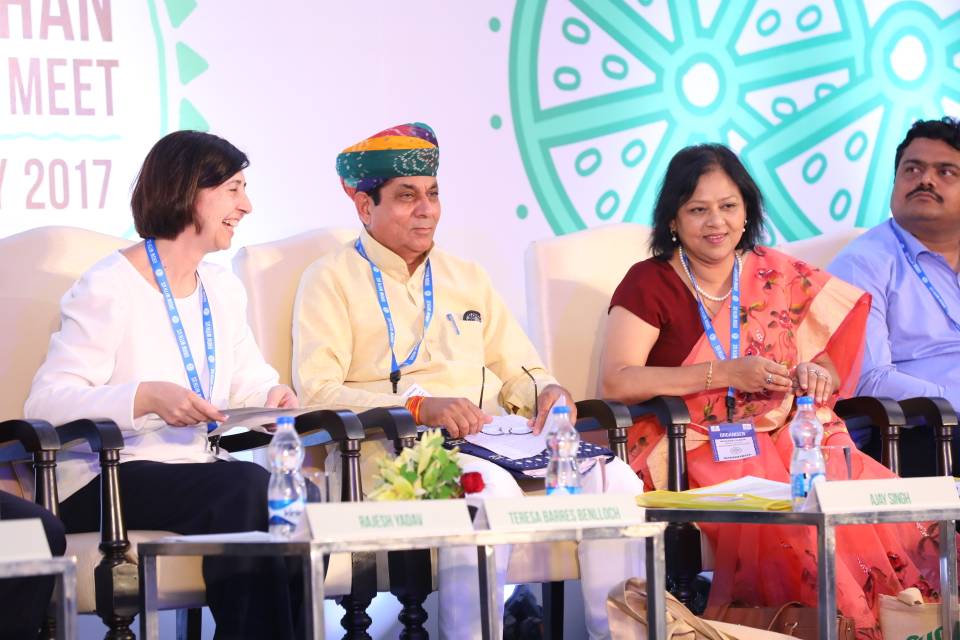 Press Release
Kota, 25 May: The ongoing 3-day Global Rajasthan Agritech Meet (GRAM) in Kota is the biggest symbol of agricultural dynamism in the country. This was stated by Minister of Agriculture, Government of Rajasthan, Mr. Prabhu Lal Saini. The second day witnessed a session on 'Agricultural Abundance of Kota: Emerging Opportunities.'
The session discussed in detail the emerging opportunities in the Hadoti region which comprises of Kota, Baran, Bundi and Jhalawar districts. The session highlighted the significance of sustainable mechanization; quality assurance of medicinal crops; pulses, barley, guava and aonla cultivation; need for agro-forestry and water conservation.
Hon'ble Minister for Co-operative, Gaupalan, Government of Rajasthan, Mr. Ajay Singh said that Kota region is very wealthy with numerous agricultural bounties. With sufficient water availability and 50% of total cultivable land, there is ample avenues for farmers to have a chance at doubling their incomes. Highlighting the initiatives taken by Government to enhance the livelihood of the farmers he explained that interest rates on loans for farmers have been reduced from 12- 14% to 7-10%. Not only this, progress has also been made to maximize insurance claims for farmers at a low premium.
Counsellor for Agriculture and Fisheries, Food and Environment, Embassy of Spain, Ms. Teresa Barres Benlloch shared the experience of sustainable mechanisation along the food chain and diversified production in Spain. She explained that it is vital to consider technological, economic, social, environmental and cultural aspects when contributing to the sustainable development of the food and agricultural sector.
Senior Research Scientist, Himalaya, Dr. R. Kannan explained the various guidelines for Good Agricultural Collection Practices (GACP). Highlighting some of the factors for collecting high quality produce he said that site selection, farmer training, climate and weather patterns and soil sustainability, play a crucial role. Emeritus Prof and Former Project Coordinator on ICAR Arid Legumes Project, CAZRI, Jodhpur, Mr. D Kumar said that there is a serious need to cultivate pulses in higher volumes as they have farming benefits like less water requirement and high temperature resistance.
Also on the occasion, Principal Scientist, Central Agro Forestry Research Institute, Mr. R.K. Tiwari spoke about the need for Agro-forestry in order to increases the land cultivability for other crops. Head, F & V Sourcing, Big Basket, Mr. Vinod highlighted the necessity for establishing grocery retailers in order to establish a smoother distribution channel for farmers and customers. Procurement Head, Soufflet Malt India Pvt. Ltd, Mr. Sachin Thorat emphasized on the need barley cultivation, as it is good for the crop cycle, requires less water and gives good return on investment. Senior Project Officer (Natural resources and Agriculture), Asian Development Bank, Mr. Rajesh Yadav said that the Division should focus on increasing the water efficiency through water harvesting, conservation and cutting off sources of unsuitable water use.
About 'Global Rajasthan Agritech Meet 2017, Kota' (GRAM)
GRAM Kota will be held from 24 to 26 May 2017 at RAC Parade Ground, Shivpura, Kota in Rajasthan. The event is being jointly organised by the Government of Rajasthan and Federation of Indian Chambers of Commerce & Industry (FICCI).
Government of Rajasthan looks forward to replicate GRAM 2016's accomplishment at Kota in Rajasthan. One of the core objectives of GRAM Kota would be to expose the farmers of the Kota Division to best agriculture practices and define the next qualitative leap in Kota's agriculture growth story.
The event will bring all stakeholders – farmers from in and around Kota, academicians, technologists, agribusiness companies and policy makers.