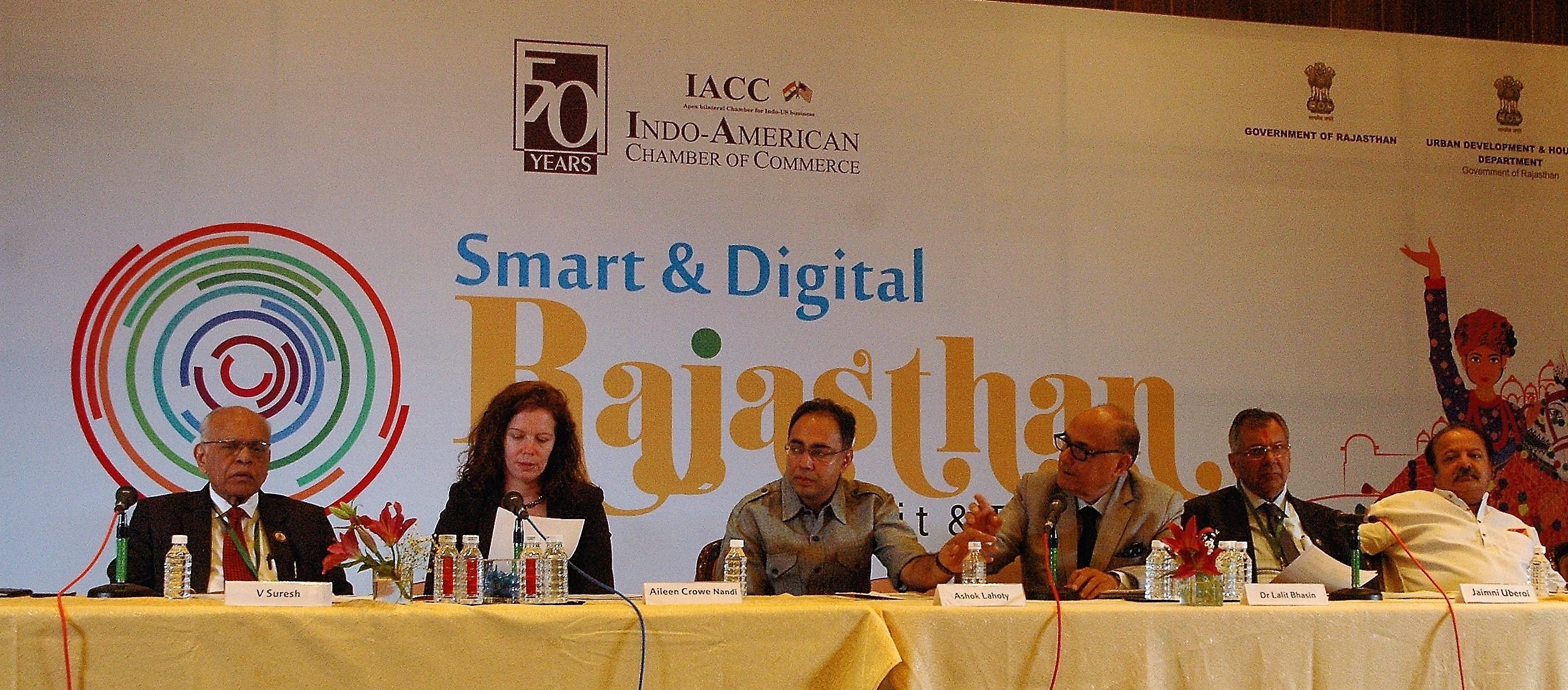 Press Release
"BASIC COMPONENTS NEED TO BE DEVELOPED BEFORE WE TAKE UP SMART SOLUTIONS"
– Jaipur Mayor, Mr. Ashok Lahoty
Basic components like sewage management, pollution control, infrastructure development, alternative transport solutions, among others needs to be the foremost focus of development before we can opt for smart solutions. This was stated by Mayor of Jaipur, Mr. Ashok Lahoty. He was addressing the 'Smart & Digital Rajasthan Summit and Expo 2018' at Jaipur Marriott. The concepts of smart city development cannot be replicated from foreign countries in India due to the diverse demographic, geographic and financial features of the country.
In the opening address delivered by Managing Partner, J-Mohanco Constructions, Mr. Jaimni Uberoi said that a well-connected transportation system, proper healthcare & education system as well as affordable housing and strong linkage to rural areas is essential for smart city projects. There is a significant need to attract investors to take interest in these projects.
On the occasion, the welcome address was delivered by Executive Vice President, IACC, Dr. Lalit Bhasin. He explained that the definition of smart city depends on the level of development of a particular city, willingness to change and the aspirations of the citizens. Smart cities need to be able to provide walkable areas, promote open spaces, offer transportation options as well as citizen-friendly and cost-effective governance.
Providing the US perspective on the occasion, Commercial Counsellor, U.S. Commercial Service, Ms. Aileen Crowe Nandi said that India has tremendous potential to transform into a smart country. As India continues to urbanise the need for clean water, power, transportation becomes critical. Numerous US companies offer smart and innovative solutions for smart city development projects. More joint collaborations between Indian and US companies need to be facilitated to offer smart solutions.
Chairman, Policy & Advocacy Committee, IGBC, Mr. V Suresh highlighted that Green Footprint of India is 4.79 Billion sq. ft.  with as many as 4452 Green Projects. Smart cities can aid in reducing electricity usage, the load on lighting and save water by 40-50%. There is a need to focus on Brownfield projects which will aim to upgrade existing cities to incorporate smart city components.
He further explained that the Government of Rajasthan and CII-IGBC has undertaken numerous joint actions to facilitate smart city projects throughout the city. These actions include feasibility studies for the Smart Cities; train engineers, architects and planners; collaboration with National and International agency and plan visits to world-class Green Cities.
Panel Discussion – Building the Cities of Tomorrow: Smarter Infrastructure, Smarter Technology, Smart Citizens
General Manager & Managing Director, Johnson Controls India, Mr. Shrikant Bapat said that by 2050, almost 70% of the Indian population will be living in urban cities. India will be spending approximately $30 Billion on the development of smart cities.
Chief Architect and Planner, GIFT City, Mr. Rajesh Phadke said that the need of the hour is to contemplate an integrated infrastructure development which consists of provisions for – internal transportation, water infrastructure, satellite cooling system as well as automated waste collection and segregation plants. Other than this, fire safety measures and 24/7 surveillance system also need to be implemented.
Director Sustainability – India, Cushman and Wakefield, Mr. R.K. Gautham said that most cities which have been identified for smart city transformation need to be farsighted to recognise areas for upgradation when the city's population increases beyond 5 lakh. Through digitisation of services, physical assets and infrastructure a digital map can be created to devise a way forward.
Chairman, Smart Cities India Foundation, Dr. A. Ravindra said that the concept of smart cities needs to be suitably developed keeping in mind the Indian context. The behaviour of the citizens is a very critical factor contributing towards maintaining smart cities. The existing problems of illegal building construction, increasing crime within the city and vast commercialisation all hinder the progress of smart city development.
The vote of thanks on the occasion was delivered by Chairman, Jaipur Desk, IACC, Mr. Sanjiv Bali.
Later sessions pertaining to – Digital India: Creating Next Gen Public Services and The Trinity of Smart Ecosystems: Smart Buildings, Smart Infrastructure and Smart Cities were also held.