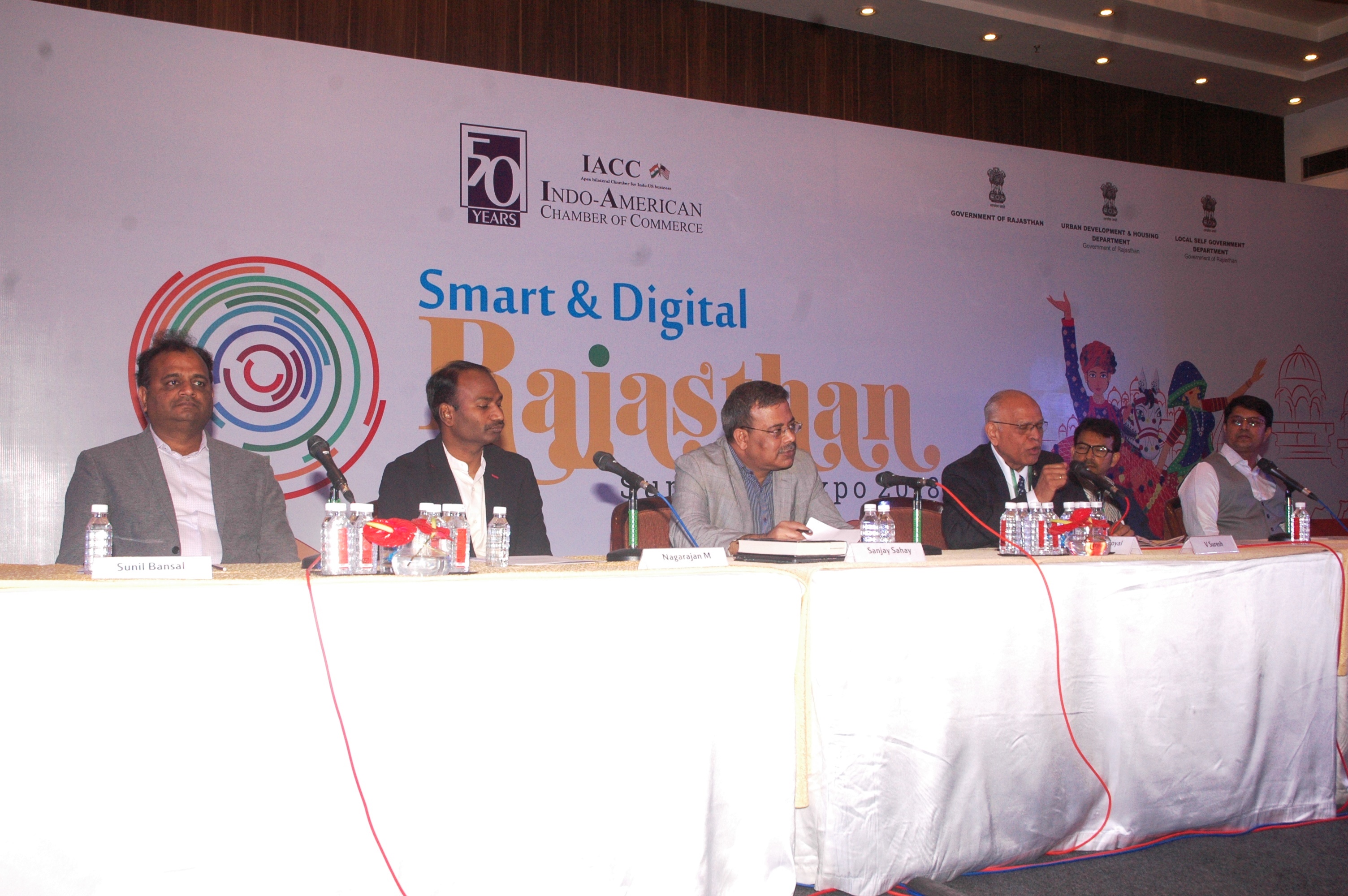 Press Release 
"INDIA'S SMART CITY CONCEPT SHOULD REFLECT ITS OWN STYLE AND PERSONALITY"
– CEO, NG Global FZ LLC, Mr. N.G. Thomas
India's smart city concept should not be cut and paste from other country models. The concept should reflect the country's unique style and personality. This was stated by CEO, NG Global FZ LLC, Smart City Consultant –Dubai, Mr. NG Thomas. He was addressing the concluding day of 'Smart & Digital Rajasthan Summit and Expo 2018' at Jaipur Marriott. India's biggest asset contributing towards smart city development are its people. Smart cities should be generating money from the very first day. Provisions like charging the vast population a small fee for providing access to certain services can ensure positive financial returns.
Chairman, Policy & Advocacy Committee, IGBC, Mr. V. Suresh said that smart cities need to be transformed into smart green cities. These cities will help reduce water usage, electricity consumptions, effectively manage solid waste and provide inclusive housing for its citizens. Finance is an important component of building smart cities. It is important to find the correct balance between public and private sectors to raise money for smart cities through smart city bonds, grants, tax collection etc.
On the occasion Managing Partner, J-Mohanco Constructions, Mr. Jaimni Uberoi said that numerous companies are also becoming committed to the idea of going smart, digital and green. The vote of thanks was delivered by Regional Vice President, AICC, Ms. Aruna Sethi.
First Panel Session on Technology, Innovation & Collaboration is the Key to Smart City's Success
Professor, Centre for Research in Urban Affairs Institute of Social & Economic Change, Dr. Kala Seetharaman Sridhar highlighted that the emergence of new economic industries like – e-commerce, internet etc. is the result of the failure of the old economic industries. Stating some examples she said that the concept of 'work from home' helps reduce traffic congestion and pollution. Similarly, e-commerce initiatives like online shopping through Amazon, Jabong etc. have overtaken the traditional shopping experience. India has a savings rate of 31% as compared to U.S. which has a savings rate of 17%. This is due to the fact that citizens in India still use cash for payments. Cash payments ensure spending responsibility.
Sr. VP Smart Grid, Reliance Infrastructure, Mr. Ajoy Rajani said that there is a need to create happy communities which engage with consumers through provisions like smart meters. Rajasthan has proposed to install 2,50,000 smart meters across the city. These will aid in providing the customers with real time access to their personal energy consumption and ultimately control their electricity usage and monitor the cost.
Director (T) RajComp Info Services Ltd., Mr. Uday Shankar said that infrastructure which facilitates good network and connectivity needs to flow down to the village level as well. Access to government services through a single platform for a small charge will be much beneficial for the citizens.  New initiatives by the Government of Rajasthan like – e-Mitra Plus, Electronic Health Record (EHR), drones and mobile vans for surveillance will help the public access smart and digital services across all channels.
A presentation by Systems Engineer, NetApp India, Mr. Krishan Parmar on the topic 'Innovating to Help Change the World With Data' was also made on the occasion. The presentation highlighted the need for secure, efficient, future proof and freedom of choice data availability for all citizens.
Second Panel Discussion on Bringing People Together: Striving for More Active, Safe, Resilient and Engaged Communities
Additional Director General of Police, Karnataka Lokayukta Bangalore, Mr. Sanjay Sahay said that for smart security systems, cities need to install cameras only where required, keeping in mind the coverage area for the same. Also, technology needs to be used in robust manner through operational centres and well-trained constables. The biggest issue continues to be the lack of monitoring and measurement of progress which can be solved via regular audits and conducting tests of traffic management systems.
Deputy Commissioner Surat Municipal Corporation & CEO, Smart City Surat, Mr. Nagarajan M. said that one of biggest challenges facing India for smart city development is the lack of transmission and coordination between the State and Union cell. General Secretary, The Rajasthan Solar Association, Mr. Sunil Bansal said that despite the high costs of green energy the Government needs to consider making the city live-able and its citizens happier. Government policies are need in standalone areas like streetlights, sensor lights and garden lights. Director Strategy and Marketing, Johnson Controls India, Mr. Praveen Urval  and MD, Vibrant Solar, Mr. R.S. Rajpurohit also spoke on the occasion