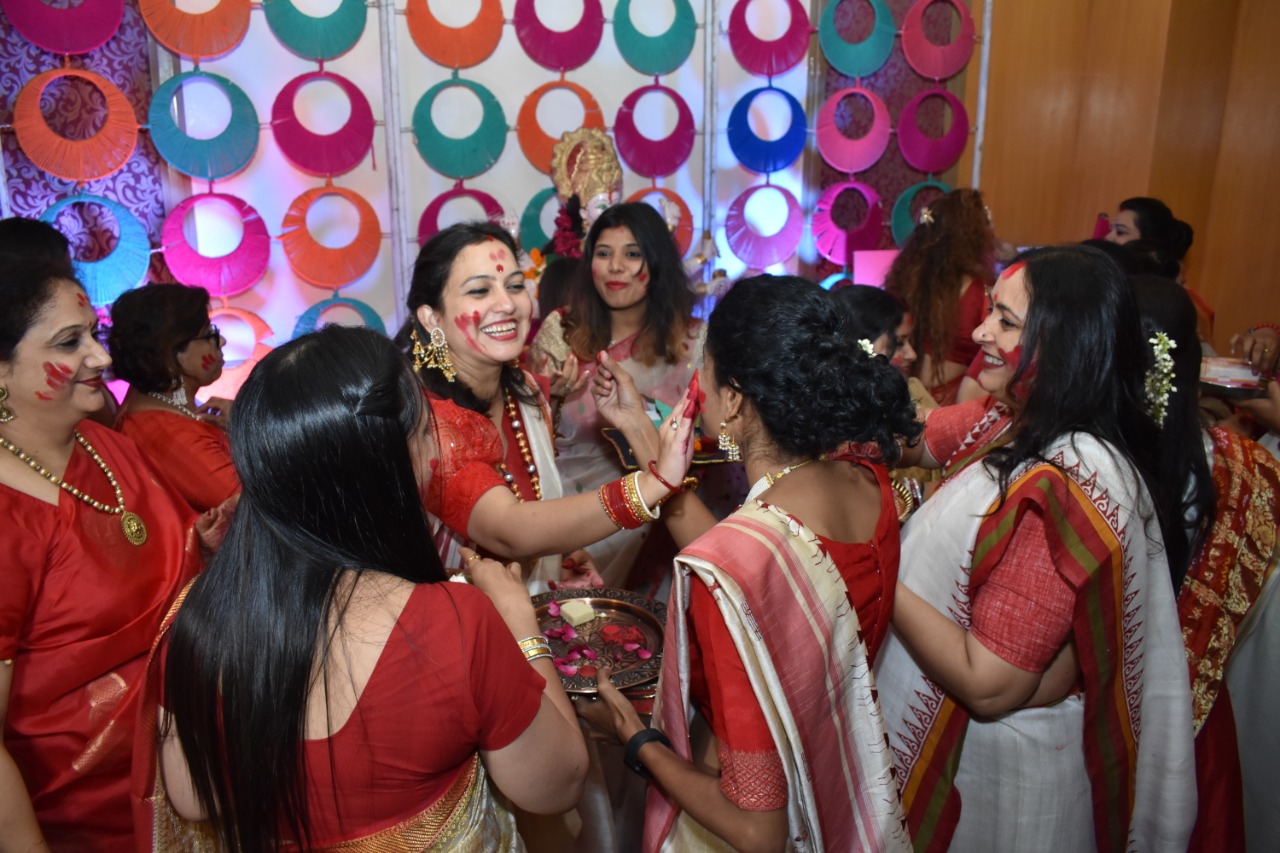 Press Release
The traditional Bengali 'Sindoor Khela' ceremony was performed with enthusiasm and fervour by Shakti Women's Organisation at Hotel Park Prime in Jaipur. After offering sindoor to Maa Durga, the women performed the ritual of 'Sindoor Khela' by applying sindoor to each other and gave the message of sisterhood . Not only married women but unmarried women also participated enthusiastically in this ceremony.
In the beginning of the program, Member of the Shakti Women's Organisation, Sushmita Das explained the importance of 'Sindoor Khela'. After this, a formal puja was performed. One by one the women performed aarti of Maa Durga and offered sindoor on the head and feet of the idol of Durga Maa. Later, the women applied sindoor to each other and fed sweets. During this, the women also danced with enthusiasm.
Founder, Shakti Women Organisation, Ms Sonakshi Vashistha said that 'Sindoor Khela' was organised for the 4th consecutive year by the organisation. It is an initiative to celebrate new cultures for the localites. The programme saw the presence of our members who are professionals from different fields. Irrespective of marital status women will come together to apply vermillion on each other as a symbol of sisterhood and bonding of women, all sisters. This idea of inclusiveness will welcome all women to enjoy and celebrate the festival. Women from different cities like Jodhpur and Ajmer also attended the festivities. Members of Shakti Women's Organisation, Anupama Agarwal, Deepa Ramchandani, Shailja Sharma, Sneh Walia, Drishti Roy, Sanjita Verma, Shammi Goyal and Neha Khutata, among others were also present on the occasion.
It is noteworthy that on the last day of Durga Puja, the ritual of 'Sindoor Khela' is performed by the Bengali community. According to Bengali tradition, it is believed that Goddess Durga along with her four children comes to earth to celebrate Durga Puja. There is an atmosphere of gloom on the last day of the festival, when Goddess Durga is sent off. It is believed that since the tears of Goddess Durga shed, her cheeks are wiped with betel leaves. After this, sindoor is offered on her head and bangles. Then women take blessings by touching the feet of Durga Maa for a happy life and happiness of the family. After this, all the women feed each other sweets and apply sindoor.