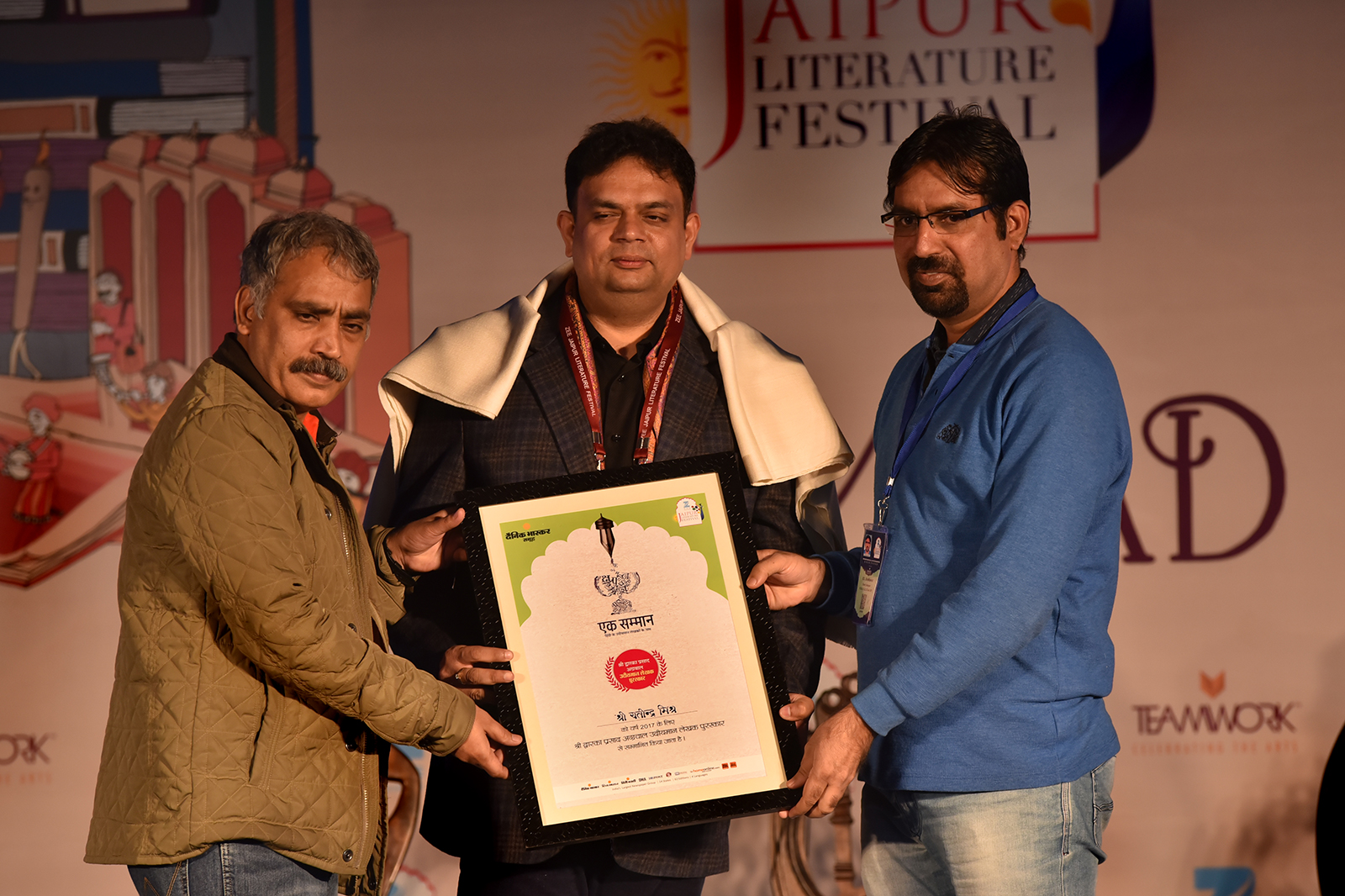 The Shri Dwarka Prasad Agarwal Award For Upcoming Hindi Writer was presented at ZEE Jaipur Literature Festival this afternoon.
Last year ZEE Jaipur Literature Festival introduced the first ever Shri Dwarka Prasad Agarwal Award for an upcoming Hindi Writer, presented at ZEE Jaipur Literature Festival.
In 2017 the second such award will be made to promote and encourage a promising young writer who is making their mark with good work in Hindi Literature.
The award is for work over the previous year and can be made to a fiction or non-fiction writer. The writer will be shortlisted by Dainik Bhaskar Group and ZEE Jaipur Literature Festival organisers and will be awarded Rs one lakh cash prize and a commendation.
The jury has selected Yatindra Mishra as the winner of the Shri Dwarka Prasad Agarwal Award 2017. The Award will be presented by Dainik Bhaskar group State Editor Mr L P Pant.
Yatindra Mishra has three collections of poetry to his name – Yada Kada, Ayodhya Tatha Anya Kavitayein and Dyodhi Par Alaap. He has also written a book on the classical singer Girija Devi (Girija) and a book of conversations with the dancer Sonal Mansingh (Devpriya).
He has been awarded the Raza Puraskar, the Bharat Bhushan Agarwal Smriti Puraskar, the Bharatiya Bhasha Parishad Yuva Puraskar, the Hemant Smriti Kavita Sammaan, Rajiv Gandhi Raashtriya Ekta Award and the Rituraj Sammaan. He has also been awarded a fellowship by the Department of Culture and an independent fellowship from Sarai, New Delhi.
His book on Ustad Bismillah Khan, Sur Ki Baradari, is soon to be published by Penguin (Yatra) Books and his compilation of Gulzar's poems, Yaar Julahe, will be published next month by Vani Prakashan.
Vikas Singh – AVP, Brand Marketing, Dainik Bhaskar said, "As India's largest language media group we feel responsible to promote Hindi. This award is an effort towards this direction to acknowledge and encourage good work done by young Hindi writers. The award will be given every year."
ENDS
NOTES TO MEDIA PERSONS
For media enquiries on the Jaipur Literature Festival, please contact Edelman India:
Nitisha.Prabhakar@edelman.com / Amrita.Sarna@edelman.com
About the Jaipur Literature Festival 2017
The past decade has seen the Jaipur Literature Festival grow into the world's largest free event of its kind. Having hosted 1300 speakers and welcoming nearly 1.2 million book lovers, the success of JLF has been astonishing and heartwarming.
Celebrating writers from across the globe, the Festival has hosted some of the best regarded and loved names, ranging from Nobel Laureates and Man Booker Prize winners to debut writers such as Amish Tripathi, Chimamanda Ngozi Adichie, Eleanor Catton, Hanif Kureishi, His Holiness the 14th Dalai Lama, Ian McEwan, JM Coetzee, Margaret Atwood, Mohammed Hanif, Oprah Winfrey, Orhan Pamuk, Pico Iyer, Salman Rushdie, Stephen Fry, Thomas Piketty, Vikram Seth and Wole Soyinka, as well as renowned Indian language writers such as Girish Karnad, Gulzar, Javed Akhtar, MT Vasudevan Nair, Uday Prakash as well as the late Mahasweta Devi and UR Ananthamurthy.
Writers and Festival Directors Namita Gokhale and William Dalrymple invite authors from across the globe to take part in the five-day programme set against the backdrop of Rajasthan's stunning cultural heritage and the Diggi Palace in the state capital Jaipur.
Equity and democracy run through the Festival's veins, placing some of the world's greatest writers and thinkers from all walks of life together on stage. All events are completely free and there are no reserved spaces; this egalitarian access is a powerful statement in a country where access to such individuals remains the privilege of a few. On top of all this, people are guaranteed to have fun!
As Time Out said: "It's settled. The Jaipur Literature Festival is officially the Woodstock, Live 8 and Ibiza of world literature, with an ambience that can best be described as James Joyce meets Monsoon Wedding."
The Festival is a flagship event of Teamwork Arts, which produces over 25 highly acclaimed performing arts, visual arts and literary festivals across more than 40 cities globally, and is produced by Sanjoy K. Roy.
In 2014, JLF spread its wings beyond the borders of India with an annual event in May at London's Southbank Centre. In 2015, JLF headed across the pond to Boulder, Colorado where it hosts a similar event every September.
Website: www.jaipurliteraturefestival.org
About Teamwork Arts
For over 25 years, Teamwork Arts has taken India to the world and brought the world to India.
In countries such as Australia, Canada, Egypt, France, Germany, Hong Kong, Italy, Israel, Korea, Singapore, South Africa, Spain, UK and USA, Teamwork produces over 25 highly acclaimed performing arts, visual arts and literary festivals across more than 40 cities.
Teamwork Arts produces one of the world's largest free literary gatherings, the annual Jaipur Literature Festival, the Ishara International Puppet Festival in New Delhi, the annual Mahindra Excellence in Theatre Awards (META) and Festival, international festivals Shared History in South Africa, Eye on India in the United States of America, India by the Bay in Hong Kong, Confluence- Festival of India in Australia, and many more.
Website: www.teamworkarts.com