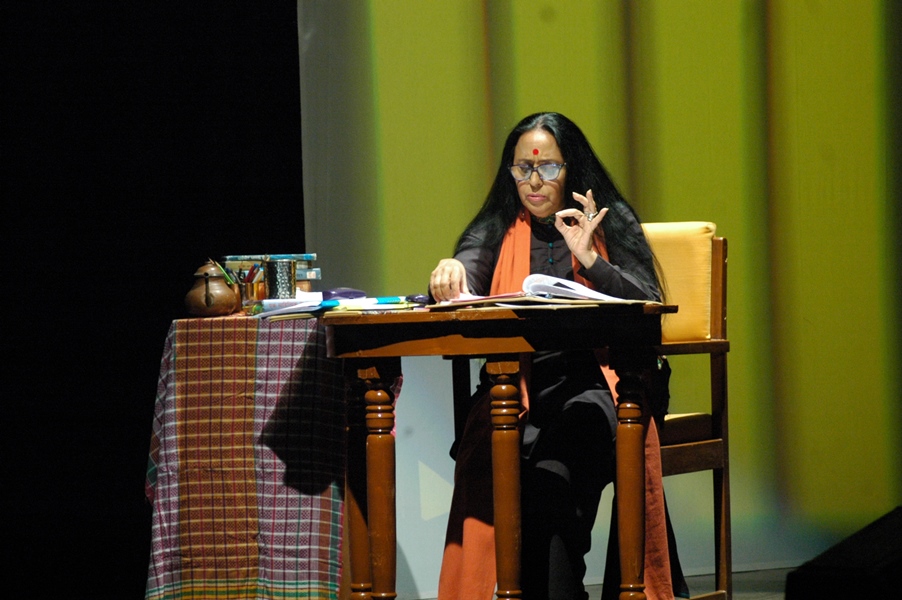 Press Release
As part of the Weekend Theatre Programme, the play titled 'Shabd Leela' was staged at Jawahar Kala Kendra (JKK). It was directed by K.K. Raina and conceived, scripted & presented by renowned actor Ila Arun.
The play was an amalgamation of extracts from the works of the award winning novelist, poet & playwright Dr. Dharamvir Bharati's- 'Andha Yug', 'Kanupriya' and 'Ek Sahityik Ke Prem Patra'.While Andha Yug traces the last day of the epic of Mahabharata, Kanupriya is a poetic representation of the relationship of Lord Krishna and Radha which describes the longing Radha feels when Krishna leaves for Dwarka. On the other hand, 'Ek Sahityik Ke Prem Patra' is a personal collection of letters Dharamvir Bharati wrote to his wife Pushpa Bharti. The play 'Shabd Leela' by the means of Dramatised reading, drew a connection between the lives and tales of Radha-Krishna and Pushpa-Bharati and also reflected a modern day significance. It differed from any regular play by being not merely storytelling but was an experience in itself and left the audience mesmerised.
In some parts of the play, Ila Arun took the role of the narrator while she also acted as Gandhari in the Andha Yug segment.  The protagonist's role of Dharamvir Bharati was played by Varun Badola and Rajeshwari Sachdev performed as his wife as well as role of 'Radha'.  The rest of the cast included K.K. Raina, Udit Arora, Devesh Siwal, Anmol Bakaya and Avinash Kumar.The crew supporting the play involved Arnab Chaudhary on Visuals, Dhruv Ghanekar on Music, Salim Akhtar on Lights and Set and Sanjoy Dazz on Special Effects and Sound Operation.