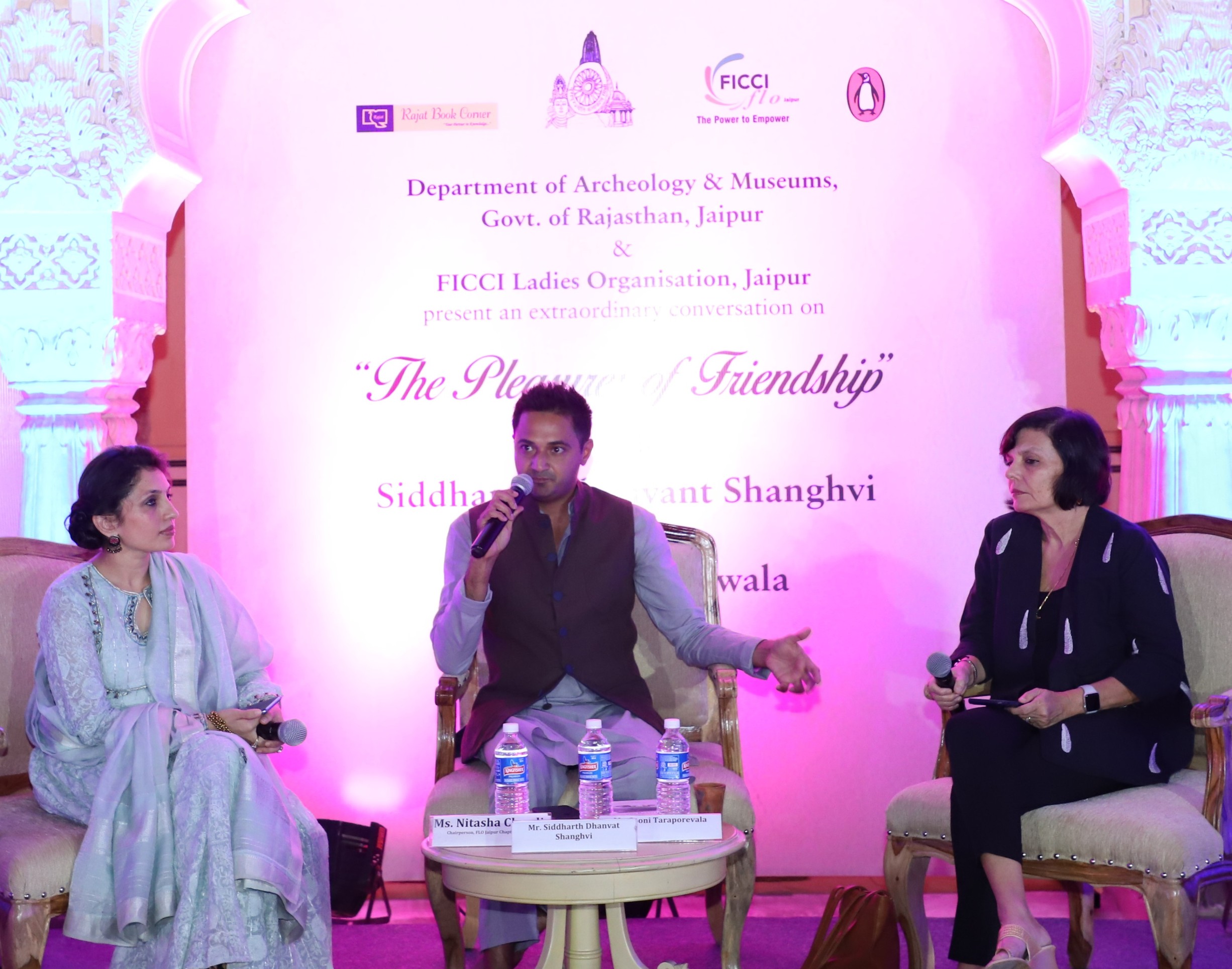 Press Release
"THE THREAT OF DEPARTURE OF LOVE IS WHAT MAKES IT MORE MEANINGFUL"
– Siddharth Dhanavat Shangvi
Love is perfect when it is not realised. The threat of departure of love is what makes us sit up and take notice. This was stated by Author, Mr Siddharth Dhanavat Shangvi. He was speaking at the book discussion on the topic 'The Pleasures of Friendship' of his recent book 'The Rabbit and the Squirrel' at Hawa Mahal. He was in conversation with filmmaker Ms. Sooni Taraporevala and Chairperson, FICCI Flo, Ms. Nitasha Chordia. The event was organised Department of Archaeology and Museum, FICCI Flo and curated by Rajat Book Corner.
Speaking about a part from the book where the squirrel tries to eat her children, Mr. Shangvi said that the squirrel was fed up with her conventional marriage, threatens to kill and eat her children hoping to scare her husband into labelling her crazy. Any woman being deemed crazy by the society or any man set her free and makes her immensely powerful. Because a crazy woman has the liberty to do anything she pleases.
Ms. Taraporevala said that our culture especially Bollywood has made romance a necessity on screen. Any time there is a girl and boy in the plot there must be a budding romance between them. We need to realise that the power of friendship is far more than any romance which tends to fade over time.
Earlier there was a networking session where the members of FICCI Flo had to the opportunity to interact with each other. The discussion was followed by live Rajasthani cultural music.
It is to be recalled that the book 'The Rabbit and the Squirrel' is a story of an unlikely friendship between a penniless bunny and an heiress squirrel.  The spiritual Squirrel ends up marrying the wealth boar whereas, the wild rabbit enlists into a monastery. Years later, defeated by personal tragedies, they reunite in their private world.