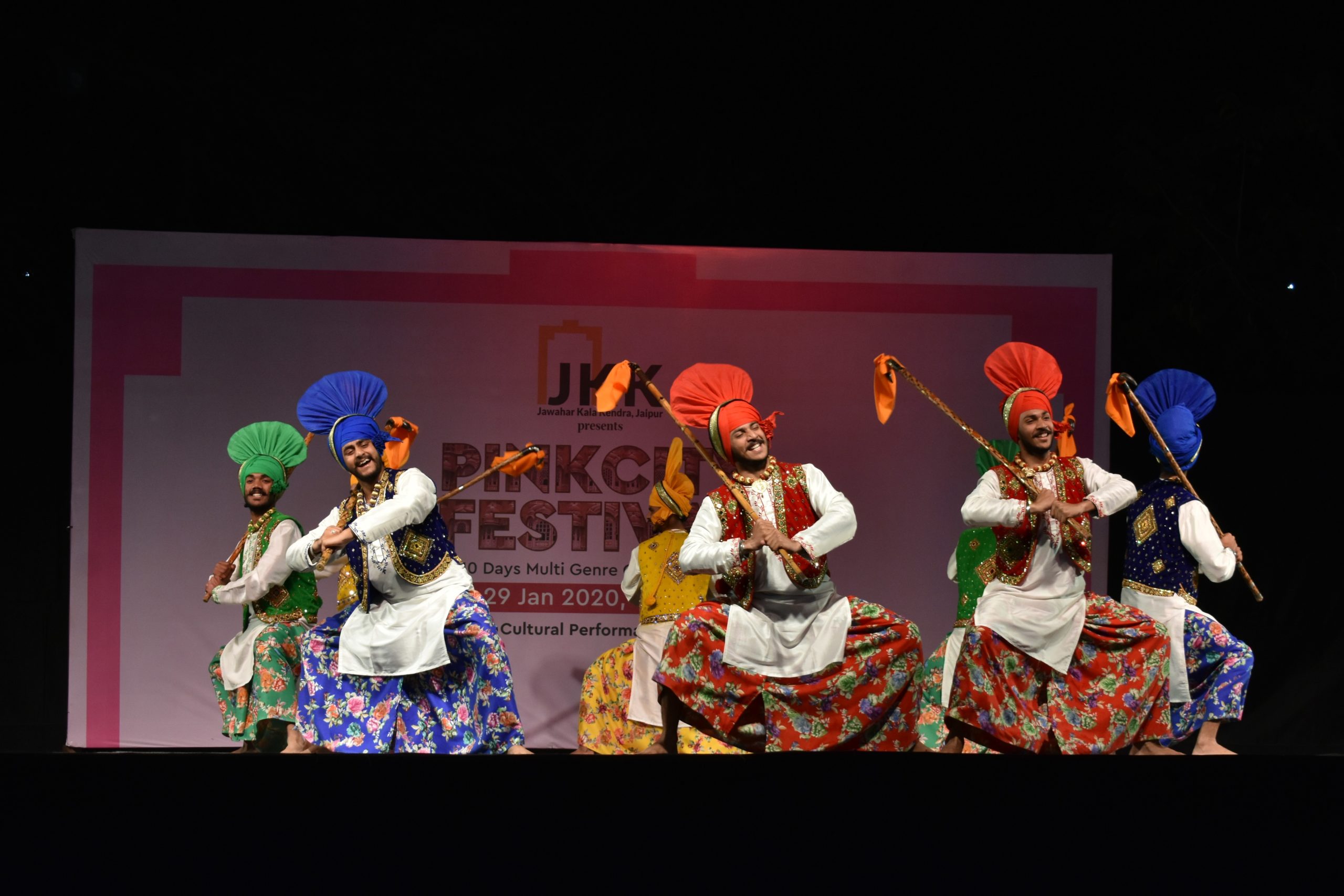 Press Release
 Brilliant dance performances were presented by the talented local artistes from India at the Pink City Festival.The audience enjoyed vibrant folk music, dances and picked up unique products made by local artisans at the exhibition.  Shabbir's 'Siddhi Dhamal'  performance from Gujarat offered a mesmerising peek into this popular tribal dance of India. Faces inked in white paint, wearing beaded shell jewellery and feathered headgear, the dancers revived the lost charm of this dance form.
Madhya Pradesh's rich folklore and tradition captivated the Jaipur audience with 'Rai' dance performance by Ram Sahai Pande from Madhya Pradesh. This folk dance originates from the 'Bediya' tribe and is an intrinsic part of their heritage even in the present day. The dance also has a deep religious significance.
Rajesh and Group brought the dance of Gujarat's Rathwa tribe of the festival. Much to the delight of the audience, the artistes presented this energised dance in pairs, where the women balanced themselves on the men's shoulders. Waving colourful handkerchiefs in the air, the dance was filled with energy and high spirits.
Similarly one of the most celebrated folk dances of the country 'Sirmaur Nati' was presented by Jogendra Singh Habi from Himachal Pradesh. Other folk performances like – Hela Gayan (Pad Gayan) by Lali Meena from Dausa, Lavani by Santosh Parb from Mumbai and Dangdi by Narayan from Banswara were also very popular among the audience.
Perhaps the most lively part of the afternoon was 'Bael Nritya' performance. This expressive and joyous dance performance enthralled the audience who had the chance to witness a unique and uncommon folk display. Shilpgram filled with the mellifluous sounds of 'Shehnai and Nagada' performance. The audience enjoyed puppet show with wooden puppets dressed in bright and colourful attires. 'Behroopiya' presented young men dressed up as mythological characters like Krishna, Shiva and Gabbar Singh. Magic came alive at the festival with a magician performing entertaining illusions for the visitors.