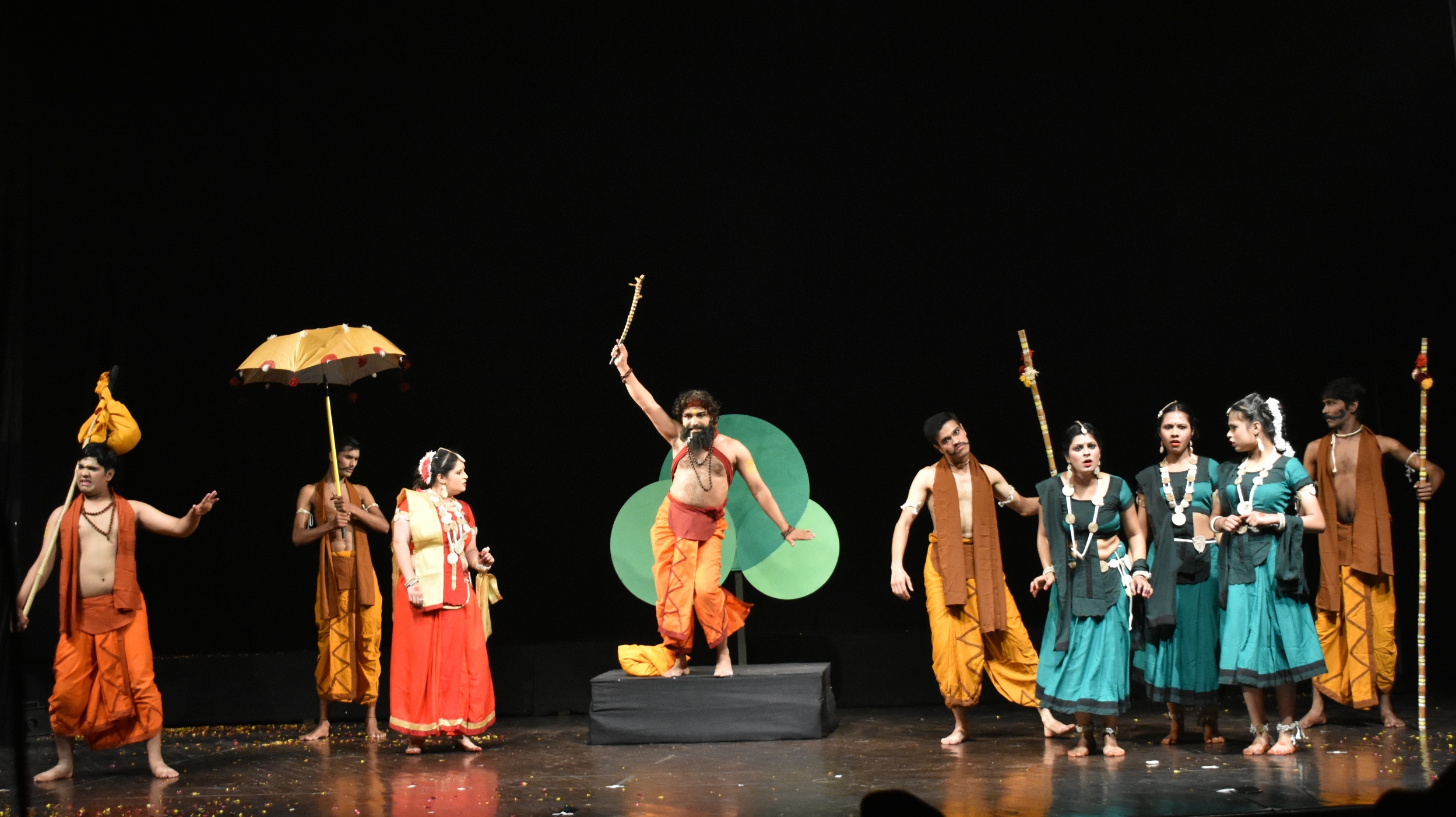 Press Release
On the third day of the ongoing 'Hasya Natya Samaroh' at Jawahar Kala Kendra (JKK), a comedy and satirical play, 'Hasyachoodamini' was staged. The play was directed and adapted by Saurabh Anant and written by Mahatmya Vatsaraj. The play revolves around the situational chaos that arises when business is made out of superstition. It also portrayed corruption in a way where characters don't give an impression of pessimism, but rather innocence which leads to their extortion. The folk elements in the play along with the blend Sanskrit theatre and traditional music made the performance attractive and exciting.
'Hasyachoodamani' revolves around the story of a courtesan, Kapatakeli whose jewellery is stolen by her daughter's lover, Kalakarandak. Kalakarandak meets the fake and fraud saint, Gyaanrashi and his disciple Kaundinya to help him hide the stolen bag. Simultaneously, Kapatkeli also meets Gyaanrashi to help her find the same stolen jewellery. As both the saint and disciple try to escape the village secretly with the jewellery bag, the daughter of courtesan, Madansundari also meets Gyaanrashi to help save her lover. But Gyaanrashi falls in love with Madansundari. The play concludes in a series of hilarious events as Gyaanrishi mistakenly calls all the three people on the same day.
The cast of the play included – Hemant Deolekar (Gyaanrishi), Kartikey Namdeo (Kaundinya), Ankit Paroche (Kalakarandak), Shweta Ketkar (Madansundari), Nivedita Soni (Kapatkeli), among others. The choreography team included – Shweta Ketkar, Ankit Paroche and Shivani Singh. The music team included – Ansh Joshi, Rahul Vishwakarma, Praveen Singh, Sneh Vishwakarama, Goyendra Raj, Harsh Jha, Suyash Singh, among others.