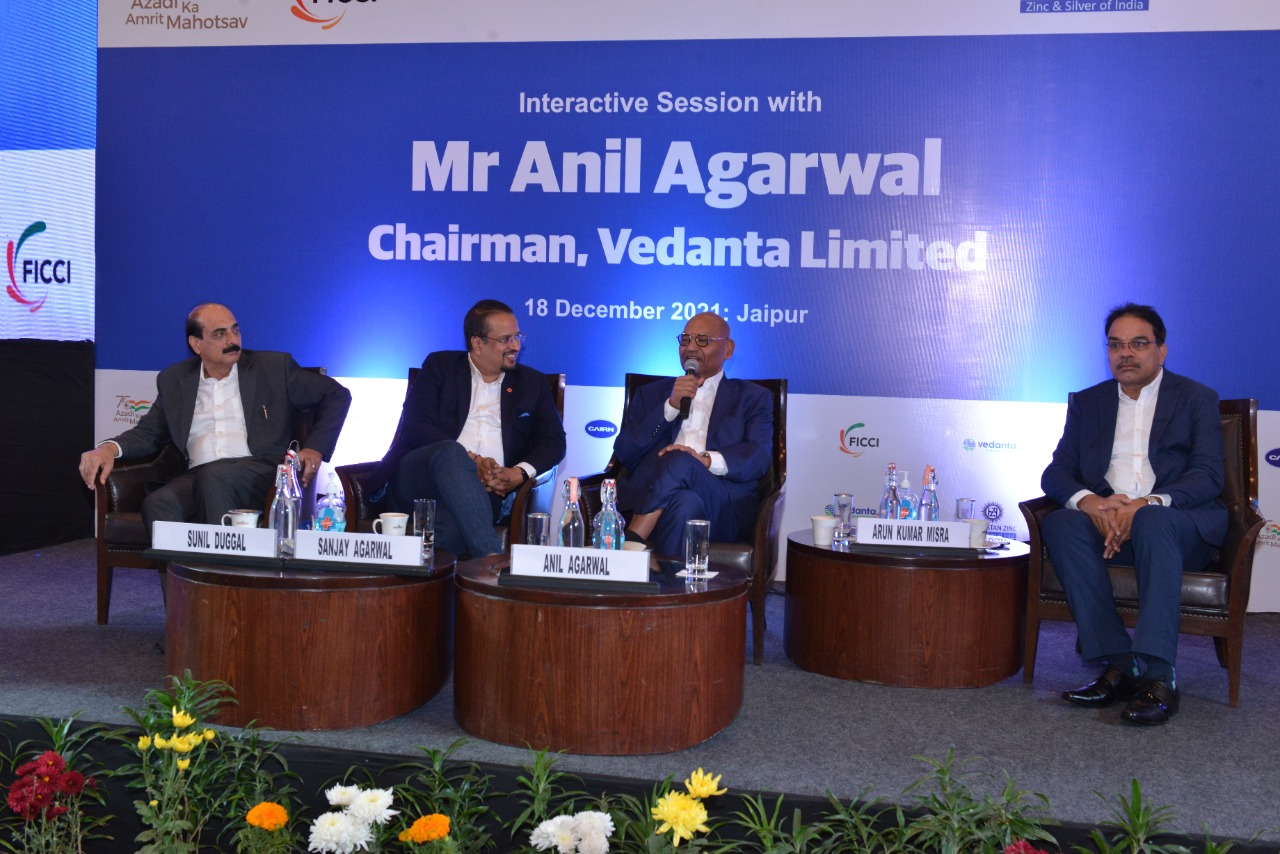 Press Release
Rajasthan has the potential to significantly improve the overall economic condition of the country. It is a state abundant in natural resources and with the production of oil, copper, gold, zinc, lead etc. the imports of the country can also be greatly reduced. This was stated by Chairman, Vedanta Limited, Mr. Anil Agarwal at an interactive session organized by FICCI Rajasthan State Council in Jaipur. The Metals and Mining magnate further said that the strong roots of entrepreneurship in Rajasthan will also increase the viability of the state to be developed as an economic hub. Further underlining the strengths of the state, Mr. Agarwal said that the state is already a popular tourism destination and has strong employment and infrastructure in terms of airport, hotels, etc. It is also renowned globally for its art and crafts. The populace of Rajasthan is also inherently hardworking, active and generous, added Mr. Agarwal.
While talking about India in general, Mr. Agarwal said that all major companies across the globe and even world politics is dominated by Indians. The women of the country are also showcasing exceptional entrepreneurship and focus. A huge potential also lies in the production of defence, electronics, semiconductors etc.
Sharing her experience of the interaction with Mr. Anil Agarwal today, Founder Chairperson FICCI FLO Jaipur and First National President of FICCI FLO from Rajasthan, Ms. Neeta Boochra said: "Today's interaction with the Chairman, Vedanta Ltd, Mr. Anil Agarwal shed light on the fact that women are already playing a huge role in all sectors and are a force to reckon with. Addressing the invitees today he emphasized upon the fact that in times to come women will be playing an increasingly important role and there will be no boundaries for them."
During the interaction, Chairman, Genus Group, Mr I C Agarwal shared that today Indian industry is struggling due to shortage of electronic semiconductors which brings a huge investment opportunity in this sector. He urged Mr Anil Agarwal that a conglomerate like Vedanta should look at investing in semiconductor manufacturing so that to achieve self-reliance in supply of semiconductors.
Similarly, Immediate Past President RATO and Executive Director, Le Passage to India Tours and Travel, Mr. Khalid Khan said that the interaction with the business leader Anil Agarwal was indeed very encouraging for entrepreneurs. His conviction that Rajasthan has the wherewithal to be the leader in the economic development of the country is sure to inspire the people of the state. Mr. Agarwal is a great ambassador of India, especially Rajasthan.
Earlier, in his Welcome Address FICCI National Executive Committee Member and MD & CEO, AU Small Finance Bank Ltd, Mr. Sanjay Agarwal said that Rajasthan has produced a lot of entrepreneurial success stories across the globe and Mr Anil Agarwal is a shining example of this. Today's session will inspire our youth and business leaders to think big and create many more success stories taking us towards a five trillion-dollar economy and Atmanirbhar Bharat, he added.
Mr Sunil Duggal, Group CEO, Vedanta Ltd and Mr Arun Kumar Misra, Chief Executive Officer, Hindustan Zinc Ltd were also present at the occasion. Over 100 participants attended the interaction.