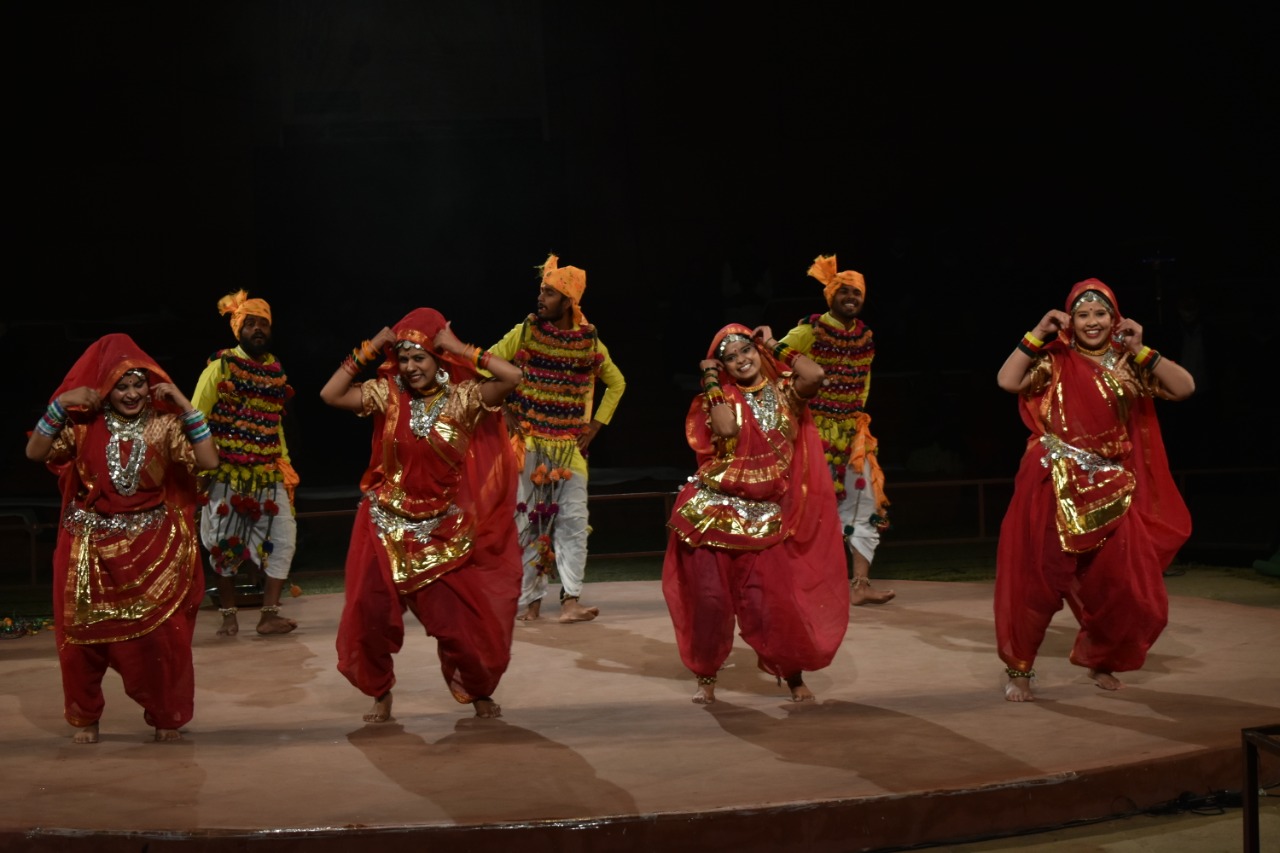 Press Release
On the third day of the ongoing 11-day 'Lokrang -2021', the audience was amazed by the spectacular event, 'Rhythm of Kerala' in which the performers from Kerala presented various folk music and dances of Kerala. 'Rhythm of Kerala' will be held till 22 December at Madhyavarti in JKK, as a part of Lokrang. It will include performances like Nagakaali Theyyam, Arjuna Nritham, Gurudevan Vellattu, Mayura Nrityam, Idakka Vadan, instrumental Jugalbandi, among others. The programme has been organized under the auspices, 'Azadi Ka Amrit Mahotsav', by Jawahar Kala Kendra (JKK), Department of Art and Culture, the Government of Rajasthan, and Rural Non-Farm Development (RUDA).
The differently-abled artistes captivated the audience with a brilliant wheelchair dance. Along with this, the spectators also witnessed delightful renditions of 'Bhopa' singing of Rajasthan, 'Dhangar dance' of Goa, 'Bhadhai' from Madhya Pradesh, 'Idakka' playing of Kerala as well as 'Peacock dance'. The artistes of Rajasthan presented 'Tera Taal', 'Bhavai' dance as well as 'Chakri' dance. Artistes from Gujarat performed 'Gof Gunthan'. Similarly, 'Dance on Wheel' was presented by artistes from Delhi, 'Purulia Chhau' by artistes from West Bengal, and 'Dhollu Kunitha dance' from Karnataka.
Simultaneously, in Shilpgram, there were presentations of Shehnai, Nagada, Puppet, Nat, Algoza, Behrupia, Kalbelia, magic show, Bhopa singing, 'Balam Choto So dance' of Rajasthan, Bhapang playing as well as the Dhap dance.
It is worth noting that the National Handicrafts Fair is also going on at Shilpgram in JKK. At this fair, artistic handicraft products made by award-winning craftsmen from across the country are being displayed and sold. This exhibition will be open for visitors from 12 noon to 9.30 pm every day till 26 December.