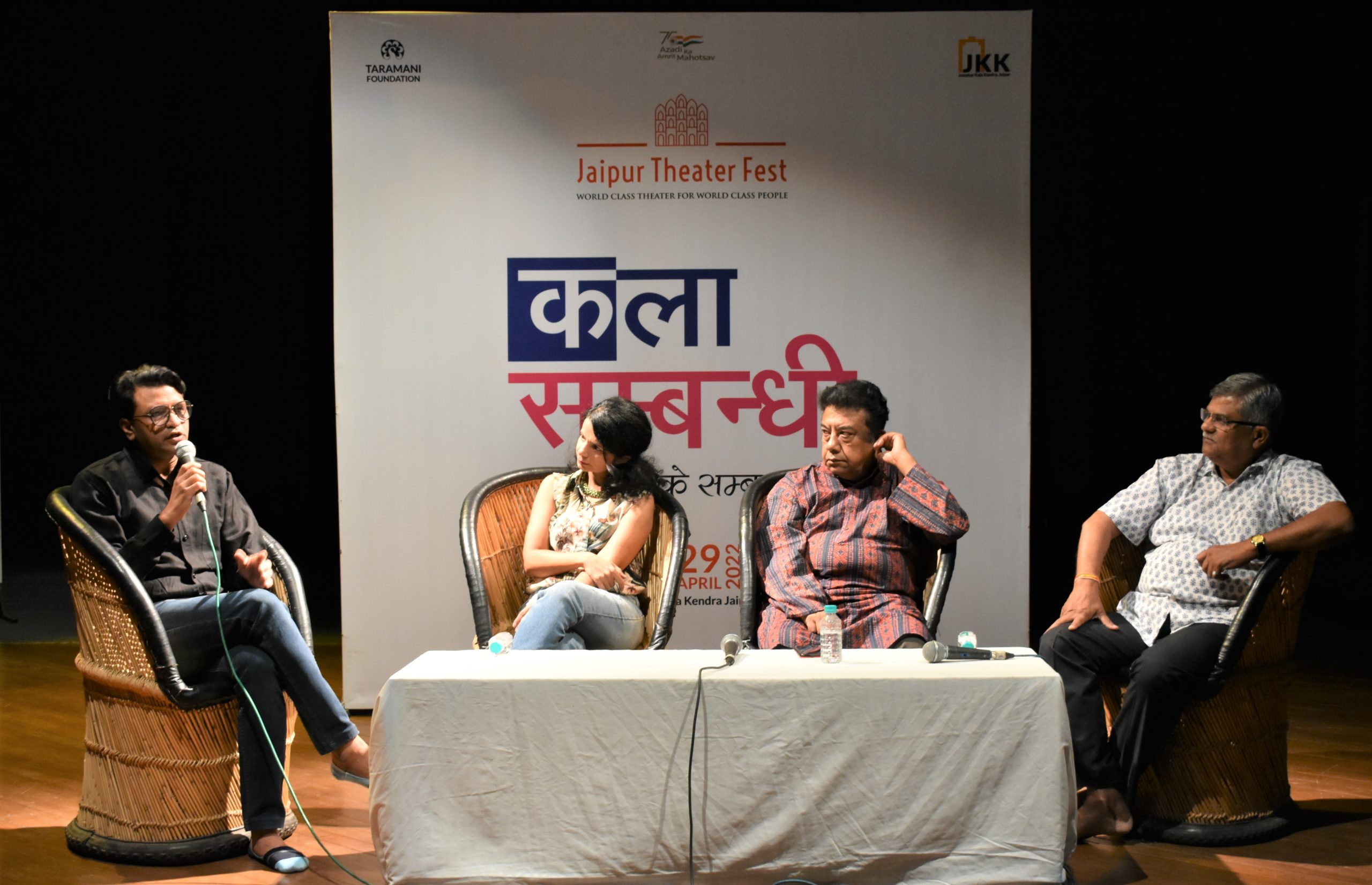 The Jaipur Theatre Fest'22 witnessed its second day with the audience enjoying plays – 'Cast Off All Shame' by Dr Ulka Mayur and solo act, 'Aisa Hi Hota Hai' by Alok Chatterjee in Jawahar Kala Kendra (JKK). The Fest is being organised by Taramani Foundation in collaboration with JKK and will be on till 29 April.
Play 'The Cast Off All Shame' by Dr Ulka Mayur
'Cast Off All Shame' began with the spirit of a Bhakti poet, 'Janabai' coming alive and taking over a radio show as an RJ. She then spoke to various women callers who reached out to her with their everyday issues of gender and patriarchy. The solo theatre piece consisted of a series of vignettes – some hilarious, some gut-wrenching about Indian women from a variety of classes and settings. Their situations were illuminated by women Bhakti poets- Janabai, Lal Ded, Akka Mahadevi, Avvaiyyar, Soyarabai- whose poems appeared as 'characters' in the show.
The music was presented by Priya Saraiya and Sagar Kendurkar. The music operation was done by Soumik Ghosh.
Play, 'Aisa Hi Hota Hai' by Alok Chatterjee
The play 'Aisa Hi Hota Hai', written, directed and performed by Alok Chatterjee was based on his journey in the world of theatre. Alok depicted the journey of his life as a theatre artiste right from the time when he had decided to take up theatre as a career option. Through his performance, the audience came to know the different facets of the lives of great personalities like BB Karanth and famous poet, Agyeya. One also got a peep into the life of NSD students, what they study, what kind of atmosphere is prevalent there and how the institution widens the horizons of its students.
Kalasambandhi Talk Shows
Earlier, as a part of Kalasambandhi talk shows – 'Patron of Artist an audience or customer?' featuring Savitri Medhatul and Bhushan from 'Sangeet Baari' was held in Krishnayan. The session was moderated by Vaibhav Sharma.
Following this, a talk on 'Surviving the Hardships of Theatre' featured Alok Chatterjee, Ulka Mayur Puri, Narendra Arora and Mahmood Ali in Krishnayan. The session was moderated by Ishwar Dutt Mathur.