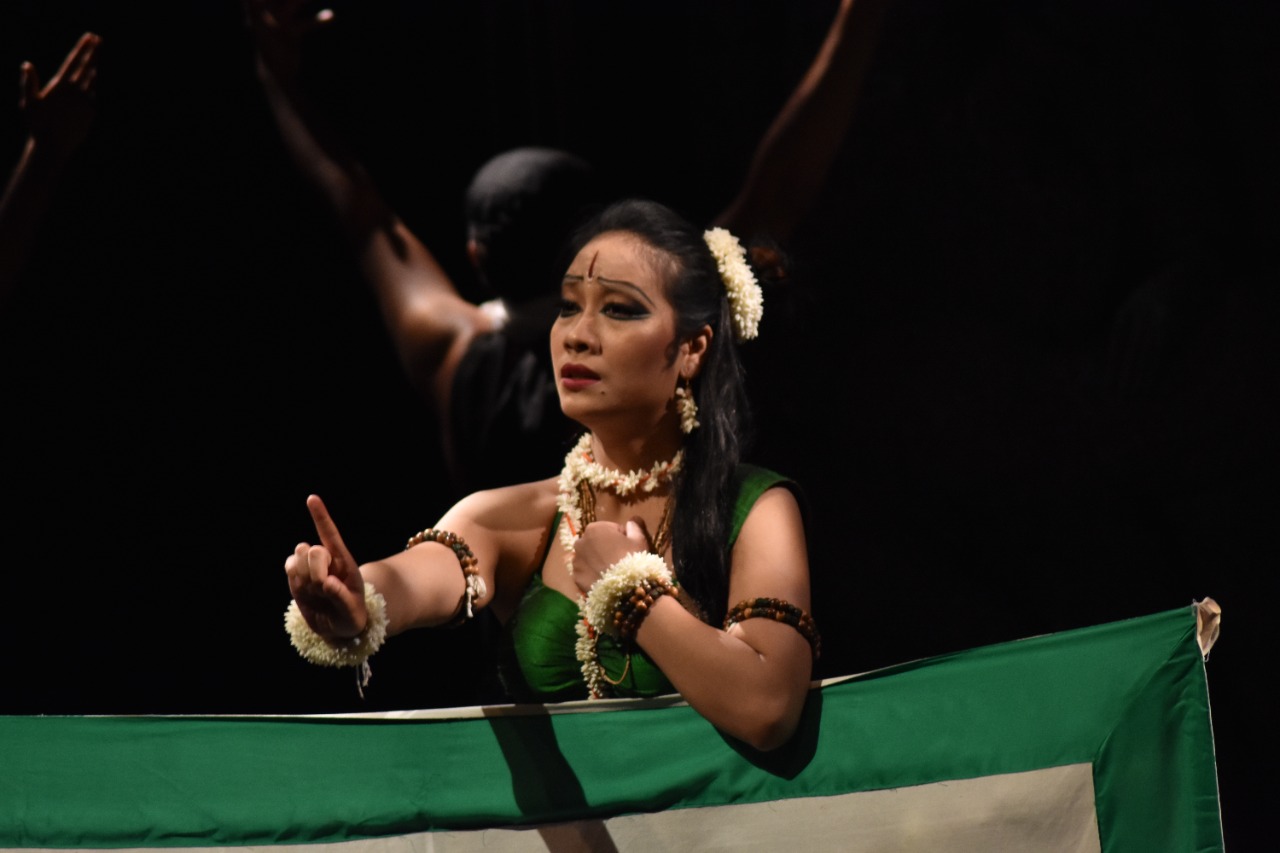 The Jaipur Theatre Fest'22 witnessed its fourth day with the audience enjoying plays – 'Agarbatti' by Swati Dubey (Jabalpur) and 'Abhijnana Shakuntalam'by Padmashree Vidushi Rita Ganguly in Jawahar Kala Kendra (JKK). The Fest is being organised by Taramani Foundation in collaboration with JKK. It will conclude tomorrow (29 April)
Play 'Agarbatti' by Swati Dubey
The play 'Agarbatti' directed by Swati Dubey was presented by Samagam Rangmandal, Jabalpur in Krishnayan. Written by Ashish Pathak, the play has bagged four awards at Mahindra Excellence in Theater Awards (META). In order to rehabilitate the widows of the massacred Thakur's in Behmai, the Government opened an incense stick factory. Until killing the jailed 'Bandit Queen' of Chambal, Lala Ram Thakurain reserved the last rite ritual to liberate the ashes of her husband via water and organized everyone with help from Kalli. Damayanti initiated a discussion that why all those massacred were only men and not women. Series of events, arguments, breakings and imputing illusion led them to the rare truth that a convict's act even indirectly causing crime without participation in it, was criminal. Lala Ram Thakurain got cornered in the argument, and lastly remembering old memories of her childhood, remained only a woman. Along with the other eight women, she mixed the ashes of her husband into the materials of the incense sticks. Just like nature's justice, the ashes of 'behmai' were mixed – in the incense sticks. All that remained were women, all nine of them. Liberated from caste, class and gender, remained burning women and incense sticks. The sound was operated by Aditya Rusia and Shivam Bawaria.
Play, 'Abhijnana Shakuntalam' by Padmashree Vidushi Rita Ganguly
The Festival's special attraction, the play 'Abhijnana Shakuntalam' written by Kavi Kalidasa was staged in Rangayan. The play was about King Dushyanta who was out hunting in deep woods and came across Shakuntala in a hermitage and tried to win her love. He returned to the capital and instructed the girl to follow him. The love-struck girl who was lost in her thoughts neglected the duties of hospitality towards sage, Durvasa. When he visited the hermitage, he cursed her that the man in whose thoughts she was lost shall no longer remember her. Later, when Shakuntala reached Dushyanta's court she was mocked and insulted about the whole affair and her pregnancy. The playwright wanted to justify the attitude of Dushyanta towards the young innocent maiden, Shakuntala, with the curse of sage Durvasa.