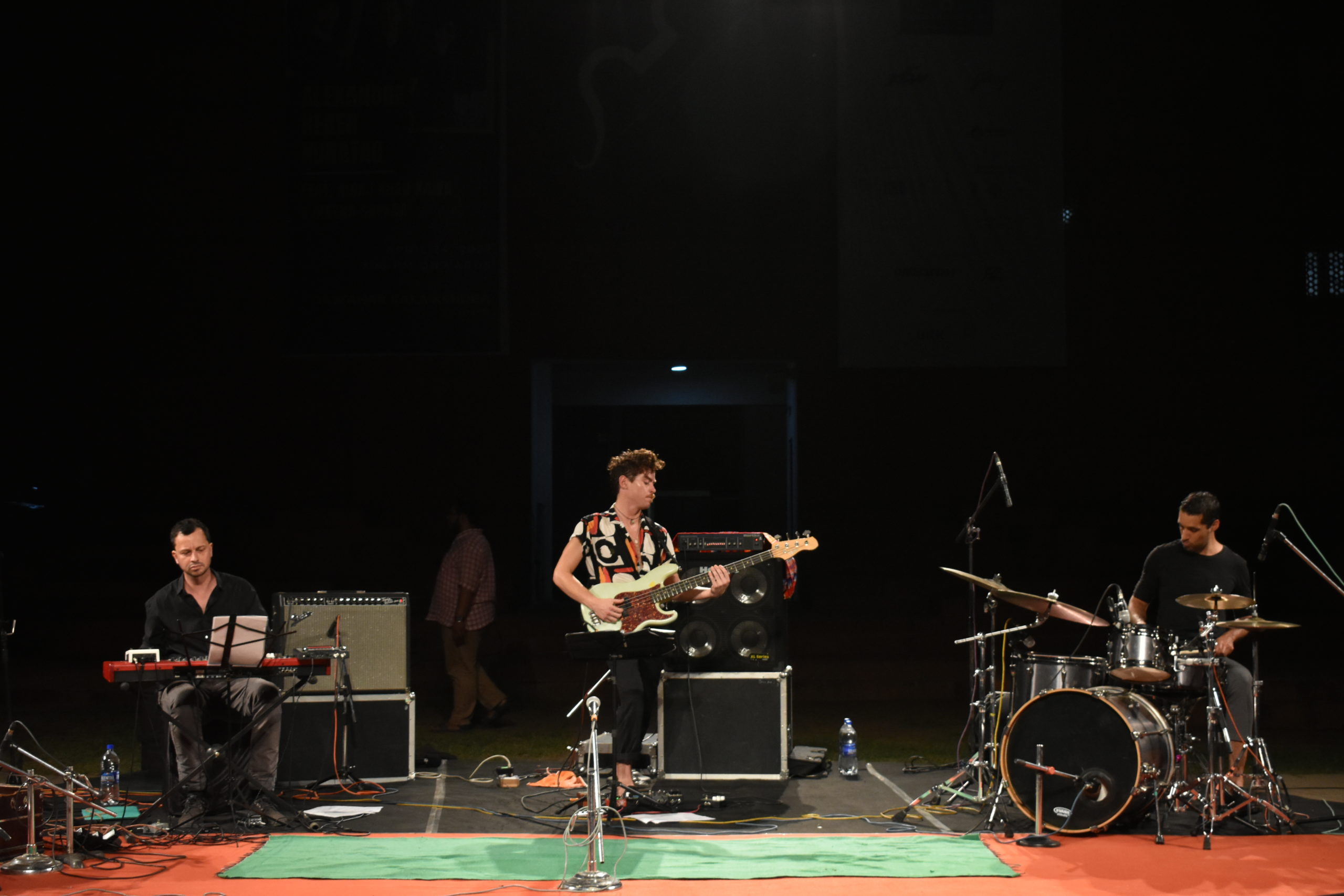 As part of Bonjour India, Jaipur enjoyed a respite from the scorching heat with the cool jives of the jazz trio Nunataq, at Jawahar Kala Kendra (JKK). The band played experimental jazz and was led by the progressive jazz pianist, Alexandre Herer. 'Nunataq' was an open project that was nourished by Alexandre's many experiences and collaborations with musicians rich in a powerful artistic universe. The band played music that was deliberately open, airy, and cold; partly inspired by vast iced stretches such  as  Greenland.  In  such  regions,  the  climate  has  remained  unchanged  for  eons,  yet  it  is imperiled by today's humanity. The event was a part of the Bonjour India initiative,  an artistic, cultural, educational, and literary initiative by the Embassy of France and its cultural service Institut Français en Inde, the Alliance Française Network, and the Consulates of France. In addition, the audience was treated to a surprise at the end of the show. A never before seen or experienced musical crafted specifically for Jaipur. The French Jazz trio was seen jamming with Rajasthani musicians, Siraj Khan Kawa on tabla & vocals and Meena Sapera who joined the band in a never-seen-before choreography of song and dance.
Alexander Herer has experimented for ten years with his favorite instrument – the Fender Rhodes. Through his collaborations with musicians such as Magic Malik, Jozef Dumoulin, Marc Ducret, Stéphane Payen, Julien Pontvianne, and Olivier Laisney, Alexandre Herer gradually became familiar with many musical concepts, written repertoires, and improvisation techniques. The band's signature style can best be described as a subtle tension between motricity and ambient-like contemplative stillness. During the concert in Jaipur, Alexander Herer played the keyboard, Gael Petrina played bass, and Pierre Mangeard played drums.
Speaking about the performance Ms. Sanjana Sarkar, Director, IFI Jaipur said "The sounds produced by the three talented musicians conjure up in listeners' minds images of vast, cool, ancient, lonely, and immutable landscapes. The trio's musical style is captivating. Those who attend the concert will feel they have been transported to another universe where sound has taken on the properties of matter. Alexandre's sharp, offbeat, yet synchronized keyboard tunes will delight audience members by radiating throughout the venue at divergent angles making each listeners' musical experience enjoyable yet unique from that of others. Even in a city like Jaipur, which has a vibrant and diverse musical tradition, the audience nonetheless were treated to a musical repertoire that stays with them for a lifetime".
Bonjour India's events are open to all and often located in public places to maximize accessibility. The initiative celebrates the partnership between India and France by providing easy access to French and Indian cultural arts. Bonjour India's events are meant to entertain audiences of all ages and backgrounds and to lead to lively and friendly discussion.The French Jazz trio will be seen jamming with Rajasthani musicians, Siraj Khan Kawa on tabla & vocals and Meena Sapera who will join the band in a never-seen-before choreography of song and dance.