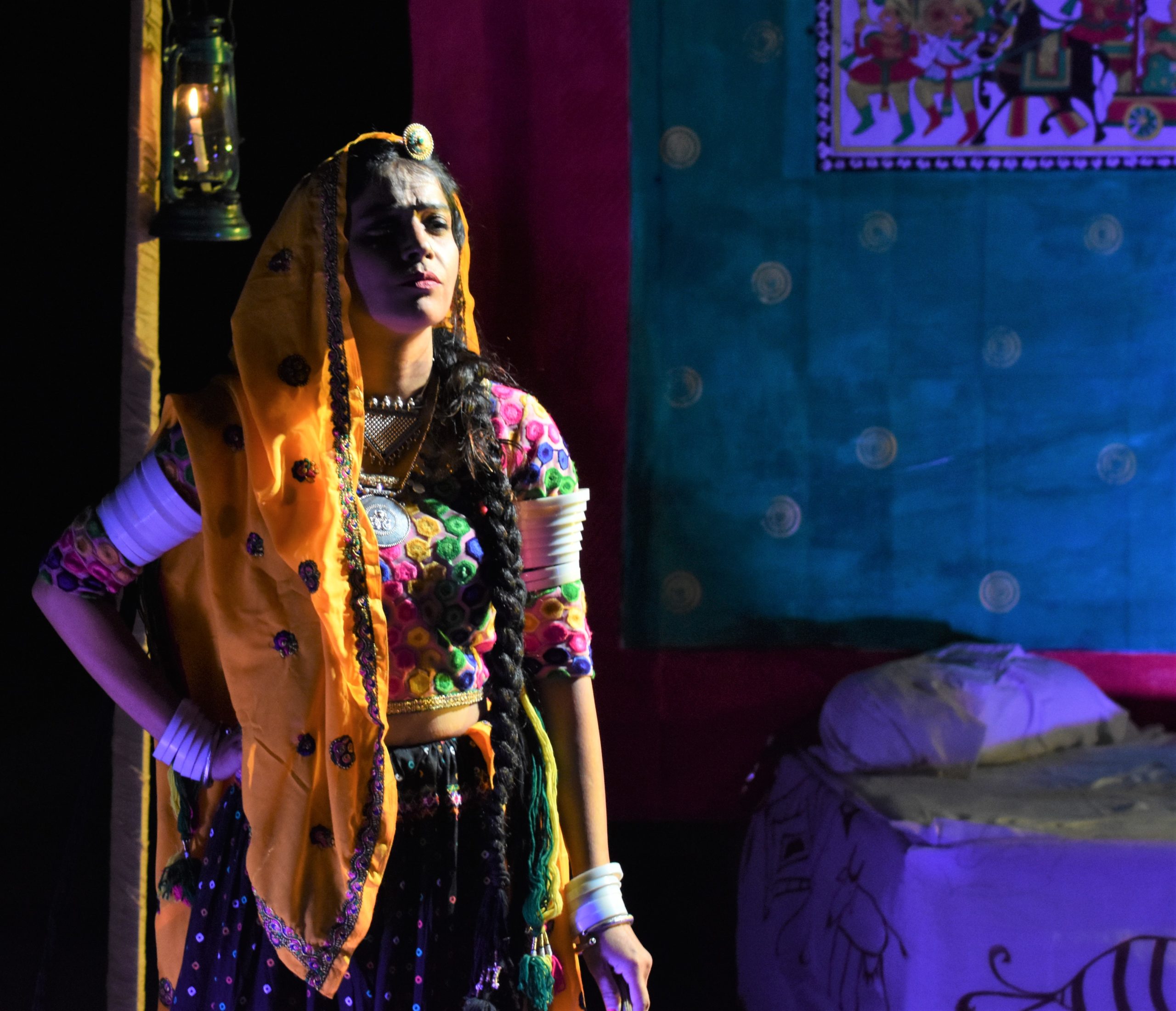 The Jaipur Theatre Fest'22 witnessed its third day with the audience enjoying plays – 'Bayen' by Lt Usha Ganguly and 'Kenchuli' by Mahmood Ali & Rajdeep in Jawahar Kala Kendra (JKK). The Fest is being organised by Taramani Foundation in collaboration with JKK and will be on till 29 April.
Play 'Bayen' by Lt Usha Ganguly
Based on a story by Mahashweta Devi, 'Bayen' was a play that created awareness of the core expression of her writing, i.e socio-economic disparities and the different shades of human life. The Hindi language play is directed by Lt Usha Ganguly and staged in Rangayan under the banner of the National School of Drama Repertory Company. Bayen's Chandi Daasi at a very young age was thrown into the work of burying dead animals. By invoking her responsibility toward the work of her ancestors, she was forced to live a life of great hardship. In time, she decided to tie the knot with Malinder, a man who worked in the Government crematorium and one who took on her responsibility. However, Malinder later declared her to be a 'bayen' and Chandi Daasi lost all rights to live a decent life. She started believing that her life of inhuman exile was simply the norm.
Play, 'Kenchuli' by Mahmood Ali & Rajdeep
The play 'Kenchuli' directed by Mahmood Ali was staged in Rajasthani and Hindi language in Krishnayan. Based on a story by Vijay Dan Detha (Bijji), the play follows 'Laachi' who left the comfort of her home, the love of her family and the accompaniment of her friends to come to an unfamiliar place with a heart full of excitement and joy. But, her situation turned hideous as she began to wonder if marrying was as bad as being a corpse for her then why did she get married at all? Just to fill her stomach and satisfy her sexual needs or was there anything more to this marriage. It became impossible for 'Laachi' to be with her husband anymore. The play throws light on whether the dilemmas of the household keep the marriage intact which revolves around caste, culture, religion, values and many more layers or does 'Laachi' throw away all these layers and become free.
The cast of the play included — Mahmood Ali, Rajdeep Varma and Lalita Meena. The stage management was done by Dadhichi Patel and light design by Gagan Mishra.
Kalasambandhi Talk Show
Earlier, as a part of Kalasambandhi talk show – 'The Art of Acting' featuring Alok Chatterjee was held in Krishnayan.