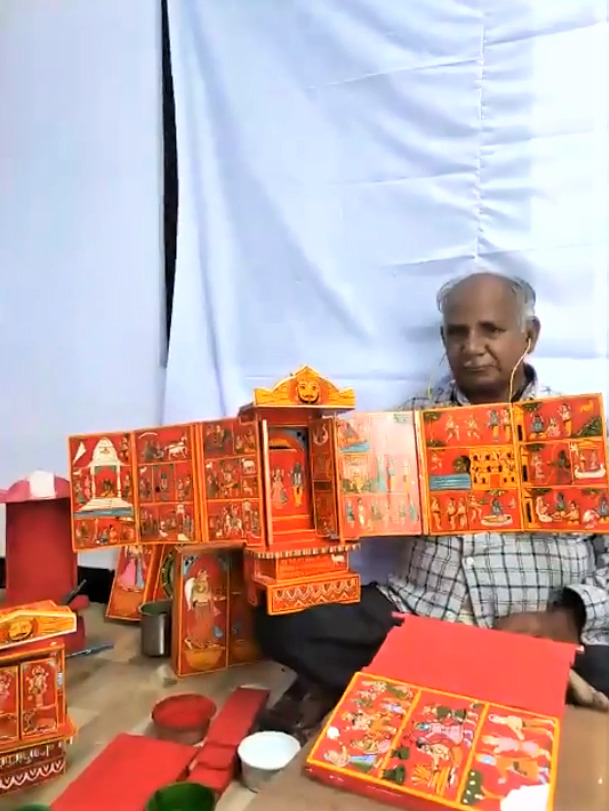 Press Release
Viewers learn the basics of traditional Indian storytelling art of 'Kavad' in an online session 'Kavad Art' by renowned Kavad artist, Mr Dwarka Prasad Jangid today. It was organised by Jawahar Kala Kendra (JKK) as part of a series of tribal art online sessions from 9 different districts of Rajasthan. The session was held on Zoom and broadcasted live on their Facebook page. It focused on the materials required for the art form, drawing and painting different characters and a brief description of 'Kavad Art'.
Giving a brief introduction to 'Kavad Art', the artist said that a 'Kavad' is a wooden storytelling device that combines the art of carpentry, narration, and painting. A box unfolds to reveal pictures of episodes in a particular story, or more frequently in a series of stories about a particular character. The stories range from mythological tales of Ramayana and Mahabharata to devotional stories and even feature stories about everyday life. A 'Kavad' would be carried on shoulders by a 'Bhat' (storyteller) to different villagers where they would narrate the stories in the 'Kavad'. Today, they are used as decorative pieces. They can be as small as 3 ft to as large as 25 ft.
The artist explained that the base of a 'Kavad' is usually painted red and is made of mango wood. Each story in the box has characters and elements that are separately painted using different powder watercolours like white, blue, green, orange, yellow and pink. Black colour is used with a pointed brush in the end for detailing. The colours are prepared by first soaking in water and mixing with a wooden stick. After which, a solution of 'gond' (resin) is added to the melted colour. Deities like Krishna, Shiva, Parvati, Hanuman, Rama and Lakshmana are featured in a 'Kavad'.
Tomorrow, 12 August, will be the concluding day of the online session on 'Kavad Art' by artist, Mr Dwarka Prasad Jangid at 3 pm. The session will be organised by JKK on Zoom and broadcasted live on their Facebook page.