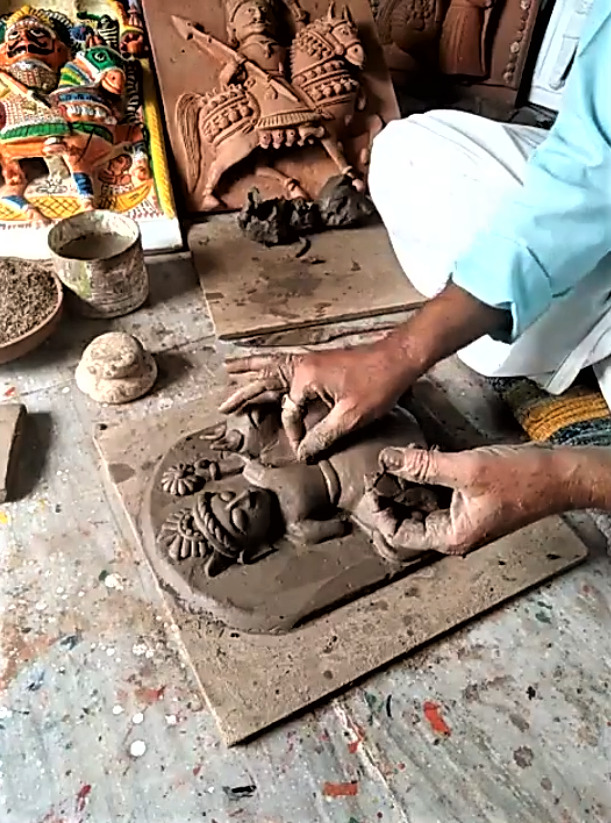 Press Release
The concluding day of the online session on 'Molela Art' by artist, Mr Jamna Lal Kumhar was held. The session was organised by JKK on Zoom and broadcasted live on their Facebook page. During the session, the artist went through the steps of creating a traditional terracotta plaque of the local deity Devnarayan. He also showcased the different tools and techniques used in the art form and answered queries from the participants after the session.  
The artist began by flattening the prepared terracotta dough. He poked holes in the dough to prevent cracking when firing the art piece. He used the pressing tool to flatten the surface of the dough to the desired shape and thickness. He said that the base should be levelled and not thick in some places and thin in others. A knife tool was then used to cut and shape the base. The surface of which was smoothened in between the cuts with water.
The artist demonstrated preparing an idol of Devnarayan riding a horse. He first prepared the form of the horse using smaller pieces of clay. He flattened the clay onto the terracotta base of the plaque. The piece was applied in a concave form and a hand was kept inside for support while the other hand shaped the dough on the outside. This type of 'Molela Art' is known as 'Hollow Style'. Water was used from time to time to smoothen the surface, act as an adhesive and create various shapes. After creating the body of the horse, its legs, head, nose and ears were made. Then, the torso of Devnarayan was prepared. This was followed by the head, facial features like eyes, nose and ears as well as the crown, flower, weapons, symbolic ornaments and jewellery. The horse was also decorated with ropes and beadwork. Features like the eyebrows, eye pupils, ear holes, lips, tilak and nostrils were made in the end.
On 12 & 13 August, the online session on 'Kavad Art' by artist, Mr Dwarka Prasad Jangid will be held at 3 pm. The session will be organised by JKK on Zoom and broadcasted live on their Facebook page.