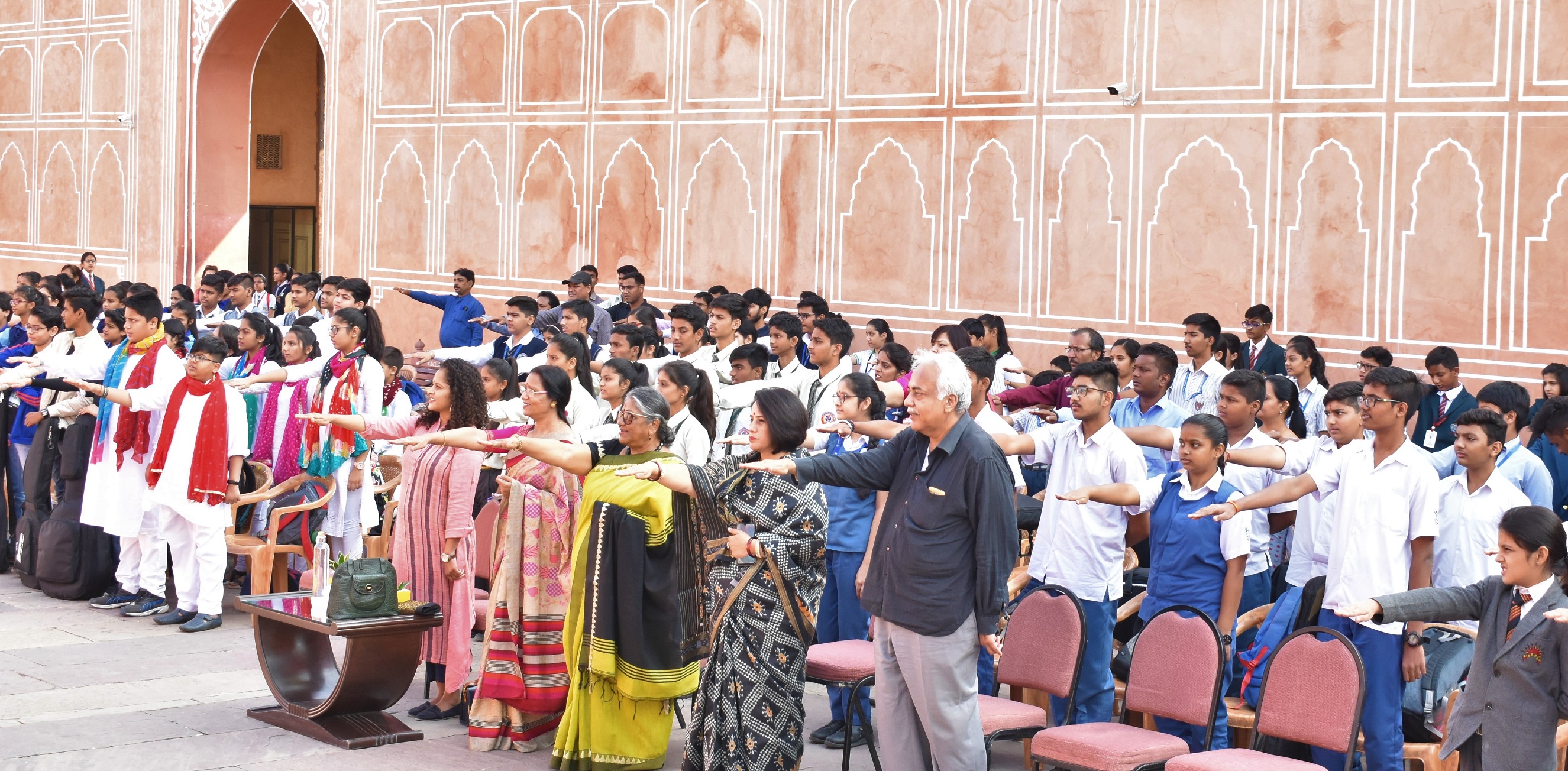 Press Release
On the occasion of Jaipur Sthapna Diwas today (18 November), Maharaja Sawai Mansingh II Museum Trust in collaboration with The Palace School organised an event. More than 400 students from 18 schools across the city gathered at The City Palace and took an oath to protect the rivers from undesirable dumping, save them from drying up, to conserve life in and around rivers and support the healthy existence of the future of our rivers.
This was followed by a speech on Jaipur Sthapna Diwas by student Priyanshi Chatter and an Inter School Group Song Competition on the theme 'Rivers of India'. Students of various schools mesmerised the audience with renditions of songs based on the rivers. The winner of the competition was The Palace School who presented a unique rap titled 'Yeh Pal Pal Chhal Chhal Kal Kal Kya Kehti Nadiaya Ki Dhara'. The second prize was bagged by Brightlands Girls Sr. Sec School for the song 'Nadi Ganga Kaveri Yamuna Kaveri…'. Other than this, Jaipuria Vidyalaya came third for the song 'Nadiya ka Paani Behta Jaaye'. There was a tie in the fourth place between Subodh Airport School for song 'Naadiya Apni Maata' and Maheshwari Public School Pratap Nagar for song 'Bharat ki Nadiya Mein Paani Behta Hai'.
Similarly, Rukmani Birla Modern High School won the 'Best Recorded Version of Sadguru Song' award. 'Best Expression' award was won by the Banyan Tree School whereas, 'Best Experiment and Variation' award was bagged by Maharaja Sawai Bhawani Singh School. There was also a live general knowledge quiz on Jaipur conducted throughout the various performances.