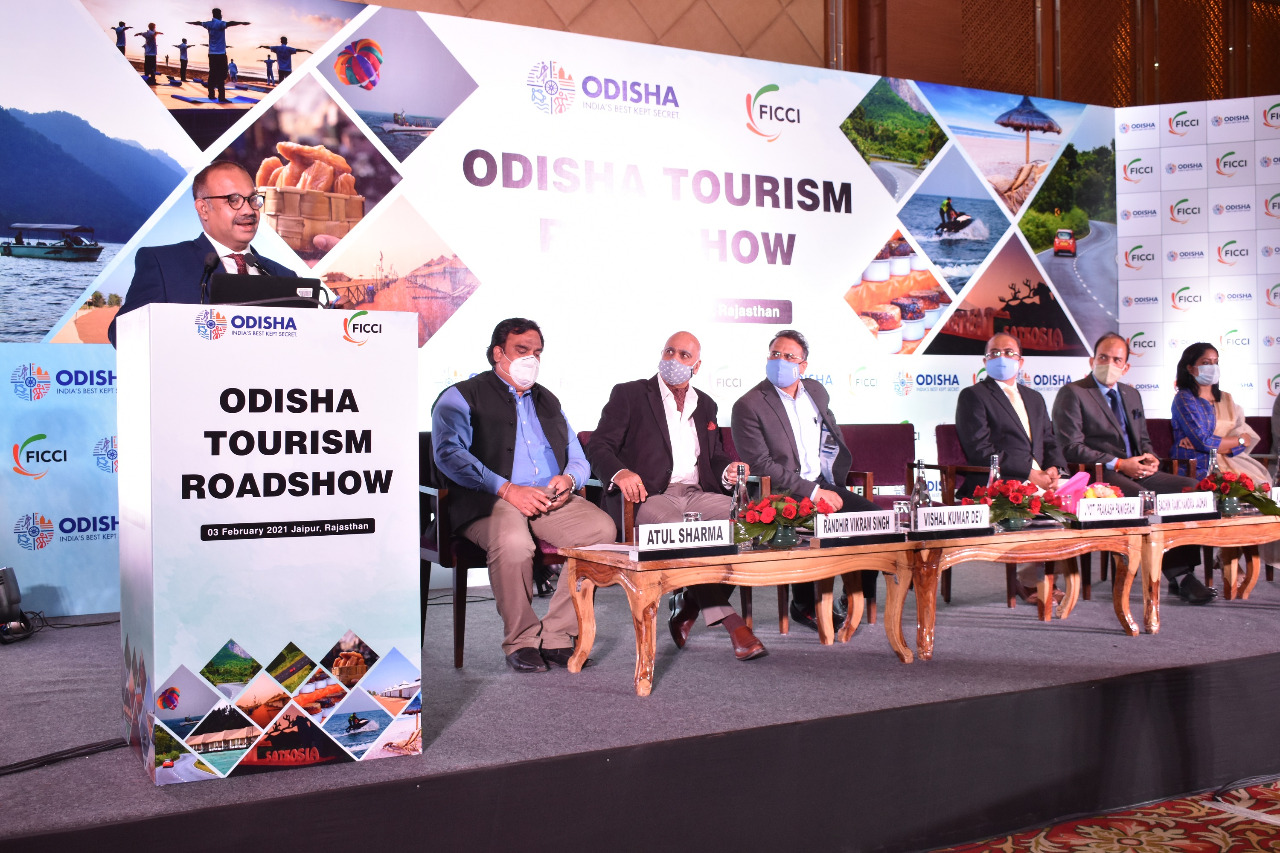 Press Release
The Government of Odisha has opened up the State to tourists post-Covid pandemic. The State is inviting people to come and enjoy its various tourism potentials and create unique travel experiences. Odisha wants to work with Rajasthan under mutually beneficial terms. It has a lot to offer to tourists in terms of tourism. The State, already renowned for divine tourism also has on offer sports tourism, eco-tourism and much more. This was informed by Minister of Tourism, Odia Language, Literature & Culture, Government of Odisha, Shri Jyoti Prakash Panigrahi. He was addressing a seminar as a part of the 'Odisha Tourism Roadshow-2021' at Hotel Lalit Wednesday evening. The programme was organized by FICCI in collaboration with Odisha Tourism. The programme was followed by a mesmerizing cultural display and lucky draw.
During the keynote address Principal Secretary, Tourism, Sports & Youth Services, Government of Odisha, Shri Vishal Kumar Dev gave an overview of the various kinds of tourism opportunities in Odisha that is rich in arts, crafts, culture and heritage. He stated that Odisha is an amalgamation of the ancient and modern. The Government is dedicated to inspire and generate confidence among the travellers to safely travel to the State once again.
Odisha Forest Officer, Ms. Anshu Pragyan gave an overview of the wide variety of wildlife found in the State. "It is a bird's paradise and bird tourism is very high in Odisha. Over 40 eco-tourism sites with a variety of infrastructure have also been developed", she said.
Director, Department of Tourism, Government of Rajasthan, Shri Nishant Jain said that the cultural exchange between Odisha and Rajasthan is one that is unknown to many. Rajasthan is known for its leading tourism products throughout the world. A collaboration of promotional activities can be arranged between the two States which will be mutually beneficial. Rajasthan Government is also keen to partner with the Odisha Government in areas such as arts and handicrafts as well as facilitate student cultural exchange.
Co-Chairman, FICCI Rajasthan State Council, Shri Randhir Vikram Singh said that wonderful States like Rajasthan and Odisha contribute richly towards the GDP of the economy. Post-Covid tourists will be looking to visit small cities with unique experiences rather than big cities.
President, Rajasthan Association of Tour Operators (RATO), Shri Kuldeep Singh Chandela said that both Odisha and Rajasthan has a long history and are socially, religiously and politically connected. Historically, Maharana Jagat Singh of Mewar visited Puri Jagannath in Odisha many times. He was a great devotee of Lord Jagannath.
On the occasion, the Welcome Address was delivered by Director-Tourism, Government of Odisha, Shri Sachin Ramchandra Jadav. The vote of thanks was delivered by Assistant Director, Tourism, Government of Odisha, Dr. Ratikanta Pattanayak. Shri Pradipta Mohapatra of Mayfair Hotels & Resorts was also present on the occasion.