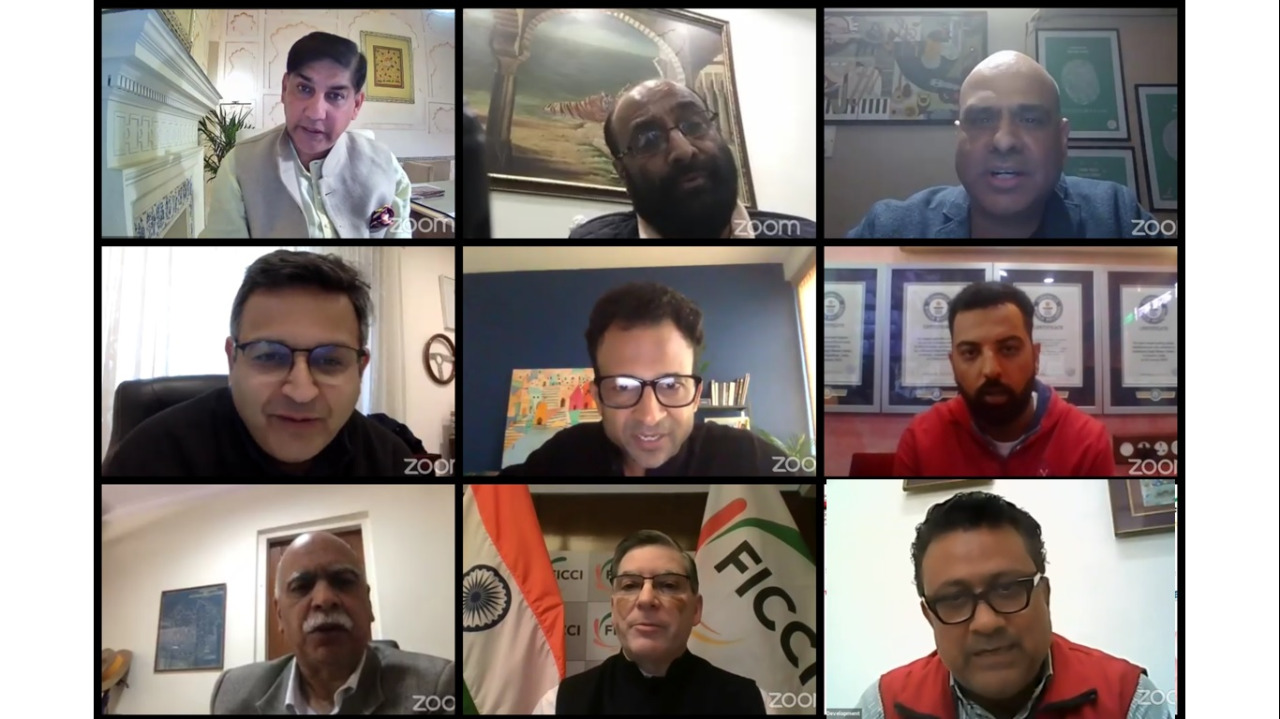 Press Release
Weddings have helped revive the hotel sector. It offers a new avenue for growth for the hospitality sector in Rajasthan. Wedding tourism and destination weddings can be a significant game-changer for the Rajasthan hospitality industry. Government of Rajasthan recognizes this huge opportunity. The latest tourist policy seeks to diversify existing tourism products giving priority to lesser-known destinations and improve visitors' experience including destination weddings. According to the policy, wedding destinations will be identified, graded and listed to facilitate wedding planners and management firms. This was informed by Commissioner, Rajasthan Foundation, Mr Dhiraj Srivastava. He was addressing the Webinar on Wedding Tourism – 'Positioning Rajasthan as Wedding Capital of India' held on the virtual platform today. The webinar was organised by FICCI and Rajasthan Tourism. The session was moderated by Head, FICCI Rajasthan State Council, Mr. Atul Sharma.
 
CEO, OYO's Weddingz.in, Mr Sandeep Lodha said that post-Covid two trends have been observed in the wedding industry – smaller weddings and domestic weddings. Rajasthan stands to benefit the most from these trends as the demand for weddings in Rajasthan is already very high, in last one month we have received over 6000 queries for a wedding in Rajasthan. Besides aggressive marketing, other benefits like – GST rebates, opening sections of heritage properties, providing law and order protection and certified wedding planners would help in positioning Rajasthan as leading wedding destinaiton.
 
Executive Director, HRH Group of Hotels, Mr. Lakshyaraj Singh Mewar said that weddings are no more just a family affair it is a country and economic affair. They put India on the world platform. The cities are creative an identity for themselves like Udaipur, besides being city of lakes, is today known as a prominent wedding destination competing with Lake Como, Italy. India offers everything under one roof like palaces, beaches, deserts, etc. which other countries are not in a position to offer.
 
Theme address was delivered by Secretary General, FICCI, Mr. Dilip Chenoy. He said that domestic tourism including social MICE will be the driver for the growth of the sector in 2021. Many States have already started their campaigns to reach out to their target source markets. FICCI would be happy to associate and work with Department of Tourism, Government of Rajasthan in promoting Domestic Tourism.
 
Founder, Weddingline, Mr. Chetan Vohra said that expectations are quite high for the domestic customer for Indian weddings whereas they may be more forgiving when it comes to international weddings. Art and culture in the form of talented artistes, colourful weaves can be brought back to add flair to weddings in Rajasthan.
 
Chairman, Shahpura Hotels, Mr. Surendra Singh Shahpura said that rural areas also need to be developed as wedding destinations so that smaller hotels can benefit from wedding tourism. Marriage destinations in Rajasthan will help the hotel sector bounce back to where it was in March 2020.
 
Co-Chairman, FICCI Rajasthan State Council & CMD, Mandawa Hotels, Mr. Randhir Vikram Singh said that weddings are now smaller, more intimate and emphasising strict hygiene standards. Rajasthan is competitively placed to harness this potential segment. This is due to better connectivity, the splendour of heritage properties and modern architecture.
 
General Secretary, The Event and Entertainment Management Association (EEMA), Mr Siddhartha Chaturvedi said that Rajasthan is already one of the favourite places to have a wedding in India. Best of world-class solutions are easily available here. However, the State has not fully exploited the wedding industry. As many as 10 more destinations can be created to promote wedding destinations in the State.
 
Representing Department of Tourism, Mr Ajay Sharma assured full support from the Government and requested for the suggestions for the development of the sector which may be considered for inclusion in Tourism Policy guidelines.
 
The webinar was followed by an open house session.